2011年5月26日、カリフォルニア州キャンベル—市場調査会社Infonetics Researchは本日、その4月度キャリアイーサネット機器市場規模、市場占有率、予測リポート抜粋をリリースしました。
アナリストノート
"キャリアイーサネット機器に対するサービスプロバイダの投資の成長は、年次の全世界支出が2015年には375億ドルに達するという予想であり、他の電気通信機器を突き放し続けている。 最も大きな投資案件はルーター、キャリアイーサネットスイッチ(CES)、そして光学装置である。イーサネットマイクロ波はその携帯のバックホールへの使用によって、一番急成長中のセグメントである。"とInfonetics Research社共同設立者であり、社のキャリアーネットワーク主任アナリストのMichael Howardは注記している。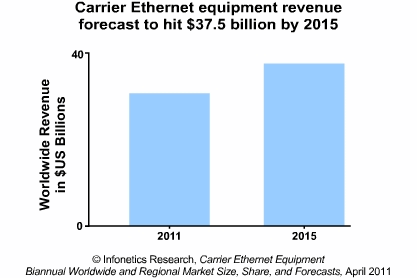 サービスプロバイダルーターとスイッチ市場のハイライト
2010年、キャリアーはTDMからパケットベースのネットワークへの移行が続き、それによって265億ドルをキャリアーイーサネット機器に支出している。
Cisco は、11年度第1四半期世界売り上げのほぼ半分を売り上げるなど、キャリアーイーサネットスイッチ市場を先頭に立って牽引し続けている。Juniper手ごわい2番手である。
イーサネットアクセス機器(EAD)市場は、企業のキャリアーイーサネット接続の成長、ビル、DSLAMからのバックホール、携帯バックホールのアプリケーションの成長が直接に反映することにより、Infoneticsは2010年から2015年までの間に年平均成長率18%で成長すると予測している。
ADVAは世界EAD市場の筆頭プレーヤーであり、Ciena がそれに続く。
レポート概要
Infonetics'のキャリアーイーサネットリポートは、サービスプロバイダネットワークにおけるキャリアーイーサネット製品の使用と浸透度、対投資などを測るものです。リポートは世界市場、またローカル市場の規模、供給業者市場占有率、サービスプロバイダーネットワークのキャリアーイーサーネットスイッチ、IPコアとエッジルーター、SONET/SDH機器、WDM機器、VDSL, ファイバー及びカッパーEAD、EPON(イーポン)、イーサネット及びイーサネットとTDMの二元マイクロ波機器、また速度別のキャリアーイーサネットポート等、全てのキャリアーイーサーネット機器についての解析と2015年までの予測を提供します。

追跡調査された会社は以下及び他の会社を含みます。Actelis, ADTRAN, ADVA, Alcatel-Lucent, ANDA, Axerra, Brocade, Ciena, Cisco, ECI, Ericsson, Extreme, FibroLAN, Fujitsu, Hatteras, Hitachi Cable, Huawei, Infinera, IPITEK, Juniper, MRV, NEC, NexComm, Nokia Siemens, OneAccess, Overture, Positron, RAD Data, Sycamore, Telco Systems, Tellabs, Telrad, Transmode, Zhone, ZTE他
(原文)
Carrier Ethernet equipment market outpaces telecom capex; on track to hit $37.5B in 2015
Campbell, CALIFORNIA, May 26, 2011—Market research firm Infonetics Research today released excerpts from its April Carrier Ethernet Equipment market size, market share, and forecast report.
ANALYST NOTE
"The growth in service provider investments in carrier Ethernet equipment continues to outpace that of other telecom equipment, with annual global spending expected to reach $37.5 billion in 2015. The largest investments are in routers, carrier Ethernet switches (CES), and optical gear. Ethernet microwave is the fastest growing segment due to its use for mobile backhaul," notes Michael Howard, co-founder and principal analyst for carrier networks at Infonetics Research.
SERVICE PROVIDER ROUTERS AND SWITCHES MARKET HIGHLIGHTS
In 2010, carriers spent $26.5 billion on carrier Ethernet equipment as they continued moving from TDM to packet-based networks
Cisco continues its commanding lead in the carrier Ethernet switch market, taking in nearly half of worldwide revenue in 1Q11; Juniper is a strong 2nd
The Ethernet access device (EAD) market is forecast by Infonetics to grow at an 18% compound annual growth rate (CAGR) from 2010 to 2015, as a direct reflection of growing carrier Ethernet connections to businesses, backhaul from buildings and DSLAMs, and a growing mobile backhaul application
ADVA is the #1 player in the global EAD market, followed by Ciena
REPORT SYNOPSIS
Infonetics' Carrier Ethernet report measures use and penetration of, and investment in, carrier Ethernet products in service provider networks. The report provides worldwide and regional market size, vendor market share, analysis, and forecasts through 2015 for all carrier Ethernet equipment in service provider networks, including carrier Ethernet switches, IP core and edge routers, SONET/SDH equipment, WDM equipment, VDSL, fiber and copper EADs, EPON, Ethernet and dual Ethernet/TDM microwave equipment, and carrier Ethernet ports by speed.

Companies tracked include Actelis, ADTRAN, ADVA, Alcatel-Lucent, ANDA, Axerra, Brocade, Ciena, Cisco, ECI, Ericsson, Extreme, FibroLAN, Fujitsu, Hatteras, Hitachi Cable, Huawei, Infinera, IPITEK, Juniper, MRV, NEC, NexComm, Nokia Siemens, OneAccess, Overture, Positron, RAD Data, Sycamore, Telco Systems, Tellabs, Telrad, Transmode, Zhone, ZTE, and others.