英国、ロンドン、2011年6月16日—テクノロジー市場調査会社Infonetics Research が、本日第1四半期(1Q11)の一部を発表した。内容は、 2G/3G/4G フェムトセル機材 市場シェア、規模、そしてGSM/GPRS、CDMA、W-CDMA/HSPA、TD-SCDMA、CDMA2000/EV-DOといったネットワークのフェムトセルをトラックし、LTEを基準に4Gフェムトセルの市場を予測するレポートといったところだ。
アナリストノート
「フェムトセル市場開発のこのような初期段階において、SamsungとCisco/ip.accessは、フェムトセル収入市場シェアのリーダーボードのトップでほぼ互角となっているが、Samsungが、少し高価に価格設定されているCDMA2000フェムトセルとVerizon Wirelessとの契約が効いて、全体的にほんの少しだけ先をいっているようだ。一方で、Cisco/ip.accessの3G フェムトセルソリューションは、 現在世界最大手のAT&T北米展開を選んだことで、3G部門をリードしている。 その他目立ったベンダーの成功と言えば、Alcatel-Lucentが Vodafone(関連事業全般においてフェムトセルサービスの大手)との契約で勢いを増している。NEC/Ubiquisysソリューションは SFR、Network Norway そして MegaFonなどを獲得しているし、 AirvanaはSprintとKDDiに選ばれている。フェムトセル業社の状況は動きが激しく、商品開発や顧客テストからの顧客獲得、出荷の規模拡大によって左右される。まだまだ戦いの余地がある」と語ったのはInfonetics ResearchでWiMAXや無線、モバイル機器のアナリストを務めるRichard Webb氏だ。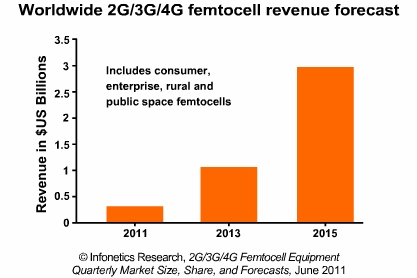 フェムトセル機材市場のハイライト
消費者や企業、地方、そして公共の場所で使われているフェムトセルを合わせた世界総収益は過去4期(1Q10から1Q11) 連続して45%増加している。
世界中で販売されたフェムトセルのユニット数が3%増加する一方で、収益は4Q10から1Q11にかけて3%減少している。これは、市場が単価$100未満の方向性へ向かっており、価格は減少する一方だからだ。
China UnicomやCSL、Network Norway、Optimusそして SFRはすべて、商用のフェムトセルサービスを2010年に開始しているが、3Gオペレーターの大半はまだフェムトセルを試している段階か、商用フェムトセルの開始を2011年の後半に延期している。
Infoneticsは、世界のフェムトセル市場が2010年の3億ドルから2011年には31%成長すると予測している。この市場は少なくも2012年までは大幅に成長することはないだろう。
REPORT SYNOPSES
Infonetics' quarterly 2G/3G/4G Femtocell Equipment report provides worldwide and regional market size, vendor market share, forecasts, and analysis for revenue, units, and ARPU of 2G femtocells (CDMA and GSM/GPRS) and 3G femtocells (W-CDMA/HSPA and CDMA2000/EV-DO), as well as forecasts for 4G femtocells (LTE femtocells). Market drivers, customer wins, and service provider deployments by targeted segment (consumer, enterprise, public space, rural, etc.) are included. Companies tracked include 2Wire, Airvana, Airwalk, Alcatel-Lucent, Cisco/ip.access (3G femtocells), Ericsson, Hay Systems, Huawei, ip.access (2G femtocells), Juni, Motorola, NEC, NETGEAR, Nokia Siemens Networks, RadioFrame, Samsung, SerComm, Thomson, Ubiquisys, ZTE, and others.
(原文)
Samsung, Cisco/ip.access lead nascent femtocell market, set to hit $300 million in 2011
London, UK, June 16, 2011—Technology market research firm Infonetics Research today released excerpts from its first quarter (1Q11) 2G/3G/4G Femtocell Equipment market share, size, and forecast report, which tracks femtocells for GSM/GPRS, CDMA, W-CDMA/HSPA, TD-SCDMA, and CDMA2000/EV-DO networks, and forecasts the market for 4G femtocells based on LTE.
ANALYST NOTE
"At this early stage of femtocell market development, Samsung and Cisco/ip.access are neck-and-neck at the top of the femtocell revenue market share leaderboard, with Samsung edging ahead overall by a very slim margin due to its higher-priced CDMA2000 femtocells and contract with Verizon Wireless, while the combined Cisco/ip.access 3G femtocell solution leads the 3G segment based on its selection for the AT&T deployment in North America, currently the largest in the world. Other notable vendor successes: Alcatel-Lucent, which has gained traction through its engagement with Vodafone, a prolific purveyor of femtocell services across its properties; the NEC/Ubiquisys solution, which has had wins with SFR, Network Norway and MegaFon amongst others; and Airvana, which has been selected by Sprint and KDDi. The femtocell vendor scene is highly dynamic, buoyed by product innovation, customer trials and wins, and the scaling up of shipments. There is still everything to play for," notes Richard Webb, directing analyst for WiMAX, microwave, mobile devices at Infonetics Research.
FEMTOCELL EQUIPMENT MARKET HIGHLIGHTS
Total global revenue from femtocells used in consumer, enterprise, rural and public spaces grew 45% during the past 4 quarters (from 1Q10 to 1Q11)
Sequentially, worldwide femtocell units sold increased 3% while revenue decreased 3% in 1Q11 from 4Q10, as the market strives toward sub-$100 unit pricing and prices continue to erode
China Unicom, CSL, Network Norway, Optimus, and SFR all launched commercial femtocell services in 2010, but the majority of 3G operators are still either trialing femtocells or postponing commercial femtocell launches until later in 2011
Infonetics expects the global femtocell market to grow 31% in 2011 over 2010 to $300 million; the market will not gain mass-scale traction until at least 2012