キャンベル、カリフォルニア、2011年6月24日 - 本日、市場調査会社Infonetics Researchは2011年第1四半期におけるSAN装置 の市場シェアと予測レポートの抜粋を発表した。レポートではStorage Area Network(SAN)のスイッチとアダプタを追跡している。
アナリストノート
「全般的にSANのスイッチとアダプタの市場は今後、着実な成長がみられる。クラウドコンピューティングへの長期間に渡るシフトは、SANのスイッチ市場を2010年にくらべて2015年では3倍以上に駆り立てるだろう。FCoE(ファイバーチャネル・オーバー・イーサネット)対応のネットワークアダプタの需要で拍車がかかり、SANのアダプタ市場は2010年から2015年まで複合年間成長率20%で成長すると我々は予測している。」と、Infonetics Research社のキャリアとデータセンターネットワークの主席アナリストであり、共同創立者のMichael Howardは期待している。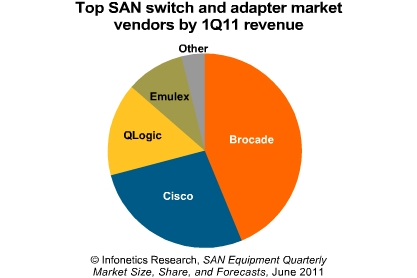 SAN装置市場のハイライト
SANのスイッチとアダプタの複合市場は2011年第1四半期に7.55億ドルになった。これは前の四半期比0.8%増、2010年第1四半期比9.8%増である。
2011年第1四半期は前の四半期にくらべてSANのスイッチの収益は4%増、アダプタは8%減。
とはいえ、SANのスイッチとアダプタを扱うほとんどのベンダーは2011年第1四半期に業績が悪化しシェアを少し失った。Ciscoは市場シェアを新たに3%手に入れた。
その一方で長年の市場リーダーであるBrocadeは、市場シェアと収益の両方で安定した四半期であった。
FCoE(ファイバーチャネル・オーバー・イーサネット)スイッチは、現在、SANのスイッチ市場全体の15%に相当しており、市場を推進する強力な成長の原動力になると期待されている。
REPORT SYNOPSES
Infonetics' SAN equipment provides worldwide and regional market size, market share, forecasts, and analysis for Fiber Channel (FC) SAN switches and Fiber Channel over Ethernet (FCoE) SAN switches, and 3 segments of storage networking adapters: Fiber Channel host bus adapters (FC HBAs), Internet Small Computer System Interface host bus adapters (iSCSI HBAs), and FCoE converged network adapters (CNAs). Switches are tracked by chassis (director) vs. fixed (fabric), and all ports are tracked by type (10G FCoE, FC 2G, FC 4G, FC 8G, FC 16G, iSCSI). Vendors tracked in the report include ATTO, Brocade, Chelsio, Cisco, Emulex, Intel, LSI, Mellanox/Voltaire, Myricom, Neterion, QLogic, and others.
(原文)
SAN equipment market up 10% from a year ago, strong growth ahead; Cisco up, Brocade steady
Campbell, CALIFORNIA, June 24, 2011—Market research firm Infonetics Research today released excerpts from its first quarter (1Q11) SAN Equipment market share and forecast report, which tracks storage area network (SAN) switches and adapters.
ANALYST NOTE
"We see steady growth ahead for the overall SAN switch and adapter market. The long shift to cloud computing will propel the SAN switch market to more than triple from 2010 to 2015, and we forecast the SAN adapter market to grow at a 20% compound annual growth rate from 2010 to 2015, spurred by demand for FCoE (Fiber Channel over Ethernet) converged network adapters," expects Michael Howard, co-founder and principal analyst for carrier and data center networks at Infonetics Research.
SAN EQUIPMENT MARKET HIGHLIGHTS
The combined SAN switch and adapter market totaled $755 million globally in 1Q11, up 0.8% from the previous quarter, and up 9.8% from the first quarter of 2010
SAN switch revenue was up 4% and adapters were down 8% in 1Q11 from the previous quarter
While most vendors in the SAN switch and adapter space had a down 1Q11 and lost a little share, Cisco picked up another 3 percentage points of market share
Meanwhile, perennial market leader Brocade held steady with both market share and revenue for the quarter
FCoE (Fiber Channel over Ethernet) switches currently represent 15% of the total SAN switch market, and are expected to be a strong growth driver moving forward