2011年7月21日 キャンベル、カリフォルニア州―市場調査会社Infonetics Researchは、2011-IPTV Service Deployment Strategies: Global Service Provider Surveyの結果の抜粋をリリースしました。
アナリストノート
「有料TV市場のほんの一部を表すにもかかわらず、IPTVサービスはビデオ配信のエコシステム全体にわたる変更をリードし、その市場に大きなインパクトを与えている。ほとんどのIPTVオペレータは、競争相手と同じようなサービスを提供する事によって顧客獲得に力を注いでいます。Infoneticsの最新のIPTVサーベイ調査では、オペレータは基本的なビデオサービスを通り越して、高度なパーソナライズされた統合的ポータブル、オンデマンド視聴サービスを提供しようとする次に段階に入っている事を確認できます。更にマルチスクリーン機能、インタラクティブ機能、ソーシャルネットワークなどは来年度に実施が予想されるサービスの一部です。通信事業者はIPビデオサービスを提供する技術革新をリードしていますが、サテライトやケーブルオペレータも同様に同じレベルのサービスを提供するブロードバンドインフラを活用する事が可能です。IPTVオペレータは、この市場の方向性を決める上でより密接に競争相手の動向を見極める事が重要になってきている。」と当該分野のアナリストTeresa Mastrangeloは述べています。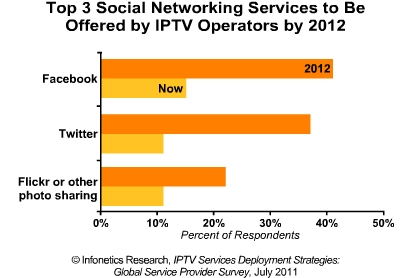 IPTV市場サーベイのハイライト
2012年までにIPTVサービスプロバイダーの63%はPC、タブレット端末、スマートフォン全体にマルチスクリーン機能をサポートする計画である。
現在そして来年にかけて広く浸透するIPTVアプリケーションは、天候予想、交通量予想などと同様にTVの発信者ID機能です。
調査対象の約50%のIPTVオペレータは、2012年までにターゲット広告やインタラクティブ広告を提供する予定です。
IPTVオペレータは、慎重にソーシャルネットワークへのアプローチを継続して行い、現在26%のオペレータが2012年には41%に拡大する。その中でもFacebookとTwitterが最もポピュラーです。
IPTV SURVEY SYNOPSIS
Infonetics' 19-page IPTV Services Deployment Strategies survey, part of its Video Continuous Research Service (CRS) series, analyzes results from interviews with purchase decision-makers at 27 incumbent, competitive, and mobile operators that currently provide IPTV network services. The report details IPTV operator responses about current and planned IPTV applications and services (widgets, caller ID, home media, interactive advertising, interactive gaming, gambling, etc.), social networking (Facebook, Twitter, Flickr/other photo sharing services, LinkedIn, blogs, etc.), video streaming (YouTube, Netflix, Hulu, Amazon, LOVEFiLM, etc.), linear broadband television, multi-screen viewing capabilities (aka TV everywhere), companion devices, content discovery (search functionality, recommendation engines), integrated over-the-top (OTT) video, video on demand (pay-per-view VOD, free VOD, subscription VOD, start-over/catch-up VOD, push VOD), and DVR (integrated, mutli-room/whole home, network DVR).
(原文)
IPTV services getting highly personalized, highly integrated, portable, on-demand
Campbell, CALIFORNIA, July 21, 2011—Market research firm Infonetics Research today released excerpts from its 2011 IPTV Services Deployment Strategies: Global Service Provider Survey
ANALYST NOTE
"Despite representing only a small portion of the total pay-TV market, IPTV services have had a significant impact on the market, forcing change across the entire ecosystem of video delivery. Although most IPTV operators continue to focus on customer acquisition by offering similar services as their competition, our latest IPTV survey confirms that IPTV services are entering their next phase as operators move beyond basic video offerings and begin providing consumers a highly personalized, highly integrated and portable on-demand viewing experience. Multi-screen viewing, interactive applications and social networking are some of the services expected to be implemented over the next year. Although telco operators have led with innovation using IP video, satellite and cable operators are quickly leveraging broadband infrastructure to offer similar services. It will be important for IPTV operators to watch the competition closely to determine the direction of this market," advises Teresa Mastrangelo, directing analyst for video at Infonetics Research.
IPTV SURVEY HIGHLIGHTS
By 2012, 63% of IPTV service providers interviewed plan to support multi-screen viewing across PCs, tablets, and smartphones
The 2 most widely-deployed IPTV applications now and next year are widgets, such as for weather and traffic updates, and caller ID on the TV
About half of the surveyed IP television operators plan to offer targeted or interactive advertising by 2012
IPTV operators continue to approach social networking for TV cautiously, with only 26% offering it now, growing to 41% by 2012; among those that do, Facebook and Twitter are most popular