マサチューセッツ州ボストン、2011年8月11日 - 市場調査会社Infonetics Research社は2011年第2四半期(2Q11)の光ネットワークハードウェアベンダーのマーケットシェアレポートを本日発表した。
アナリストノート
「今年、我々が予想している市場の一桁成長は、引き続き手の届く範囲にとどまっている。もしも、2011年後半、世界の光ネットワーク機器への支出が前半と同程度であれば、2011年の総支出は、6.5%増になる。」と、Infonetics Research社の光学部門のディレクティングアナリスト、Andrew Schmitt氏は予想している。「ヨーロッパ・中東・アフリカ(EMEA)地域における光学市場の強さは限定的と見る必要がある。利益の5%は、為替の影響によるものであり、成長のすべてはZTEとHuaweiによるものである。」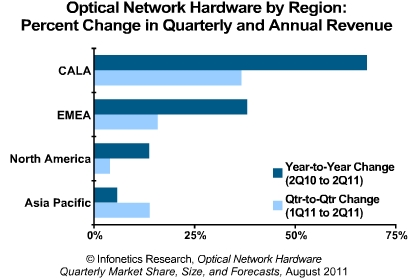 光ハードウェア市場のハイライト
WDM とSDH / SONET 機器を含むグローバル光ネットワーク機器市場は、1Q11の11%減に続いて、2Q11には13%急増した。
光学機器への支出はすべての地域で前年比増であり、12ヶ月間のトレンドはプラスのままである。
2010年第2四半期から2011年第2四半期の前年比で、WDM光ネットワークへの支出は37%増であり、光学市場全体は21%増である。
ROADM 機器への支出は過去最高で、引き続き9%増加した。2011年の最初の6ヶ月間のROADM機器の出荷台数は、2010年の相当する期間に対して、55%という驚くほど増加している。
ZTEとHuaweiはアジア太平洋地域とEMEAの両方で非常に好調な業績を報告している(EMEAでのこれらのベンダーの寄与を除くと、この地域では引き続き減少という結果になる)。
富士通とTellabsの好業績により、北米では四半期ベースの控えめな利益を計上した。
日本では2Q10に比べ、2Q11は良い結果になった。
REPORT SYNOPSIS
Infonetics' quarterly Optical Network Hardware report tracks Adtran, ADVA, Alcatel-Lucent, BTI, Ciena, Cisco, ECI, Ericsson, Fujitsu, Huawei, Infinera, NEC, Nokia Siemens Networks, Nortel, Sycamore, Tellabs, Transmode, Tyco, ZTE, and others. The report provides worldwide and regional vendor market share, market size, and analysis (forecasts published August 24). Equipment tracked: metro and long haul optical network equipment, including SONET/SDH (ADMs/terminals, metro MSPPs, crossconnects), WDM (transport, ROADM, long haul submarine line terminating equipment), and packet-optical transport systems (P-OTS). Also tracked: number of ports and revenue per port by speed (Ethernet, SONET/SDH/POS, WDM) from below OC48/STM1 to 100G. Regions: Asia Pacific (breakouts for China, Japan, India), CALA (Central America/Latin America), EMEA (Europe, Middle East, Africa), North America, and worldwide.
(原文)
Optical network hardware gains 21% year-over-year in Q2, Huawei and ZTE surge
Boston, MASSACHUSETTS, August 11, 2011—Market research firm Infonetics Research today released its second quarter 2011 (2Q11) Optical Network Hardware vendor market share report.
ANALYST NOTE
"Our expectations for single-digit market growth this year remain in reach. If global optical network equipment spending in the second half of 2011 is flat with the first half, total spending for 2011 will be up 6.5%," foresees Andrew Schmitt, directing analyst for optical at Infonetics Research. "The strength of the optical market in the EMEA region needs to be qualified: 5% of the gains are due to currency effects, and all of the growth came from ZTE and Huawei."
OPTICAL HARDWARE MARKET HIGHLIGHTS
The global optical network equipment market, including WDM and SDH/SONET equipment, jumped 13% in 2Q11, following an 11% decrease in 1Q11
Optical equipment spending is up year-over-year in all regions and rolling 12-month trends remain positive
Year-over-year, from the second quarter of 2010 to the second quarter of 2011, WDM optical network equipment spending is up 37% and the overall optical market is up 21%
ROADM equipment spending set another new high in 2Q11, rising 9% sequentially; for the first 6 months of 2011, ROADM equipment shipments are up a stunning 55% over the comparable period in 2010
ZTE and Huawei reported very strong results in both Asia Pacific and EMEA (removing the contribution of these vendors to EMEA would result in a sequential decline in the region)
North America posted modest quarter-over-quarter gains with good performances by Fujitsu and Tellabs
Japan posted results in 2Q11 that were better than in 2Q10