2011年8月17日、カリフォルニア州キャンベル発――市場調査会社Infonetics ResearchがVoIPおよびIMS担当アナリスト、Diane Myersにより作成したベンダ市場シェア報告書「Enterprise Unified Communication, VoIP, and TDM Equipment(企業向け統合通信、VoIPおよび時分割多重装置)」の2011年第2四半期(2Q11)版を発表した。
アナリストノート
「企業テレフォニーのトップベンダ各社は、依然として厳しい新規顧客獲得を繰り広げると同時に、既存顧客もIPおよび統合コミュニケーション・ソリューションへの移行期に当たっているとあって既存顧客を逃さないための熾烈な争いを続けています。2011年第2四半期に安定出荷と健全な平均販売価格に支えられ、同世界市場の総収入の4分の1を得たAvaya(アバイア)社が、第3四半期でも引き続きPBX市場全体のトップに君臨することになりました。回線出荷では若干上回ったものの、Cisco(シスコ)社は相変わらず強力な第2位の地位を維持しています。」とInfonetics Research(インフォネティックス・リサーチ)社のVoIPおよびIMS(IPマルチメディアサブシステム)担当の主席アナリストDiane Myers(ダイアン・マイヤーズ)氏は述べる。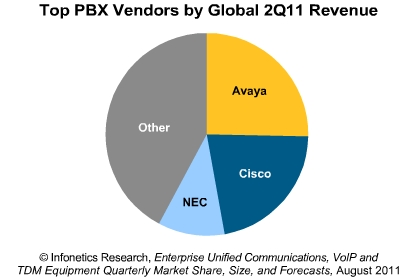 PBXおよびUC市場のハイライト
PBX/KTS電話システムの世界収入額は2Q11には2.3%下落して20.2億ドルとなったが、前年比(2Q10との比較)では3.9%の増となっており、年次ベースでは堅調な回復を示している。
統合コミュニケーション (UC)の収入は、世界中で次々と分布が伸びているMicrosoft社のUCソリューションの強さを追い風にして2.3%伸び、1億1240万ドルに達した。
1Q11より2Q11のPBX収入が増加しているベンダは、Aastra社、Mitel社、ShoreTel社だけである。
アジア・太平洋地域のPBX市場は、他分野が混乱により浮き沈みを繰り返す中、4四半期連続で収入が伸び続けるなど、しなやかな回復力を示しています。

アジア・太平洋地域のPBX収入は、前年比29%の上昇 (2Q10に対する2Q11の実績)

一方、経済が低迷する北米およびEMEA地域は、両地方とも従業員の増加ペースが鈍く、一般にアップグレードを敢えて先送りする傾向があるため、企業テレフォニー分野には厳しい状況、特に低価格市場での苦戦が続いている。
純粋なIP PBXは最も急成長している分野だが、回線出荷が2Q10の間に10.6%も増加した。
REPORT SYNOPSIS
Infonetics' quarterly Enterprise Unified Communication, VoIP, and TDM Equipment report provides worldwide and regional market size, market share, analysis, and forecasts through 2015 for the enterprise telephony market, including TDM PBX and KTS systems, hybrid and pure IP PBX systems, IP PBX by system size, VoIP gateways, unified communication applications (communicator, unified messaging), IP desk phones and IP soft phones. The report tracks Aastra, AudioCodes, Alcatel-Lucent, Avaya, Cisco, Dialogic, D-Link, HP, IBM, Microsoft, Mitel, NEC, NET/Quintum, Samsung, ShoreTel, Siemens, Toshiba, Vertical, and others..
(原文)
Avaya extends lead in PBX market, Asia up 29% year-over-year
Campbell, CALIFORNIA, August 17, 2011—Market research firm Infonetics Research released its second quarter 2011 (2Q11) Enterprise Unified Communication, VoIP, and TDM Equipment vendor market share report, led by VoIP and IMS analyst Diane Myers.
ANALYST NOTE
"The top enterprise telephony vendors remain in a tight battle to gain new customers and hold onto existing ones as enterprises migrate to IP and unified communications solutions. For the third quarter in a row, Avaya came out on top in the overall PBX market, with about a quarter of worldwide revenue in the second quarter of 2011, helped by steady shipments and healthy average selling prices. Cisco maintains its strong second position despite a slight lead in overall line shipments," notes Diane Myers, directing analyst for VoIP and IMS at Infonetics Research.
PBX AND UC MARKET HIGHLIGHTS
Global PBX/KTS phone system revenue declined 2.3% sequentially in 2Q11 to $2.02 billion, but is up 3.9% from a year ago (2Q10), continuing its path of slow and steady recovery on year-over-year basis
Unified Communications (UC) revenue increased 2.3% sequentially in 2Q11 to $112.4 million on the strength of Microsoft UC solutions that continue to gain in deployments worldwide
Aastra, Mitel and ShoreTel are the only vendors posting positive PBX revenue gains in 2Q11 over 1Q11
The PBX market in Asia Pacific is proving resilient amidst the turmoil and sequential ups and downs of other regions, with four straight quarters of sequential PBX revenue growth

PBX revenue in Asia Pacific is up 29% year-over-year (2Q11 vs. 2Q10)

Meanwhile, the economic situation in North America and EMEA continues to assert pressure on the enterprise telephony segment, particularly at the lower end of the market, as businesses in both regions are slow to add employees and are generally holding off on upgrades
Pure IP PBXs, the fastest growing segment, saw line shipments grow 10.6% over 2Q10