2011年8月25日カリフォルニア州キャンベル発――市場調査会社Infonetics Research(インフォネティックス・リサーチ)社は今日、 ケーブル・ブロードバンド装置と加入者の推移を調べ、市場シェアの現状報告と今後の予測を提供した2011年第2四半期(Q211)版報告書「CMTS and Edge QAM Hardware and Subscribers (CMTSおよびエッジQAMハードウェアおよび加入者)」の抜粋版を発表した。
アナリストノート
「2011年第2四半期には、北米以外、特に南米での成長が大きな原動力となって、CMTSの利用が18%伸びました。新型CMTSラインカードの低価格化と帯域に対する消費者需要の安定成長とが相俟って、このような売り上げ増加につながりました。エッジQAMの収入も同様に伸びていますが、この理由は、DOCSIS/M-CMTS 、ビデオオンデマンド、スイッチドデジタルビデオ(SDV)アプリケーションなどに使用するQAMチャネルの成長が続いているからです。」と Infonetics Research社でブロードバンドアクセスを担当する主席アナリストJeff Heynen氏は指摘する。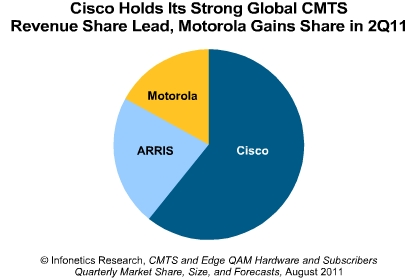 CMTS・エッジQAM市場のポイント
世界のCMTSおよびエッジQAM分野における2011年第2四半期の収入は、13%の伸びを示した前年第1四半期以来の流れにのったまま12%増加して4億4600万ドルを計上した。
2011年第2四半期のCMTS 収入は、通信事業者相手の売り上げが鈍化した北米では現に下降しているが、北米以外の地域では減少分を補って余りある勢いで進展中。
Cisco社のCMTS収入の世界シェアは、2011年第2四半期も60%と堅調な伸び。一方、Motorola社のシェアはナンバー2のARRIS社の出資により6%急進。Infonetics社の読みでは、世界のエッジQAM収入は2011年中、6%で成長する。CCAPアーキテクチャに移行する通信事業社が増えるため、エッジQAMはケーブル装置市場に大きく食い込むことになる。
Infonetics社の予想によれば、全世界におけるケーブル・ブロードバンドの加入者数は2010年には1億800万件だったが、2015年には1億2500万件となる。
REPORT SYNOPSIS
Infonetics' CMTS and Edge QAM report provides worldwide and regional vendor market share, market size and forecasts through 2015 for standard and wideband cable broadband subscribers; upstream and downstream CMTS revenue and ports; and edge QAM channels and revenue by application, including linear broadcast TV, video on demand (VOD), unicast video, switched digital video, M-CMTS and Data Over Cable Service Interface Specification (DOCSIS). The report tracks ARRIS, BigBand Networks, Casa Systems, Cisco, CommScope, Ericsson, Harmonic, Motorola, Sumavision, Teleste and Vecima.
(原文)
CMTS and edge QAM sales up in Q2; Motorola gains CMTS share
Campbell, CALIFORNIA, August 25, 2011—Market research firm Infonetics Research today released excerpts from its second quarter (2Q11) CMTS and Edge QAM Hardware and Subscribers market share and forecast report, which tracks cable broadband equipment and subscribers.
ANALYST NOTE
"The second quarter saw another 18% increase in CMTS downstreams, driven largely by growth outside North America, particularly Latin America. The lower cost of new CMTS linecards coupled with a steady rise in consumer demand for bandwidth continues to drive these purchases. Edge QAM revenue is up as well, driven by continued growth in QAM channels used in DOCSIS/M-CMTS, video on demand, and switched digital video applications," notes Jeff Heynen, directing analyst for broadband access at Infonetics Research.
CMTS AND EDGE QAM MARKET HIGHLIGHTS
Worldwide CMTS and edge QAM revenue together grew 12% to $464 million in 2Q11, on the heels of a 13% increase in 1Q10
In 2Q11, CMTS revenue actually declined in North America as operators slowed their purchases, but other world regions picked up the slack, more than offsetting the decline
Cisco's worldwide CMTS revenue share held steady in 2Q11 at 60% in 2Q11, while Motorola's share jumped 6 percentage points at the expense of #2 player ARRIS
Infonetics expects global edge QAM revenue to increase 6% in 2011 and to become a larger portion of the cable equipment yes market as more operators move to CCAP architectures
Infonetics forecasts the number of cable broadband subscribers to grow from 108 million worldwide in 2010 to 125 million in 2015