マサチューセッツ州ボストン、2011年8月21日 - 市場調査会社Infonetics Research社は本日、第2四半期(2Q11)におけるWireless LAN Equipment and WiFi Phonesのマーケットシェアレポートを発表した。
アナリストノート
「企業は無線インフラストラクチャを増強し、ワイヤレスデバイス(スマートフォン、タブレット等)の急増による自社のネットワークの侵食に対処しています。その結果、ワイヤレスLANは今日、企業向けネットワーク分野で最もホットな市場となっており、売上が最高記録に押し上げられています。一方、従来の有線セグメントは落ち着いた成長を続けると見られます。」とInfonetics Research社の企業向けネットワークとビデオ担当のディレクティングアナリストであるMatthias Machowinski氏は予想している。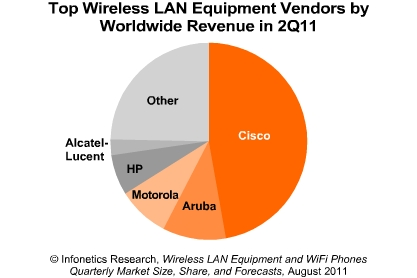 無線LAN市場のハイライト
世界的な無線LAN機器の売上高は2Q11において、引き続き19%急増し、4Q10に記録した7.54億ドルをしのぐ8.13億ドルになった。
広範なワイヤレスネットワーク接続需要が続くので、無線LANの前年同期比(2Q10から2Q11)の売上は38%上昇する。
北米は2Q11、高いスマートフォンの普及率とタブレットの採用に牽引され、前四半期と前年同期比の両方で最強の業績を上げた。
CiscoとArubaは無線LAN機器(WiFiフォンを除く)の売上高で一位と二位を維持する一方、Motorolaは HPに大差をつけ三位を獲得する。
REPORT SYNOPSIS
Infonetics' quarterly wireless LAN and WiFi phones report tracks Alcatel-Lucent, Aruba, BelAir, Brocade, Cisco, D-Link, Enterasys, Extreme, Juniper, Meru, Motorola, NETGEAR, Polycom, HP, Proxim, Ruckus , SMC, Xirrus, and others.
(原文)

Wireless LAN equipment market hits record high in second quarter

Boston, MASSACHUSETTS, September 21, 2011-Market research firm Infonetics Research today released excerpts from its second quarter (2Q11) Wireless LAN Equipment and WiFi Phones market share report.
ANALYST NOTE
"Enterprises are building out their wireless infrastructure to deal with the surge in wireless devices (smartphones, tablets, etc.) swamping their networks. As a result, wireless LAN is the hottest market in the enterprise networking space today, with revenue being pushed to new highs. Meanwhile, the traditional wired segments will continue to see subdued growth," expects Matthias Machowinski, directing analyst for enterprise networks and video at Infonetics Research.
ETHERNET SWITCH MARKET HIGHLIGHTS
Worldwide wireless LAN equipment revenue jumped 19% sequentially in 2Q11, to $813 million, eclipsing the previous high of $754 million set in 4Q10
Year-over-year (2Q10 to 2Q11) WLAN sales are up 35% as broad-based demand for wireless network connectivity continues
North America had the strongest performance in 2Q11, both sequentially and year-over-year, driven by high smartphone penetration and tablet adoption
Cisco and Aruba maintain 1st and 2nd place for WLAN equipment revenue (excluding WiFi phones), while Motorola surges ahead of HP to capture 3rd