2011年10月5日カリフォルニア州キャンベル発-市場調査会社Infonetics Researchは今日、家庭/SOHO環境ならびに企業環境に向けたVoIPおよび統合通信 (UC。ユニファイド・コミュニケーションとも) の市場におけるベンダとサービス収入の動向を追跡調査した自社の最新報告書『VoIP and UC Services and Subscribers (仮訳: VoIPおよびUCサービスと加入者)』から抜粋記事を発表した。
アナリストノート
「家庭向け、SOHO向け、企業向けのどの分野においても、Voice over IP サービスの導入増加傾向は一向に衰えを見せないため、当社では同サービス市場の予測を短期、長期ともに上方修正しました。依然として、VoIPサービス収入の中核は家庭向けが占めていますが、本当に成長著しいのは企業分野、とくにSIPトランク・サービスとホステッドVoIP、ユニフィアドコミュニケーションサービスです。健全な市場成長が維持された2010年に引き続き、2011年はVoIPサービス市場全体でさらに17%の伸びが見られる模様です。」とInfonetics Research社でVoIPおよびIMSを担当する主席アナリスト Diane Myers氏は述べる。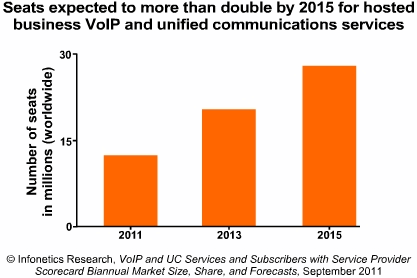 VoIPサービス市場のハイライト
Infonetics Researchの予測によれば、企業向けおよび家庭/SOHO向けの2分野を合計したVoIPサービス市場規模は、2015年に761億ドルに達する見込みである。
同様に、企業に向けたSIPトランク・サービスによる収入も、2011年から2015年にかけては52%という驚異的な年複利成長率 (CAGR) が予測されている。
企業向けホステッドVoIPおよび統合通信サービスの席数は、2011年から2015年の間に2倍以上の大成長を遂げる勢いである。
クラウド・ベース・サービス、IPセントレックス、統合通信サービスに対しては、依然として大きな需要があり、2010年第2半期に比べると、これらのサービスによる2011年第1半期の収入は、22%も成長している。
世界の家庭向けVoIPサービス市場を牽引する主要3社――NTT、Comcast、France T?l?com――は、それぞれの勢力圏でVoIPの新規加入者を増やし続けている。
ホステッドVoIPサービスに加入した家庭/SOHO環境のユーザ件数は、2011年の現時点で1億7900万件だが、2015年までに2億6200万件に膨れ上がる見込みである。
REPORT SYNOPSIS
Infonetics' biannual VoIP and UC Services and Subscribers report features an IP Centrex Provider Tracker and provides worldwide and regional market size, forecasts, and analysis of residential/SOHO (small office, home office) VoIP services, business VoIP and UC services, and VoIP subscribers. Business voice services tracked: managed IP PBX services, hosted VoIP and UC services (IP Centrex by business size, UC applications, UC telephony), and IP connectivity services (VoIP VPN/IP access, SIP trunking, IP integrated access). Regions tracked: North America, EMEA (Europe, Middle East, Africa), Asia Pacific, and Central and Latin America (CALA). Service providers tracked: AT&T, Cablevision, Charter, Comcast, Cox, Embratel NetFone, France T?l?com, KDDI, LG Dacom, LibertyGlobal, NTT, ONO, Optus, Rogers, SFR, SK Broadband, SoftBank, Tele2 Netherlands, Telecom Italia, Time Warner Cable, Verizon, Vonage, and many others.
(原文)

Infonetics Research ups its VoIP services forecast to $76 billion by 2015, driven by SIP trunking, hosted business VoIP

CAMPBELL, California, Oct. 5, 2011-Market research firm Infonetics Research today released excerpts from its latest VoIP and UC Services and Subscribers report, which tracks vendors and service revenue in the residential/SOHO and business VoIP and unified communications market.
ANALYST NOTE
"We've increased our short- and long-term forecasts for the voice over IP services market, as adoption in the residential, SOHO, and business segments continues unabated. The residential segment continues to make up the majority of VoIP services revenue, but the real growth is in the business segment, particularly SIP trunking services and hosted VoIP and unified communication services. Following a healthy 2010, the overall VoIP services market is on track to grow another 17% in 2011," notes Diane Myers, directing analyst for VoIP and IMS at Infonetics Research.
VOIP SERVICES MARKET HIGHLIGHTS
Infonetics Research forecasts the combined business and residential/SOHO VoIP services market to grow to $76.1 billion in 2015
Revenue from SIP trunking services to businesses is forecast by Infonetics to grow at a phenomenal 52% compound annual growth rate (CAGR) from 2011 to 2015
The number of seats for hosted business VoIP and unified communications services is on track to more than double between 2011 and 2015
Due to continued demand for cloud-based services, IP Centrex and hosted unified communication service revenue grew 22% and seats grew 25% in the first half of 2011 compared to the second half of 2010
The 3 leaders of the global residential VoIP services market -- NTT, Comcast, and France T?l?com -- continue to add new VoIP subscribers in their respective regions
The number of residential and small office/home office (SOHO) subscribers to hosted VoIP services is expected to grow from 179 million in 2011 to 262 million worldwide by 2015