2011年11月10日、カリフォルニア、キャンベル-マーケット・リサーチ会社、Infonetics Research社は、SBC導入ストラテジー:グローバル・サービス・プロバイダー調査(SBC Deployment Strategies: Global Service Provider Survey,)からの抜粋をリリースしました。この調査ではセッション・ボーダー・コントローラーズ(SBCs)のキャリアでの導入計画についての見識、好ましいSBC特性および能力、そしてSBCベンダーに対する認識といったものを対象に提供しています。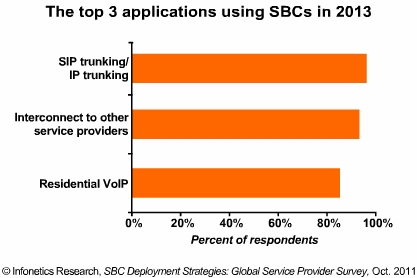 アナリストノート
これまでの間、住宅やビジネスVoIPサービス・アクセス(トランキングを含む)といった固定ライン・ネットワークにおいて展開されている反面、世界でのボイス・ネットワークが加速的にALL-IPへと移行するにつれて、サービス・プロバイダー間でのインターコネクションのためのセッション・ボーダー・コントローラーの使用は拡大し続けています。Infoneticsの最新調査では、向こう2年間の新たなSBC開発の最大エリアのうちの2つは、固定-モバイル・コンバージェンス(FMC)とワイアレス・アクセスということが確認されています。-Infonetics Research社 VoIP・IMS主任アナリスト ダイアン・マイアーズ言述。
SBC 調査のハイライト
グローバル サービス プロバイダー でのSBC マーケットは、2010年に45%の成長を遂げ、2億7,100万ドルに達し、インフォネティクスは、IPボイストラフィックの成長が強力に進んでいくに従い、2015年までには10億ドルまで達すると予測しました。
SIPトランキングは、サービス・プロバイダーによって使用されるSBCアプリケーションではもっとも頻度の高いアプリケーションであり、この状況は2013年まで続きます。その後は他のサービス・プロバイダーや住宅向けVoIPのインターコネクトションに変わるでしょう。
サービス・プロバイダーによって高評価を得た2つのSBC特性、それはセッション能力ス/ケーラビリティ、およびDoS(ダイヤル オブ サービス)攻撃やオーバーロード・プロテクションのシグナル発信です。
トップSBCベンダーを指名するならと尋ねられて、96%のサービス・プロバイダーがAcme Packetを指名すると返答。またこの質問に答えたサービス・プロバイダーのうちの26%がAcme Packetを唯一のベンダーとして指名。
Huawei はSBCマーケットシェア通信部門に関し、ベンダーとして常にNo.2もしくはNo.3の位置をキープしてきました。インストールされたSBCベンダーとしてそれらを指名した調査回答者うちの19%にあたります。
GENBANDは、SBC調査におけるサービス・プロバイダーの19%が将来的に購入するか否か、承認審査の段階にあります。彼らプロバイダーの誰もが現時点での顧客ではなく、これは新たなビジネスのためのコネクションをもっていることを示しています。
REPORT SYNOPSIS
For its SBC Deployment Strategies Survey, Infonetics interviewed SBC purchase decision makers at 27 incumbent carriers, competitive operators, mobile operators, cable operators from around the world in October 2011. Combined, the service provider respondents represent 22% of the world's public carrier revenue and 17% of the world's carrier capex. Service providers responded to a broad range of questions, from critical SBC features and top SBC applications, to security concerns, timelines, network location plans, and perceptions of SBC vendors.
RELATED RESEARCH AND EVENTS
Infonetics' latest Service Provider VoIP and IMS newsletter: http://bit.ly/rEVf8H
Telecom capex up 6% to $311B in 2011, revenue up 8% to $1.86T, driven by mobile broadband
Mobile VoIP subscribers will near 410 million by 2015; VoLTE still a long way off
Infonetics ups VoIP services forecast to $76B in 2015, driven by SIP trunking, hosted business VoIP
BT, TDC, Vodafone among top hosted business VoIP services leaders in EMEA
IMS market up 87% year-over-year; GENBAND leads combined carrier VoIP and IMS market
IMS survey on services, equipment and vendors shows growing momentum for mobile services
Verizon and New Global Telecom top business VoIP services leaders
(原文)

Operators name Acme Packet top SBC vendor; SIP trunking, interconnection driving SBC market

CAMPBELL, California, November 10, 2011-Market research firm Infonetics Research today released excerpts from its SBC Deployment Strategies: Global Service Provider Survey, which provides insights into carrier deployments of session border controllers (SBCs), preferred SBC features and capabilities, and perceptions of SBC vendors.
ANALYST NOTE
"Though traditionally deployed in fixed-line networks for residential and business VoIP service access (including trunking), the use of session border controllers for interconnection between service providers continues to expand as the world's voice networks increasingly go all-IP. Our latest survey confirms that two of the biggest growth areas for new SBC deployments over the next two years are fixed-mobile convergence (FMC) and wireless access," asserts Diane Myers, directing analyst for VoIP and IMS at Infonetics Research.
SBC SURVEY HIGHLIGHTS
The global service provider SBC market grew 45% in 2010 to $271 million and Infonetics projects it to top $1.0 billion by 2015 as IP voice traffic continues to grow strongly
SIP trunking is the #1 SBC application used by service providers and will continue to be through 2013, followed by interconnecting to other service providers and residential VoIP
The two SBC features rated highest by service providers are session capacity/scalability and signaling denial-of-service (DoS) attacks and overload protection
96% of the service providers named Acme Packet when asked to name the top two SBC vendors, and 26% of all service providers answering this question named only one vendor, Acme Packet
Huawei has consistently been the #2 or #3 vendor in terms of carrier SBC market share, which corresponds with the 19% of survey respondents who named them as their installed SBC vendor
GENBAND is under evaluation for future SBC purchases by 19% of the service providers surveyed, none of whom are their current customers, indicating they are in contention for new business