マサチューセッツ州ボストン、2011年11月15日―マーケットリサーチ会社Infonetics Research によリリースされたベンダーマーケット報告Optical Network Hardware 2011年第3期分(3Q11)より抜粋。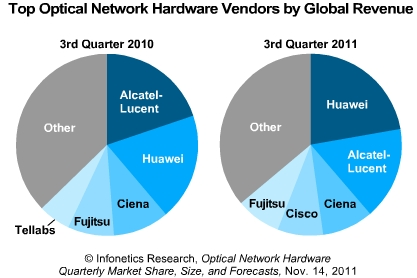 アナリストノート
「Cisco社は、第3四半期は光ネットワーク機器マーケットにとって良い時期ではなかったにもかかわらず、光ネットワーク機器収益(+46%)を引き続き伸ばしWDM機器販売については北米市場で伸ばした。」Andrew Schmitt主席アナリストはInfonetics Research にて光ネットワーク業界を分析する。
「Capex下降の表示サインは先端機器(WDM)の減少、既存機器(SDH)の増加-これはEMEA(ヨーロッパ)地域で起こり、北アメリカでは起こらなかった。これは2011年第4期の重要な傾向で、もしこれがEMEAで続くなら、高い確率で負の先行指標となりえる。」
光ネットワークハード機器のハイライト
他社が下降する中、Huawei社は光ネットワークハード機器マーケットでの首位の座を強め、国際的収益を前年度の同じ時期より23%上げた。
WDM と SDH/SONET 機器を含むグローバル光ネットワーク機器マーケットでは2011年第2期の12%増加をピークとして、2011年第3期では2期より4%下げ、3.5億ドルから3.4億ドルへ。
2010年第3期より2011年第3期まで12ヶ月支出平均はプラスに留まっている(今期に上昇はストップしたが)、光ネットワーク機器マーケットは全体で5%上昇。
今期のブライトスポットは、国際的な収益は2010年第3期から2011年第3期に18%上げたWDM光ネットワーク機器。
ROADM ネットワーク機器消費は2011年第3期に前期より4%上げ、特に出荷は1月から9月までの昨年の同時期9ヶ月間に比べると43%アップと大きく伸ばした。
北アメリカはCisco社, Nokia Siemens Networks社, ADVA社によって比較的良いパフォーマンスを押さえた。
アジアでは、日本は良い結果だったが中国では光ネットワークマーケット関連は芳しくなかった。
REPORT SYNOPSIS
Infonetics' quarterly Optical Network Hardware report tracks Adtran, ADVA, Alcatel-Lucent, BTI, Ciena, Cisco, ECI, Ericsson, Fujitsu, Huawei, Infinera, NEC, Nokia Siemens Networks, Nortel, Sycamore, Tellabs, Transmode, Tyco, ZTE, and others. The report provides worldwide and regional vendor market share, market size, and analysis (forecasts published Nov. 23). Equipment tracked: metro and long haul optical network equipment, including SONET/SDH (ADMs/terminals, metro MSPPs, crossconnects), WDM (transport, ROADM, long haul submarine line terminating equipment), and packet-optical transport systems (P-OTS). Also tracked: number of ports and revenue per port by speed (Ethernet, SONET/SDH/POS, WDM) from below OC48/STM1 to 100G. Regions: Asia Pacific (breakouts for China, Japan, India), CALA (Central America/Latin America), EMEA (Europe, Middle East, Africa), North America, and worldwide.
CLIENT CONFERENCE CALL
Clients: Join analyst Andrew Schmitt for his 3Q11 Optical Network Hardware market telebriefing on Tuesday, Dec. 6, 11:00 a.m. Eastern: http://www.infonetics.com/cgp/login.asp?id=465.
RELATED RESEARCH AND EVENTS
Operators name Ciena top optical equipment vendor in new survey
White Paper: The 100G era is approaching fast as carriers 'reboot' their optical networks
Optical transceiver market up 35% in 1H11 over 1H10; 100G ramp-up will be faster than 40G
ROADM WSS component market contracts in 1H11, causing big vendor market share shift
Optical network hardware gains 21% year-over-year in Q2, Huawei and ZTE surge
OTN survey reveals huge shift in carrier plans for optical switching
(原文)

Huawei expands lead, Cisco shines in weak quarter for optical network equipment market

Boston, MASSACHUSETTS, November 15, 2011-Market research firm Infonetics Research today released excerpts from its third quarter 2011 (3Q11) Optical Network Hardware vendor market share report.
ANALYST NOTE
"Cisco posted a big sequential gain in optical equipment revenue (+46%), as did the vendors who sell into Japan, and WDM equipment sales were up in North America, but outside of this, Q3 was not a strong quarter for the optical network hardware market," observes Andrew Schmitt, directing analyst for optical for Infonetics Research. "A telltale sign of a capex slowdown is when purchases of advanced equipment (WDM) decline and legacy equipment (SDH) increase - this happened in the EMEA region (namely Europe), but not in North America. This is a key trend to watch for in 4Q11; if continued in EMEA this would be a strong negative leading indicator."
OPTICAL NETWORK HARDWARE HIGHLIGHTS
While down sequentially, Huawei cemented its leadership position in the optical hardware market, with global revenue up 23% compared to the year-ago quarter
The global optical network equipment market, including WDM and SDH/SONET equipment, dropped 4% sequentially in 3Q11, from $3.5 billion to $3.4 billion, on the heels of a 12% increase in 2Q11
Rolling 12-month spending averages remain positive (despite the uptrend line being broken this quarter), and year-over year, from 3Q10 to 3Q11, the overall optical network equipment market is up 5%
The bright spot of the quarter is WDM optical network equipment, global revenue for which is up 18% year-over-year (3Q10 to 3Q11)
ROADM network equipment spending set a new high in 3Q11, up 4% sequentially, and shipments are up a stunning 43% for January through September 2011 compared to the same 9-month period last year
North America posted modest quarter-over-quarter gains with good performances by Cisco, Nokia Siemens Networks, and ADVA
Performance in Asia was a mixed bag with good results in Japan but relatively weak results in China for the overall optical market