Campbell、California州、2011年11月16日-市場調査会社Infonetics Researchは2011年第3四半期 (3Q11) のサービスプロバイダVoIP機器と加入者(Service Provider VoIP Equipment and Subscribers)市場シェアと予測レポートからの抄録を発表した。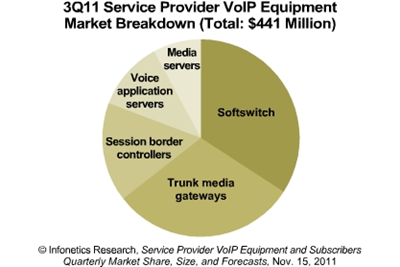 アナリストノート
「全般的にキャリアVoIP機器市場は季節がら第3四半期には下向きになる傾向があるが、3Q11も例外ではなかった。どのベンダーも、注文の遅れや技術選択の移行という困難の影響を受けた。しかし、Dialogic、GENBAND、Huawei、Metaswitch、Sonusいった特定のセグメントにおいては3Q11はベンダーによる特筆すべき業績もあった。これに続いて、全てのマーケットセグメントでは3Q11に下向きになったが、1年前の四半期 (3Q10) からすれば明るい話題が1つある:session border controllers (SBCs) は世界収益が13%上昇した。SBCと音声アプリケーションコントローラセグメントがオールIPネットワークへのさらなる移行の影響を受けて2011年上昇しつつある」とInfonetics ResearchでVoIPとIMS分析を指揮するDiane Myers氏は予想している。
サービスプロバイダVOIP市場のハイライト
世界的サービスプロバイダVoIP機器市場 (トランクメディアゲートウェイ、SBCs、メディアサーバー、ソフトスイッチ、音声アプリケーションサーバー) は2Q11に得た12%を失ったために12%減少して4億4100万ドルになった。
前年比で (3Q10から3Q11まで)、市場は全体的に15%縮小した。
3Q11にHuaweiはGENBANDに追い付き、全体的にサービスプロバイダVoIP機器市場の主導権を握った。
固定/モバイルネットワークにおけるVoIP加入者、SIP trunking、IP interconnectivityの成長は、VoIP機器にとって引き続き重要なドライバーとの見通し。
この四半期で特に際立った地域は中央・ラテンアメリカで、特にブラジルとメキシコでの堅調なVoIP採用に後押しされて、キャリアVoIP機器収益が3Q11には2Q11を抜いて14%の成長を記録した。
サービスプロバイダVoIPレポート概要
Infoneticsより四半期ごとに発行されるサービスプロバイダVoIP機器レポートは、高/中/低密度のトランクメディアゲートウェイ、SBCの接続と相互接続、メディアサーバー、クラス4/5ソフトスイッチ、音声アプリケーションサーバー (IPセントレックス/ホスト型IP PBX、IPトランキング、住宅用) を含むVoIP加入者とメディア処理、そしてコールコントロールキャリアVoIP機器の、世界及び各地域の市場シェア、市場規模、予測、分析を行っている。調査対象となったのは:Acme Packet、Alcatel-Lucent、AudioCodes、BroadSoft、Cisco、Dialogic、Ericsson、GENBAND、Huawei、Italtel、MetaSwitch、Nokia Siemens、RadiSys、Sonus、Technicolor、Tekelec、Xener、ZTEなど。
RELATED RESEARCH
Operators name Acme Packet top SBC vendor; SIP trunking, interconnection driving SBCs
Telecom capex up 6% to $311B in 2011, rev. up 8% to $1.86T, driven by mobile broadband
Mobile VoIP subscribers will near 410 million by 2015; VoLTE still a long way off
VoIP services forecast to hit $76B in 2015, driven by SIP trunking, hosted business VoIP
IMS market up 87% year-over-year; GENBAND leads combined carrier VoIP and IMS market
IMS survey shows growing momentum for mobile services
BT, TDC, Vodafone among top hosted business VoIP services leaders in EMEA
Verizon and New Global Telecom top business VoIP services leaders
(原文)

Carrier VoIP market down 12% in 3Q11; Huawei, GENBAND lead

Campbell, CALIFORNIA, November 16, 2011-Market research firm Infonetics Research today released excerpts from its third quarter 2011 (3Q11) Service Provider VoIP Equipment and Subscribers market share and forecast report.
ANALYST NOTE
"Seasonally the third quarter tends to be a weak one for the overall carrier VoIP equipment market, and 3Q11 was no exception. No vendor is immune to the challenges of delayed orders and shifts in technology choices, although there were some standout performances by vendors in 3Q11 in specific segments, including Dialogic, GENBAND, Huawei, Metaswitch, and Sonus. Sequentially, all market segments are down in 3Q11, but from the year-ago quarter (3Q10), there is one bright spot: session border controllers (SBCs), with global revenue up 13%. The SBC and voice application controller segments are on track to be up in 2011, reflecting the continued shift to all-IP networks," expects Diane Myers, directing analyst for VoIP and IMS at Infonetics Research.
SERVICE PROVIDER VOIP MARKET HIGHLIGHTS
The global service provider VoIP equipment market (trunk media gateways, SBCs, media servers, softswitches, voice application servers), lost the 12% it gained in 2Q11 with a 12% decline, to $441 million
Year-over-year (from 3Q10 to 3Q11), the overall market is down 15%
In 3Q11, Huawei gained on GENBAND to take the lead in the overall service provider VoIP equipment market
The growth of VoIP subscribers in fixed and mobile networks, SIP trunking, and IP interconnectivity will continue to be important drivers for VoIP equipment
The standout region of the quarter is Central and Latin America, which posted a 14% increase in carrier VoIP equipment revenue in 3Q11 over 2Q11, driven by strong VoIP adoption, particularly in Brazil and Mexico
SERVICE PROVIDER VOIP REPORT SYNOPSIS
Infonetics' quarterly Service Provider VoIP Equipment report provides worldwide and regional market share, market size, forecasts, and analysis for VoIP subscribers and media processing and call control carrier VoIP equipment, including high-, mid-, and low-density trunk media gateways, access and interconnect SBCs, media servers, Class 4 and Class 5 softswitches, and voice application servers (IP Centrex/hosted IP PBX, IP trunking, residential). Vendors tracked: Acme Packet, Alcatel-Lucent, AudioCodes, BroadSoft, Cisco, Dialogic, Ericsson, GENBAND, Huawei, Italtel, MetaSwitch, Nokia Siemens, RadiSys, Sonus, Technicolor, Tekelec, Xener, ZTE, and others.