カリフォルニア州キャンベル、2011年11月28日、Infonetics Research社は2011年第三四半期 (3Q11) のIMS装置と加入者の市場シェアレポートの抜粋を公開した。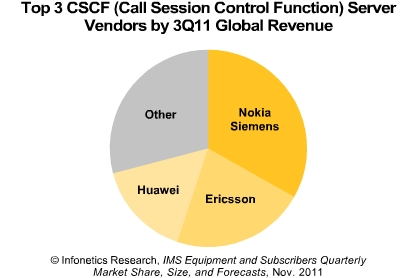 アナリストノート
「IMS装置市場は、2010年比で2011年には世界的収益が50%を超える伸びで推移しており、大手サービスプロバイダーのチャイナテレコム、チャイナユニコム、ドイツテレコムは大幅なクラス5への交換プロジェクトを経験し、ATTとNTTはクラス5への交換を加速させ、コムキャストのようなケーブル事業者は新たなネットワーク投入の準備が整い、無線事業者 (ベライゾンワイヤレスやメトロPCSなど)はLTE向けIMSを開始している。IMS市場の成長は、固定系やモバイルネットワーク上のプロジェクトが増加、減少し、新たなプロジェクトが上向くのにつれて、不規則な曲線に従い続けると見積もられる」と、Infonetics ResearchのVoIP, UC, IMS担当アナリストのダイアン マイヤーズは予想している。
IMS市場のハイライト
世界的IMS (IPマルチメディアサブシステム)装置市場は非常に変わりやすい成長傾向を続け、第3四半期には、対第2四半期に比べて結果的に18%減少するが、前年同期比較(3Q10)では46%増加する。
Nokia Siemens NetworksはIMSセッションコントロールファンクション (CSCF) サーバー市場で3Q11に急成長で引き離し、EricssonとHuaweiが続く。
3Q11には世界的IMS主装置の収益の66%が固定系ネットワークの装置購入だったのは、ヨーロッパとアジア太平洋での固定系プロジェクトの継続による。
北米での固定系ネットワーク向けの主たるIMSの収益は55%のみで、ベライゾンワイヤレスによるLTE展開の継続の強さによる。
ホームサブスクライバーサーバー (HSS) は、LTE展開からの利益を継続して受けているのは、LTEネットワーク内での主要デバイス登録エレメントとして実装されているからで、これはVoice over LTE (VoLTE) の展開にかかわらずHSSに前向きの影響を有している。
3Q11にはアジア太平洋はIMS販売が最大の地域であり、全IMS装置の40%の収益となり、一方北米は2Q11に対する104%の収益上昇となる最強の四半期を示した。
IMS REPORT SYNOPSIS
Infonetics' quarterly IMS report provides worldwide and regional market size, market share, forecasts through 2015, and analysis of mobile and fixed-line IMS subscribers and equipment. Equipment tracked: IMS voice and IM/presence application servers and IMS core equipment, including home subscriber servers (HSS), CSCF servers, media resource function (MRF), breakout gateway control function (BGCF), and media gateway control function (MGCF). Includes an IMS deployment tracker by region, country, carrier, and vendor. Vendors tracked: Alcatel-Lucent, BroadSoft, Ericsson, Huawei, Mavenir, NEC, Nokia Siemens, ZTE, others.
RELATED RESEARCH
Carrier VoIP market down 12% in 3Q11; Huawei, GENBAND lead
PBX market continues its slow, steady recovery in 3Q11, up 5.5%
Operators name Acme Packet top SBC vendor; SIP trunking, interconnection driving SBCs
Telecom capex up 6% to $311B in 2011, rev. up 8% to $1.86T, driven by mobile broadband
Mobile VoIP subscribers will near 410 million by 2015; VoLTE still a long way off
Infonetics ups 2015 VoIP services forecast to $76B, driven by SIP trunking, hosted business VoIP
IMS market up 87% year-over-year; GENBAND leads combined carrier VoIP and IMS market
IMS survey shows growing momentum for mobile services
BT, TDC, Vodafone among top hosted business VoIP services leaders in EMEA
Verizon and New Global Telecom top business VoIP services leaders
(原文)

IMS equipment market on track for 50% growth in 2011

Campbell, CALIFORNIA, November 28, 2011-Market research firm Infonetics Research today released excerpts from its third quarter 2011 (3Q11) IMS Equipment and Subscribers market share report.
ANALYST NOTE
"The IMS equipment market is on track to gain over 50% in global revenue in 2011 over 2010 as large service providers like China Telecom, China Unicom, and Deutsche Telekom undergo significant Class 5 replacement projects; AT&T and NTT ramp their Class 5 replacements; cable operators such as Comcast get ready to launch their new networks; and wireless operators (Verizon Wireless, MetroPCS, etc.) launch IMS for LTE. IMS market growth rates to continue to follow an atypical curve as projects ramp and taper and new ones pick up across fixed-line and mobile networks," expects Diane Myers, directing analyst for VoIP and IMS at Infonetics Research.
IMS MARKET HIGHLIGHTS
The global IMS (IP Multimedia Subsystem) equipment market continues on its extremely variable growth path, down 18% sequentially in 3Q11, but up 46% year-over-year (from 3Q10)
Nokia Siemens Networks pulled ahead in the fast-growing IMS session control function (CSCF) server market in 3Q11, followed by Ericsson and Huawei
In 3Q11, 66% of global IMS core equipment revenue was from equipment purchased for fixed-line networks, due to ongoing fixed-line projects in Europe and Asia Pacific
In North America only 55% of IMS core revenue was for fixed-line networks, due to continued strength coming from Verizon Wireless for their LTE deployment
Home subscriber servers (HSS) continue to benefit from LTE deployments, as they are being implemented as the core device registering element within LTE networks, which is having a positive impact on HSS regardless of voice over LTE (VoLTE) deployments
In 3Q11, Asia Pacific was again the largest region for IMS sales, with 40% of total IMS equipment revenue, while North America posted the strongest quarter, with revenue up 104% over 2Q11