カリフォルニア州キャンベル市、2011年11月28日―マーケティングリサーチ会社のInfonetics Research社は今日、第3四半期における「企業向けユニファイドコミュニケーション、VolP、TDM機器」の市場シェアレポートで、PBX電話システム、VolPゲートウェイ、ユニファイドコミュニケーション(UC)アプリケーション抜粋を公表した。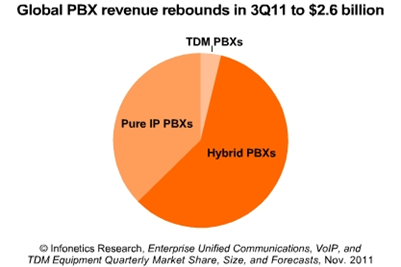 アナリストノート
「過去4四半期でアバイアが非常に競争の激しいPBX市場をリードしており、3Q11で世界のPBX総収益の1/4を得たことで、安定して競争をリードしている。アバイアは安定した供給とIPの最終段階の売り上げの持続的増加による健全なASP (平均販売価格)により競争をリードしている。シスコは1位と大差のない2位で、3Q11で逐次的で、前年比でも高い総収益の増加を記録している。シスコの全体的な平均販売価格は、特別販売促進パックと値段が行動を駆り立てたことによりこの四半期で減少した」とInfonetics Research社のVolPとIMS担当のディレクターアナリストであるDyane Myers氏は述べている。
PBXとUC市場のハイライト
3Q11では世界のPBX/KTS電話システムの総収益は逐次的に5.5%成長し、21億5千万ドルに増加し、今年の第1、第2四半期の連続した減収を逆転した。
1年前の第3四半期(3Q10)から、世界のPBX市場は6.6%増加し、2011年は全体的に前年比で緩やかで安定した回復が続いた。
3Q11ではユニファイドコミュニケーション(UC)の総収益は逐次的に15.2%に増加した。一方でVolPゲートウェイは僅かに減少した(-1.5%)

マイクロソフトはUC業界において、Lyncの前年比25%の総収益の増加により、存在感を増している。

EMEAはこの四半期において傑出しており、一連の損失を11.0%の連続したPBXの総収益の増加により逆転した。しかし、インフォネティクスは現在の経済状況を考慮してEMEAについては慎重な態度のままである。
アジア太平洋地域におけるPBXの総収益は前年比で11%上昇した(3Q11対3Q10)。
3Q11の総収益の分かれで明らかになったように、ビジネスはIP基板の電話システムへ移行し続ける。ハイブリッドのIP PBXは世界の総収益の2/3近くを創出してトップに立ち続ける。純粋なIP PBXは市場の全体的な規模に合わせて成長し続け、1/3を今創出しているがさらに成長する。TDM PBXは散発的な成長の煽りにも関わらず、全体的には衰え続ける。
REPORT SYNOPSIS
Infonetics' quarterly Enterprise Unified Communication, VoIP, and TDM Equipment report provides worldwide and regional market size, market share, analysis, and forecasts for the enterprise telephony market, including TDM PBX and KTS systems, hybrid and pure IP PBX systems, IP PBX by system size, VoIP gateways, unified communication applications (communicator, unified messaging), IP desk phones and IP soft phones. The report tracks Aastra, AudioCodes, Alcatel-Lucent, Avaya, Cisco, Dialogic, D-Link, HP, IBM, Microsoft, Mitel, NEC, NET/Quintum, Samsung, ShoreTel, Siemens, Toshiba, Vertical, and others.
RELATED RESEARCH
IMS equipment market on track for 50% growth in 2011
Carrier VoIP market down 12% in 3Q11; Huawei, GENBAND lead
Operators name Acme Packet top SBC vendor; SIP trunking, interconnection driving SBCs
Enterprise videoconferencing and telepresence equipment a $5.4 billion market by 2015
Infonetics ups 2015 VoIP services forecast to $76B, driven by SIP trunking, hosted business VoIP
Unified communications survey shows Microsoft and Cisco lead, mobility key, video growing
SIP trunking drives 70% jump in enterprise session border controller market
Telecom capex up 6% to $311B in 2011, rev. up 8% to $1.86T, driven by mobile broadband
Mobile VoIP subscribers will near 410 million by 2015; VoLTE still a long way off
IMS survey shows growing momentum for mobile services
(原文)

PBX market continues its slow, steady recovery in 3Q11, up 5.5%

Campbell, CALIFORNIA, November 28, 2011-Market research firm Infonetics Research today released excerpts from its third quarter 2011 (3Q11) Enterprise Unified Communication, VoIP, and TDM Equipment vendor market share report, which tracks PBX phone systems, VoIP gateways, unified communication (UC) applications, and IP phones.
ANALYST NOTE
"For the fourth straight quarter, Avaya leads the highly competitive PBX market, with about a quarter of the world's PBX revenue in 3Q11. Avaya is holding onto its revenue lead with steady shipments and healthy ASPs due to continued increases in IP endpoint sales. Cisco is a close second, posting sequential and year-over-year revenue increases in 3Q11. Cisco's overall ASPs declined in the quarter due to special promotional packages and pricing that helped spur activity," notes Diane Myers, directing analyst for VoIP and IMS at Infonetics Research.
PBX AND UC MARKET HIGHLIGHTS
Global PBX/KTS phone system revenue grew 5.5% sequentially in 3Q11 to $2.15 billion, reversing the sequential declines from the first two quarters of the year
From the year-ago third quarter (3Q10), the global PBX market is up 6.6%, continuing the slow and steady recovery recorded throughout 2011 on a year-over-year basis
Unified communications (UC) revenue increased 15.2% sequentially in 3Q11, while VoIP gateways saw a small decline (-1.5%)

Microsoft is growing its presence in the UC space with 25% year-over-year Lync revenue growth

EMEA was the standout region for the quarter, reversing a string of losses with 11.0% sequential growth in PBX revenue; however, Infonetics remains cautious about EMEA due to the current economic situation
PBX revenue in Asia Pacific is up 11% year-over-year (3Q11 vs. 3Q10)
Businesses continue to migrate to IP-based phone systems, evinced by the revenue split in 3Q11: Hybrid IP PBXs continue to dominate, making up nearly 2/3 of global revenue; pure IP PBXs continue to grow as a proportion of the overall market, making up nearly 1/3 now and growing, and TDM PBXs, despite sporadic growth spurts, continues to decline overall