2011年12月2日、カリフォルニア州キャンベル発――Infonetics Research社は、次世代のOSSやポリシー管理ベンダの市場に対する継続的追跡調査を提供するContinues Research Service (CRS) の一環として、『Policy Management Deployment Strategies and Vendor Leadership: Global Service Provider Survey (仮訳:ポリシー管理採用戦略におけるベンダの主導権:サービスプロバイダのグローバル調査)』を発行した。調査では、通信事業社がポリシー管理ソリューションを採用する際、何が投資の動機となっているか、どのような戦略、統合努力がなされているかに光を当てると共に、ポリシー管理ベンダの評価を質問した。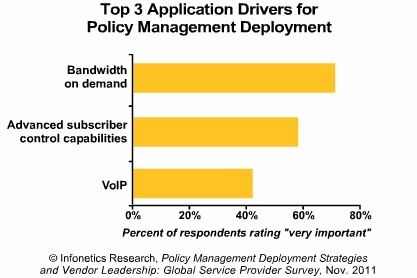 アナリストノート
「以前は単なる帯域管理の感があったポリシー管理ですが、その重点は、むしろ新しいビジネスや付加価値サービスの実現に移ろうとしています。通信事業各社でも、明らかに予算決定権の所在に変化が訪れています。昨年の調査と比較すると、ポリシー管理の投資内容の決定権をIT部門が握る会社が増加し、ネットワーク系の技術・運用部門が握る会社が減少しています。このため、通信事業社のネットワーク部門と古くから付き合ってきた、比較的古株の契約ベンダにとっては、不利な状況が発生する一方で、IT部門、マーケティング部門と強いつながりを持つ企業は、それほどの影響を受けないことになります。同時に課金業務請負業社など、IT部門の企業にとっては、ポリシー部門に新規参入できる余地が出てきます。」とInfonetics Research社で次世代OSSとポリシーを担当する主席アナリストShira Levine ( シーラ・レヴァイン ) 氏は予測する。
ポリシー管理調査のハイライト
サービス・プロバイダ各社から、最も優れたポリシー管理ベンダの自由回答を得たところ、まずは、Camiant 社、または同社を買収したTekelec社、Openet社の名が挙がり、Bridgewater Systems 社、Ericsson社が同点3位で2社を追う結果となった。
サービス、サポートを初めとする多量注文分野の第1位を問う質問では、Huawei (華為) 社、Ericsson社が、通信事業社から高い評価を得た。
通信事業社がポリシー管理ベンダを選択する際に、最重要視するのは、まず、オンデマンド帯域幅や高度な加入者管理のサービス提供能力であり、次点は、VoIP。通信事業社がポリシーを通じて、より幅広い選択、より優れた使用感を顧客に提供しようとしていることが浮き彫りとなった。
ポリシー管理ベンダ選択時の最優先事項は、信頼性とスケーラビリティであり、価格や早期提供ではなかった。このことから、通信事業社がポリシー管理を非常に重要視しており、低価格化などのために質を犠牲にすべきではないと考えていることが伺える。
調査について
この『Policy Management Deployment Strategies and Vendor Leadership: Global Service Provider Survey (仮訳:ポリシー管理採用戦略におけるベンダの主導権:サービスプロバイダの世界調査)』の作成にあたり、Infonetics Research社は、世界最大規模のモバイル通信事業社や注数社を含む通信サービス・プロバイダ24社の購入決定権を持つ部門に対し、聞き取り調査を行った。本調査の対象となった通信事業社は、世界のテレコム関連CAPEX (689億ドル) の25% を占め、世界のテレコム関連収入の29%を占めるうえ、所属地域は、EMEA (西欧中心) 地域、北米、アジア・太平洋地域、中央アメリカ、ラテンアメリカの広範囲にわたっている。報告書には、ポリシー管理の動機、アプリケーション、統合努力、ソリューション基準、ベンダ選択基準、ベンダとの付き合いの長さ、購入決定権を握る部署などが盛り込まれている。また、特典として、通信事業各社が、複数の基準に従って、関連ベンダ9社 (Alcatel-Lucent社、Bridgewater/Amdocs社、Broadhop社、Camiant社/Tekelec社、Ericsson社、 Huawei社、Juniper社、Nokia Siemens社、Openet社) を評価した格付け一覧表も同録されている。
RELATED RESEARCH
Subscriber data management market set to jump 55% in 2011 to $563 million
Convergent charging passes the billion-dollar mark in 2011, up 42%
Telecom capex up 6% to $311B in 2011, rev. up 8% to $1.86T, driven by mobile broadband
Mobile network optimization / self-organizing network (SON) market nearing $3B by 2015
Millions opting into shared data plans represent huge opportunity for mobile operators
Mobile operators fueling hockey-stick growth in standalone deep packet inspection market
Amdocs acquisition of Bridgewater changes policy management game; $1.6B market by 2015
Service delivery platform (SDP) market forecast to hit $5.16 billion by 2015
Convergent charging gets sophisticated; carriers name Amdocs, Ericsson top vendors
Competition heating up in policy management market as role of policy evolves
(原文)

Telecom operators rate policy vendors in new Infonetics survey; Tekelec, Openet named top players

Campbell, CALIFORNIA, Dec. 2, 2011-as part of its Continuous Research Service (CRS) series of analyst reports and surveys about the next gen OSS and policy market, Infonetics Research this week published Policy Management Deployment Strategies and Vendor Leadership: Global Service Provider Survey. The survey provides insight into the investment drivers, strategies, and integration efforts of operators deploying policy management solutions, as well as their thoughts on leading policy vendors.
ANALYST NOTE
"As policy management becomes less about pure bandwidth management and more about enabling new business models and value-added services, there is a clear shift in who holds the budget reins within telecom operators. Compared to last year's survey, a higher percentage of respondents named the IT department as the budget holder for policy management investments, and fewer named network engineering and operations departments. This creates a challenge for the more established policy vendors who have longstanding relationships with operators' network departments but less sway with IT and marketing teams, while creating new opportunities for IT players such as the billing vendors entering the policy space," expects Shira Levine, directing analyst for next gen OSS and policy at Infonetics Research.
POLICY MANAGEMENT SURVEY HIGHLIGHTS
When asked in an open-ended question who they consider to be the top three policy management vendors, service providers named Tekelec/Camiant and Openet as the top two, followed by Bridgewater Systems and Ericsson in a tie for third
Huawei and Ericsson receive high marks from operators for many buying criteria, including service and support, the #1 supplier selection criterion
Bandwidth on demand and advanced subscriber control capabilities are operators' top application drivers for policy management investments, followed by VoIP; operators clearly are interested in using policy to enable more choices and a better experience for the customer
Reliability and scalability top the list of criteria for choosing a policy management supplier, while price and early availability are at the other end of the spectrum, suggesting that operators view policy management as a critical capability and aren't willing to sacrifice quality
ABOUT THE SURVEY
For its Policy Management Deployment Strategies and Vendor Leadership: Global Service Provider Survey, Infonetics Research interviewed purchase decision-makers at 24 telecom service providers, including several of the world's largest mobile operators and some high profile competitive players in emerging markets. The operators surveyed represent 25% of the world's telecom capex ($68.9 billion) and 29% of worldwide telecom revenue, and hail from EMEA (particularly Western Europe), North America, Asia Pacific, and Central and Latin America. The report focuses on policy management drivers, applications, integration efforts, solution criteria, supplier criteria, vendor familiarity, and purchase decision-makers. The survey features a vendor scorecard with operator ratings of 9 vendors (Alcatel-Lucent, Bridgewater/Amdocs, Broadhop, Camiant/Tekelec, Ericsson, Huawei, Juniper, Nokia Siemens, and Openet) on multiple criteria.