ボストン、マサチューセッツ州、2011年12月8日-市場調査会社のInfonetics Researchは本日、第3四半期(3Q11)の ワイヤレス LAN設備とWiFi電話のマーケットシェアと予測に関するレポートの概要を発表した。ここでは、アクセスポイント、WLANコントローラー、WiFi電話の市場およびこれらを製造する供給メーカーについて分析している。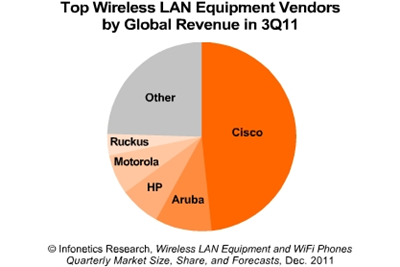 アナリストノート
「ワイヤレスLAN設備市場は、勢いが衰えることなく成長しており、この成長はワイヤレスネットワーク接続に対する広範な需要の増加によってもたらされている。リセッションの最中に一時的な市場の停滞がみられたが、売上は早期に回復し、他の多くの設備市場より良好な状況となっている。経済環境の不安にはほとんど影響を受けることなく、2011年のワイヤレスLAN周辺機器市場は21%の成長軌道に乗って32億ドルとなり、2010年の成長率とほぼ同等の水準となる」と、Infonetics Research における企業ネットワーク、映像部門の上級アナリストであるMatthias Machowinskiは予想している。
ワイヤレスLAN 市場のハイライト
世界的なWLAN 設備の売上は2011年第3四半期に引き続き10%増加して881百万ドルとなり、2011年第2四半期の過去最高レベルを更新した。
CiscoのWLAN設備の売上シェア (WiFi電話を除く) は2011年第3四半期に48%を堅持した。
優れたWLAN専業事業者でありWLAN設備市場で第2位のArubaは2011年第3四半期に売上シェアを1%ポイント増加させた。
HPとMotorola は第3位のポジションをめぐって激しく競争しているが、2011年第3四半期にはHPがわずかに上回った。
年間の総アクセスポイント(AP)出荷数は過去5年間で倍増し、今や802.11nのAP出荷数と旧来のAPの比率は2対1である。
企業のシングルモードWiFi電話の世界的な売上数量は2011年第3四半期に引き続き13%増加した。
REPORT SYNOPSIS
Infonetics' quarterly wireless LAN and WiFi phones report tracks Alcatel-Lucent, Aruba, BelAir, Brocade, Cisco, D-Link, Enterasys, Extreme, Juniper, Meru, Motorola, NETGEAR, Polycom, HP, Proxim, Ruckus , SMC, Xirrus, and others. The report provides market size, market share, analysis, and forecasts for interactive, independent, and outdoor access points (including AP forecasts by technology: 802.11 a/b/g, 802.11n, 802.11ac), WLAN controllers, and enterprise single-mode WiFi phones.
RELATED RESEARCH
Cisco sees revival in Ethernet switches; enterprise router market up 5% in 3Q11
PBX market continues its slow, steady recovery in 3Q11, up 5.5%V
Enterprise videoconferencing and telepresence equipment a $5.4 billion market by 2015
Unified communications survey shows Microsoft and Cisco lead, mobility key, video growing
Expansion, virtualization, cloud services drive data center markets
Network attached storage (NAS) appliance market to double by 2015
High speed network port market to hit $52 billion in 2015 (1G, 10G, 40G, 100G)
(原文)

Wireless LAN equipment sales hit new high in 3Q11

Boston, MASSACHUSETTS, December 8, 2011-Market research firm Infonetics Research today released excerpts from its third quarter (3Q11) Wireless LAN Equipment and WiFi Phones market share and forecast report, which analyzes the market for access points, WLAN controllers, and WiFi phones and the vendors who make them.
ANALYST NOTE
"The wireless LAN equipment market is growing unabated, driven by broad-based demand for wireless network connectivity. There was a brief pause in the market at the height of the recession, but sales quickly recovered, and are doing much better than many other equipment markets. Mostly immune to economic concerns, 2011 wireless LAN gear is on track to grow 21% to $3.2 billion, a near-repeat performance of 2010," expects Matthias Machowinski, directing analyst for enterprise networks and video at Infonetics Research.
WIRELESS LAN MARKET HIGHLIGHTS
Worldwide WLAN equipment revenue grew 10% sequentially in 3Q11, to $881 million, eclipsing the previous high set in 2Q11
Cisco's WLAN equipment revenue share (excluding WiFi phones) held steady at 48% share in 3Q11
Aruba, the top-ranked WLAN specialist and number-two player in the WLAN equipment market, increased its revenue market share by 1 point in 3Q11
HP and Motorola continue their heated battle for third position, with HP edging ahead by a bit in 3Q11
Total annual access point (AP) shipments have more than doubled over the last 5 years, and 802.11n AP shipments are now out-shipping legacy APs by a 2:1 margin
The number of enterprise single-mode WiFi phones sold worldwide grew 13% sequentially in 3Q11