キャンベル、カリフォルニア州、2011年12月13日-市場調査会社 Infonetics Research は本日、第3四半期(3Q11) のCMTSとエッジQAMハードウェアと加入者 (quarterly CMTS and Edge QAM report)市場シェアと予測に関するレポートの概要を発表した。ここでは、ケーブルブロードバンド装置と加入者を対象としている。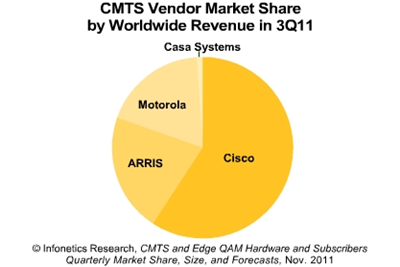 アナリストノート
「ケーブルブロードバンド装置市場は第3四半期に通常の季節要因的な減速がみられたが、特記すべき重要なデータは対前年成長率である。すなわち、グローバルな収入は前年の四半期と比較して14%増加している。この数字は、全体的な市場は堅調さを維持していることと、ケーブル事業者のブロードバンドキャパシティに対する需要は減速していないことを示している。ケーブル事業者は、居住者向けのCMTSダウンストリームの成長に顕著にみられるように、DOCSIS 3.0 サービスとIP ビデオのための基盤構築を進めている。」と、Infonetics Researchにおけるブロードバンドアクセスとビデオ担当の上級アナリストであるJeff Heynenはコメントしている。
CMTSとエッジQAM市場のハイライト
CMTS とエッジQAM を合わせた収入は、2桁成長の過去2四半期の後、3Q11に世界全体で11%減少して4億13百万ドルとなった。
北米のケーブルブロードバンド装置収入は連続して10%減少したが(予想通り)、前年比較では37%増。
CMTS装置の主要4事業者(Cisco ARRIS、Motorola、Casa Systems) のなかで、Cisco だけ市場シェアが前年比で上昇して59%となり、過去2つの四半期で達成した最高シェアに1%ポイント満たなかった。
Infonetics では、世界全体のケーブルブロードバンド加入者数は2010年に1億8百万人、2015年に1億25百万人にまで増加すると予想している。
欧州および中東アフリカ(EMEA)のエッジQAM 収入は11%増加したが、これは事業者がDOCSIS/M-CMTS アプリケーションをサポートするためにエッジQAMに対する支出を継続したことによる。
REPORT SYNOPSIS
Infonetics' quarterly CMTS and Edge QAM report provides worldwide and regional vendor market share, market size and forecasts for standard and wideband cable broadband subscribers; upstream and downstream CMTS revenue and ports; and edge QAM channels and revenue by application, including linear broadcast TV, video on demand (VOD) and unicast video, switched digital video (SDV), and Data Over Cable Service Interface Specification (DOCSIS). The report tracks ARRIS, BigBand Networks, Casa Systems, Cisco, CommScope, Ericsson, Harmonic, Motorola, Sumavision, Teleste and Vecima.
RELATED BROADBAND RESEARCH
Fixed broadband access equipment market set to peak in 2011
Telecom capex up 6% to $311B in 2011, revenue up 8% to $1.86T, driven by mobile broadband
Operators looking at next gen FTTH technologies will wait for prices to drop
GPON equipment investment in Europe, India and Middle East far outpaces subscribers
Home networking device sales up in a normally-down first quarter
High speed network port market to hit $52 billion in 2015 (1G, 10G, 40G, 100G)
Residential gateway survey shows strong support for IPTV; Comtrend, Cisco top vendor list
(原文)

Cable broadband equipment market up 14% from year-ago quarter; Cisco gains

Campbell, CALIFORNIA, December 13, 2011-Market research firm Infonetics Research today released excerpts from its third quarter (3Q11) CMTS and Edge QAM Hardware and Subscribers market share and forecast report, which tracks cable broadband equipment and subscribers.
ANALYST NOTE
"While the cable broadband equipment market experienced its normal seasonal slowness in the third quarter, the important data to note is the year-over-year growth: global revenue is up 14% from the year-ago quarter, indicating the overall market remains robust and that demand for increased broadband capacity among cable operators has not slowed. Cable operators continue laying the foundation for DOCSIS 3.0 services and IP video, as evidenced by the significant growth in CMTS downstreams for residential consumers," notes Jeff Heynen, directing analyst for broadband access and video at Infonetics Research.
CMTS AND EDGE QAM MARKET HIGHLIGHTS
Combined CMTS and edge QAM revenue declined 11% to $413 million worldwide in 3Q11, following two quarters of double-digit percent gains
While North American cable broadband equipment revenue is down 10% sequentially (as expected), it is up 37% year-over-year
Of the four CMTS equipment leaders - Cisco ARRIS, Motorola, and Casa Systems - only Cisco's market share is up year-over-year, at 59%, just one share-point shy of its all-time high, reached the previous two quarters
Infonetics expects the number of cable broadband subscribers to grow from 108 million worldwide in 2010 to 125 million in 2015
Edge QAM revenue in Europe, the Middle East and Africa (EMEA) jumped 11% as operators continued their spending on edge QAMs to support DOCSIS/M-CMTS applications