カリフォルニア州、キャンベル、2011年12月21日 -2011年12月のバーチャル・セキュリティー装置リポートにおいて、市場調査会社Infonetics Researchは2011年末のバーチャル・セキュリティー装置からの世界的収益は2010年に比べて57%上昇すると予測している。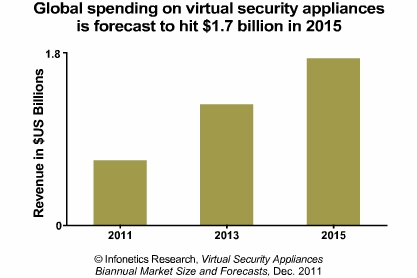 アナリストノート
「あらゆるサイズの機構における配線用ボックスとデータセンター内でのサーバー仮想化の採用、そしてクラウドによりITサービスを実現する基礎構造の初公開が、セキュリティー・ソリューションの為の専門的な要求項目の重要な変更を促進させ、ユニークな挑戦を提示しています。より煩わしい挑戦のうち若干は、全てのバーチャルマシン上にセキュリティー・ソフトウェアをインストールする高価な罠に陥らずにバーチャルマシン間の脅威となる問題を解決する事を含み、仮想化された環境上で動作しているアプリケーションの広い範囲を保護するセキュリティー技術を実装し、そしてベンダー、スタンダード、API、バーチャル環境を確保する動作中のアーキテクチャの複雑な網をナビゲートします。これらの挑戦はバーチャル・セキュリティー機器市場の主動力に相当し、そしてマーケットが何故これ程までに急速に成長しているかを反映しています」Infonetics Researchのセキュリティー担当主要アナリストJeff Wilsonは説明する。
バーチャル・セキュリティー機器マーケットのハイライト
2010年に2倍以上に成長後、世界的なバーチャル・セキュリティー機器市場は2011年には初めて5億ドルの水準を易々と超え、前年比57%上昇の約6億7,000万ドルに達する事を期待されている。
2010年から2015年までの5年間で、Infonetics はバーチャル・セキュリティー機器市場が、4倍以上の17.5億ドルに成長すると予測している。
Altor NetworksによるJuniper Networksの獲得により、Trend Micro、Cisco、Check Point、F5、Blue Coat、Citrix、IBM、Symantec、HP、IBM、Enterasys、Fortinet、Watchguard を含むほぼ全てのJuniper Networkの主要競合他社はバーチャル機器に対するプロダクト開発とマーケティングの焦点を増やした。
VyattaやCatbird のような専門家は尚もバーチャル・セキュリティー機器市場に一石を投じ続けており、そして仮想化プラットホームのベンダー(Vmware、Citrix、Microsoft)自身も同様にセキュリティー・ソリューションの為に参入している。
REPORT SYNOPSIS
Infonetics' Virtual Security Appliances report provides worldwide and regional market size and forecasts for licenses, revenue, and revenue-per-license for the 4 main security technologies most widely available in a virtual appliance form factor: content security gateways, firewalls and virtual private networks (VPNs), Secure Socket Layer (SSL) VPNs, and intrusion detection and intrusion prevention systems (IDS/IPS).
RELATED SECURITY RESEARCH
DDoS prevention market up 52% in 2011, mobile networks deployments driving growth
Service provider security plans, views on security vendors revealed in new survey
SECURING YOUR EMPLOYEES' MOBILE DEVICES webinar with Infonetics, IBM, Juniper Networks
Juniper jumps back to 2nd in network security market; Cisco gains; market up 6%
Smaller vendors driving growth in the NAC appliance market
Smartphone hacking fueling big growth in mobile security client software sales
Managed security services hot despite cool economy due to threats, mobile devices, move to cloud
Enterprise security survey underscores trend toward hybrid CPE/cloud security solutions
Cisco tops Infonetics Research's web security SaaS scorecard
Intrusion prevention system (IPS) survey highlights move to integrated solutions
Google and Symantec top Infonetics Research's messaging security SaaS scorecard
(原文)

Virtual security appliance market up 57% in 2011, driven by cloud and data center buildouts

Campbell, CALIFORNIA, December 21, 2011-In its December 2011 Virtual Security Appliances report, market research firm Infonetics Research forecasts global revenue from virtual security appliances to finish the 2011 year 57% higher than in 2010.
ANALYST NOTE
"The adoption of server virtualization within wiring closets and data centers at organizations of all sizes and the rollout of infrastructure to deliver IT services in the cloud is driving significant change in the technical requirements for security solutions, presenting unique challenges. Some of the more vexing challenges include solving the inter-virtual machine threat problem without falling into the expensive trap of installing security software on every single virtual machine, deploying security technology that protect the broad range of applications running in virtualized environments, and navigating the complex web of vendors, standards, APIs, and architectures in play for securing virtual environments. These challenges represent key drivers for the virtual security appliance market and reflect why the market is growing so fast," explains Jeff Wilson, principal analyst for security at Infonetics Research.
VIRTUAL SECURITY APPLIANCE MARKET HIGHLIGHTS
After more than doubling in 2010, in 2011 the global virtual security appliance market easily passed the half-billion-dollar mark for the first time, expected to hit about $670 million, up 57% year over year
In the 5 years from 2010 to 2015, Infonetics forecasts the virtual security appliance market to more than quadruple, to $1.75 billion
Since Juniper Networks' acquisition of Altor Networks, virtually all of Juniper's major competitors have increased their product development and marketing focus for virtual appliances, including Trend Micro, Cisco, Check Point, F5, Blue Coat, Citrix, IBM, Symantec, HP, IBM, Enterasys, Fortinet, and Watchguard
Specialists like Vyatta and Catbird are still making waves in the virtual security appliance market, and the virtualization platform vendors themselves (VMware, Citrix, and Microsoft) are also in the mix for security solutions