キャンベル、カリフォルニア州、2012年1月9日-市場調査会社Infonetics Research は本日、第3四半期(3Q11) のデータセンターネットワーク設備 市場シェアと市場予測に関するレポートの概要を発表した。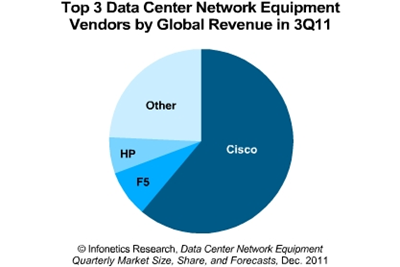 アナリストノート
「ワォという言葉は、前年比で800%超の成長がみられた第3四半期末における特注のデータセンターイーサネットスィッチング市場の業績を正確に表現するのに最も適している。これはデータセンターネットワーク設備セクターの現状を物語っており、本格的には収束の方向に向かっている。」とInfonetics Research においてデータセンターとクラウドを担当している上級アナリストSam Barnettはコメントしている。

Barnett はさらにこう述べている。「データセンターのアップグレード、バーチャリゼーション、データ量・保管量・通信量の成長の回復は、データセンターネットワーク設備市場における全てのカテゴリーにとって良い兆候といえる。2011年通年の数字が入手される時には、この市場は2010年と比較して約6%増加したことが見込まれるほか、成長率は2012年に2桁台に向かうと予想している。」
データセンターネットワーク設備市場ハイライト
世界的なデータセンターネットワーク設備の売上は3Q11に連続して12%増加したほか、汎用、特注、ブレードデータセンターイーサネットスィッチ、アプリケーションデリバリーコントローラー(ADCs)、WAN最適化部品を含む全てのセグメントで成長がみられた。
データセンターネットワーク設備市場もまた前年比(3Q10との比較)で12%増加した。
北米のデータセンター設備市場が3Q11に地域別で最良のパフォーマンスを示し(連続で16%の増加)、アジアの連続成長は顕著に減少したものの前年比で驚異的な39%増を維持した。欧州の3Q11の業績は継続する経済不安にも関わらずプラスの領域にある(第2四半期は低調であった)。
世界的なデータセンターネットワーク設備市場の最大手であるCisco とF5は3Q11に売上と市場シェアを伸ばした一方、業界第3位のHP は売上減少・シェア低下により、F5が年間で初めて業界2位に躍進した。
DATA CENTER REPORT SYNOPSIS
Infonetics' quarterly Data Center Network Equipment report provides worldwide and regional market size, vendor market share, forecasts and analysis for data center Ethernet switches (general purpose, purpose-built and blade switches), ADCs, and WAN optimization appliances. Companies tracked: ADTRAN, Alaxala, Alcatel-Lucent, Arista, Avaya, Blade, Blue Coat, Brocade, Cisco, Citrix, D-Link, Enterasys, Expand, Extreme, F5, Force10, H3C, HP, Huawei, Ipanema, Juniper, NETGEAR, Radware, Riverbed, Silver Peak, others.
(原文)

Data center equipment market up 12%, F5 jumps ahead of HP into #2 spot behind Cisco

CAMPBELL, California, January 9, 2012-Market research firm Infonetics Research today released excerpts from its third quarter (3Q11) Data Center Network Equipment market share and forecast report.
ANALYST NOTE
"Wow is the only word that can accurately characterize the performance of the purpose-built data center Ethernet switching market at the end of the third quarter, with year-over-year gains of over 800%. That really tells the story of the data center network equipment sector: we are on the path to convergence in earnest," notes Sam Barnett, directing analyst for data center and cloud at Infonetics Research.

Barnett adds: "The resurgence in data center upgrades, virtualization, and data/storage/traffic growth bodes well for all categories in the data center network equipment market. Once final 2011 figures are in, we expect the market to be up about 6% over 2010, and we expect growth to nudge back up into double-digit percent territory in 2012."
DATA CENTER NETWORK EQUIPMENT MARKET HIGHLIGHTS
Global revenue for data center network equipment is up 12% sequentially in 3Q11, with all segments posting growth, including general purpose, purpose-built and blade data center Ethernet switches, application delivery controllers (ADCs) and WAN optimization appliances
The data center network equipment market is also up 12% year-over-year (from 3Q10)
The North American data center equipment market had the strongest regional performance in 3Q11 (up 16% sequentially); Asia's sequential growth slowed significantly but remains up an astounding 39% year-over-year; and Europe's 3Q11 results are in positive territory (following a dismal second quarter) despite continued economic concerns
Overall data center network equipment leaders Cisco and F5 increased their revenue and market share in 3Q11, while #3 player HP saw a drop in both, allowing F5 to jump into the #2 spot for the first time in a year