ボストン、マサチューセッツ州、2012年2月14日-市場調査会社Infonetics Research は今週、OTN ハードウェア市場アウトルック という光伝送ネットワーク (OTN)伝送機器とOTNスィッチ機器を対象として市場規模の分析を行った初めてのレポートを発表した。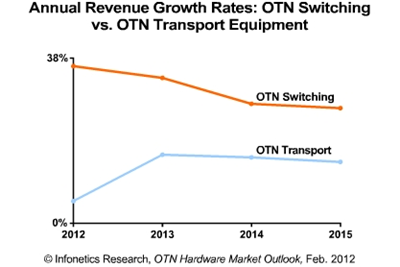 アナリストノート
「事業者ネットワークにおいてOTN の利用が増加しているとよく言われるが、これまで、アナリストの間でこの市場の規模を定量化する試みがなされることはほとんどなかった。」と、Infonetics Research におけるOptical担当の上席アナリストAndrew Schmittは述べている。「当社のOTNレポートは、OTNハードウェアを追跡調査しているだけでなく、成熟したOTN伝送機器と揺籃期にあり成長著しいOTNスィッチ機器という重要な区別を行っているところに特徴がある。それぞれのセグメントはその採用において異なる段階にあり、市場成長率も大きく異なる。代表的な分析事例:OTNスィッチの売上は2009年から2010年にかけて132%増加。これに対しOTN伝送の売上は9%増。両セグメントともに、その成長率は全体的な光学市場の年平均成長率3.7%を上回る成長を示している。」
代表的なOTNレポートハイライト
Infonetics はOTN伝送とOTNスィッチの両者を合わせた世界的な売上は2015年までに106億ドルになると予想している。
2011年には、OTN伝送機器に対する支出はOTNハードウェア市場全体の92%を占めた。OTNスィッチは8%であるがOTNスィッチセグメントの成長はOTN伝送を上回っているため、両者のシェア割合は2015年までに大きく変わるだろう。
OTNスィッチ市場は、40Gと100Gという密接に関連した技術の導入がOTNスィッチを含む新たな技術の採用のきっかけとなるため、急成長の持続が見込まれている。
Huawei はOTN伝送とスィッチの両市場で業界をリードしている。Huawei は、OTNスィッチの最大規模の取付を含む全OTNネットワークの即時採用を最初に行った中国の電気通信事業者を顧客にできるという追加的なメリットを有しているWDMの強力事業者である。
2011年上半期において、OTNスィッチと伝送ハードウェアは世界的な光学機器への支出(WDM と SDH/SONET)の45%を占めた。その割合は2015年までに70%に増加するだろう。
Infonetics の関連レポートOTN採用戦略:グローバルサービス事業者では、光学スィッチ分野で2014年までに大きな変化がある根拠を報告している(サーベイのハイライトについてはhttp://bit.ly/jE4xfgを参照のこと
REPORT SYNOPSIS
Infonetics' OTN hardware report provides regional and global market size, forecasts, vendor market share, and analysis for OTN transport hardware and OTN switching hardware, including OTN port revenue forecasts by port type and speed. The report includes OTN hardware market drivers, regional OTN trends, OTN vendor market share notes, OTN service provider survey data, and comparison's to the overall optical network hardware market. OTN transport and switching manufacturers tracked in the report include ADVA, Alcatel-Lucent, BTI, Ciena, Cisco, Cyan, ECI, Ekinops, Ericsson, Fujitsu, Huawei, Infinera, Nokia Siemens, Tellabs, ZTE, and others.
(原文)

OTN transport and switching equipment to hit $10.6 billion by 2015;
Huawei leads

Boston, MASSACHUSETTS, February 14, 20012-Market research firm Infonetics Research (http://twitter.com/infonetics) this week released its OTN Hardware Market Outlook, the first report to track, segment, and assess vendor market share for both optical transport network (OTN) transport equipment and OTN switching equipment.
ANALYST NOTE
"There has been a lot of discussion about the increasing use of OTN in carrier networks, but until now, little effort by the analyst community to quantify the size of the market," notes Andrew Schmitt, directing analyst for optical at Infonetics Research. "Our OTN report is unique in that it not only tracks OTN hardware, but it makes the important distinction between mature OTN transport equipment and nascent, fast-growing OTN switching equipment. Each segment is in a different stage of adoption and has a wildly different growth rate. Case in point: OTN switching revenue jumped 132% in 2010 over 2009, while OTN transport revenue grew 9%. Both segments are growing at a pace that far outstrips the 3.7% CAGR of the overall optical market."
SELECT OTN REPORT HIGHLIGHTS
Combined, global manufacturer revenue from OTN transport and OTN switching equipment is forecast by Infonetics to grow to $10.6 billion by 2015
In 2011, OTN transport equipment spending made up 92% of the overall OTN hardware market, while OTN switching made up 8%; with the OTN switching segment growing much faster than OTN transport, these proportions will change significantly by 2015
Rapid growth in the OTN switching market is expected to continue as 40G and 100G coherent technology rollouts catalyze the deployment of new technologies, including OTN switching
Huawei leads in both the OTN transport and switching markets; Huawei is a WDM powerhouse with the added benefit of counting as customers China's telecom carriers, who were the first to readily embrace all-OTN networks, including the largest installations of OTN switching
OTN switching and transport hardware together made up 45% of global optical equipment spending (WDM and SDH/SONET) in the first half of 2011, and is expected to grow to 70% of the total by 2015
Infonetics' related OTN Deployment Strategies: Global Service Provider Survey results provide evidence that there will be a large shift by 2014 in the area of optical switching (read survey highlights at http://bit.ly/jE4xfg)