2012年2月21日、カリフォルニア州キャンベル-市場調査会社のInfonetics Research社は今日、2011年第4四半期(4Q11)のService Provider VoIP and IMS Equipment and Subscribers -ベンダーの市場シェアと予測に関するレポートの抜粋を発表した。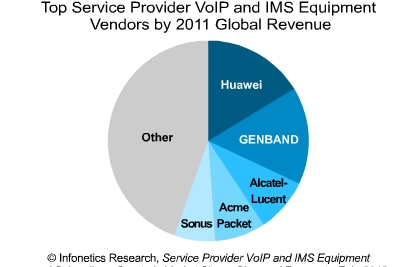 「キャリアVoIP及びIMS装置市場は、通常の年末と同じように、2011年の第4四半期も売上が急増しましたが、より重要な指標は前年比の数字であり、その観点で見ると、トランクメディアゲートウェイとソフトスイッチが市場全体の足手まといになったことで、2011年は2010年から2%の下落となりました。」 Infonetics Research社VoIP及びIMS担当ディレクティングアナリストの Diane Myersはこのように説明する。 「しかし、IMSコア装置やセッションボーダーコントローラなどを含む高成長セグメントを総合すれば、成長の低下しているレガシー製品の穴を埋めるには十分すぎるほどの規模になっているため、今年、このトレンドはシフトしていくでしょう。」
サービスプロバイダVOIP及びIMS市場のハイライト
テレコムサービスプロバイダのボイスオーバーIP(VoIP)とIPマルチメディアサブシステム(IMS)装置の全世界での売上は、4Q11は3Q11と比較して15.8%増加し、6億9000万ドルとなった。
年間で見れば、2011年のキャリアVoIPとIMS市場は、2010年と比較して2.1%低下の26億ドルであった。
4年連続で成長の低下した市場だが、Infonetics社では、キャリアVoIPとIMS市場が、IMS装置の販売などに牽引されて流れを変え、2016年までに全世界で38億ドルへ成長すると予測している。
AT&T、China Telecom、China Unicom、Deutsche Telekom、NTTなどの大規模サービスプロバイダがネットワークの転換プロジェクトを進め、Comcastのようなケーブルオペレータが新しいネットワークへ移行し、Verizon WirelessなどのワイヤレスオペレータがLTEネットワーク用のIMSを導入していることで、市場全体の成長が、IMSネットワークの導入によって押し上げられている。
2011年にVoIPとIMS市場で目立った成長を記録したベンダーは、Huawei、GENBAND、Alcatel-Lucent、Acme Packetなどであった。
Huawei は2011年、キャリアVoIPとIMS市場をトップの位置で締め括り、その直後に GENBANDが続いた。
各地域については、北アメリカとEMEA (欧州、中東、アフリカ)が第4四半期に大きく成長し、キャリアVoIPとIMSの販売でそれぞれ20%超の成長率を記録した。
年間で見れば、ラテンアメリカが大きく際立った成長を見せ、キャリアVoIPとIMS装置の売上が34%増加したが、それは、この地域、特にブラジルとメキシコにおいてVoIPの導入が増加しているためである。
Infonetics社は、全世界におけるIMSベースの契約者数が今後増加し、2011年の1億7700万から2016年には6億1000万人になると予測している。
SERVICE PROVIDER VOIP AND IMS REPORT SYNOPSIS
Infonetics' quarterly Service Provider VoIP and IMS Equipment and Subscribers report combines its previously separate VoIP and IMS reports into one to provide a comprehensive look at the trends as the market shifts from next-gen network VoIP to IMS. The report includes worldwide and regional market share, market size, forecasts, and analysis for multiple categories of trunk media gateways, session border controllers (SBCs), media servers, softswitches, voice application servers, IMS core equipment, IMS application servers, and VoIP and IMS subscribers. Vendors tracked: Acme Packet, Alcatel-Lucent, AudioCodes, BroadSoft, Cisco, Dialogic, Ericsson, GENBAND, Huawei, Italtel, Mavenir, MetaSwitch, NEC, Nokia Siemens, RadiSys, Sonus, Technicolor, Tekelec, Xener, ZTE, and others.
(原文)

High-growth segments kicking into gear in 2012 in carrier VoIP and IMS equipment market

Campbell, CALIFORNIA, February 21, 2012-Market research firm Infonetics Research today released excerpts from its fourth quarter 2011 (4Q11) Service Provider VoIP and IMS Equipment and Subscribers vendor market share and forecast report.
"The carrier VoIP and IMS equipment market surged in the final quarter of 2011, as it often does at the end of the year, but the more important measure is the year-over-year comparison, and from that vantage point the market is down 2% in 2011 from 2010 as legacy trunk media gateway and softswitch sales drag on the overall market," explains Diane Myers, directing analyst for VoIP and IMS at Infonetics Research. "However, we'll see this trend shift starting this year as the high-growth market segments -- including IMS core equipment and session border controllers -- become collectively large enough to offset the ongoing declines of the legacy products."
SERVICE PROVIDER VOIP AND IMS MARKET HIGHLIGHTS
Global sales of telecom service provider voice over IP (VoIP) and IP Multimedia Subsystem (IMS) equipment jumped 15.8% in 4Q11 over 3Q11, to $690 million
For the full year, the overall carrier VoIP and IMS market ended down 2.1% in 2011 over 2010, to $2.6 billion
After four years of annual declines, Infonetics forecasts the global carrier VoIP and IMS equipment market will reverse course and grow to $3.8 billion by 2016, led by IMS sales
Growth in the overall market is being fueled by IMS network deployments as large service providers like AT&T, China Telecom, China Unicom, Deutsche Telekom and NTT undergo network transformation projects; cable operators such as Comcast migrate to new networks; and wireless operators such as Verizon Wireless launch IMS for their LTE networks
Vendors posting notable growth in the VoIP and IMS market in 2011 include Huawei, GENBAND, Alcatel-Lucent, and Acme Packet
Huawei ends the 2011 year on top of the overall carrier VoIP and IMS market, just ahead of GENBAND
Regionally, North America and EMEA (Europe, Middle East, Africa) had the strongest fourth quarter, posting carrier VoIP and IMS sales growth of more than 20% each
For the full year, Latin America was the big standout, with a 34% increase in carrier VoIP and IMS equipment sales, as VoIP activity in this region grows, particularly in Brazil and Mexico
Infonetics forecasts the number of global IMS-based subscribers to grow from 177 million in 2011 to 610 million in 2016