キャンベル、カリフォルニア州、2012年2月29日-市場調査会社Infonetics Research は同日、第4四半期 (4Q11) CMTS and Edge QAM Hardware and Subscribers 市場シェアと将来予測レポートの概要を発表した。ここではケーブルブロードバンド機器と加入者動向を取り扱っている。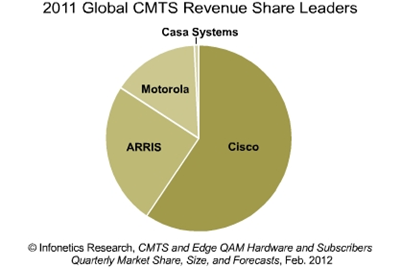 「ケーブルブロードバンド市場は、最終四半期および通期、また売上およびポート出荷数量のいずれでみても好調を維持したまま2011年を終えた。Verizon と AT&T では固定ブロードバンドネットワークの導入をスローダウンしたにもかかわらず、北米のMSOは同事業を継続的に行っており、2011年の同地域における全CMTSポート成長のうち94%に貢献した。実際のところ、各地域において2011年はポートの成長がみられたが、これは世界のケーブル事業者がDOCSIS 3.0 への転換を継続していることによる。」と、Infonetics Researchでブロードバンドアクセスと映像部門を担当している上席アナリストJeff Heynenはコメントしている。
CMTS および エッジ QAM 市場のハイライト
CMTS とエッジQAM を合わせた売上は2011年最終四半期に5%増加して好調を維持したまま1年を終了し、前年の四半期と比べると17%増加した。
通年ベースでは、CMTSとエッジQAMメーカーの売上は6%増加して17億ドルとなった。
世界的なCMTSポートの出荷数量は4Q11に過去最高水準となり、通年ベースでは48%という驚異的な増加となった。
CMTS売上の増加はポート出荷数量の増加ペースを下回っている。これは、高密度の下流専用カードが導入されたほか、北米以外の地域においてライセンスに基づくアップグレードへの市場シフトが続いているため、下流あたりの売上が減少を続けていることによる(2011年に31%減)。
Cisco はCMTS機器大手4社のなかで唯一、2011年にCMTS売上シェアを増加させた。世界的な市場に占めるシェアは51%から59%に増加し、過去最高シェアより1%ポイント少ない水準となった。
REPORT SYNOPSIS
Infonetics' quarterly CMTS and Edge QAM report provides worldwide and regional vendor market share, market size and forecasts for standard and wideband cable broadband subscribers; upstream and downstream CMTS revenue and ports; and edge QAM channels and revenue by application, including linear broadcast TV, video on demand (VOD) and unicast video, switched digital video (SDV), and Data Over Cable Service Interface Specification (DOCSIS). The report tracks ARRIS, BigBand Networks, Casa Systems, Cisco, CommScope, Ericsson, Harmonic, Motorola, Sumavision, Teleste and Vecima.
(原文)

Cable broadband market sees massive growth in CMTS ports; Cisco nears all-time market share high

Campbell, CALIFORNIA, February 29, 2012-Market research firm Infonetics Research today released excerpts from its fourth quarter (4Q11) CMTS and Edge QAM Hardware and Subscribers market share and forecast report, which tracks cable broadband equipment and subscribers.
"The cable broadband market ended 2011 on a high note, both for the quarter and the year and both for revenue and port shipments. Even though Verizon and AT&T have slowed their fixed broadband network rollouts, North American MSOs are continuing theirs, resulting in 94% total CMTS port growth in the region in 2011. In fact, every region saw port growth in 2011, as cable operators worldwide continue their DOCSIS 3.0 transformations," notes Jeff Heynen, directing analyst for broadband access and video at Infonetics Research.
CMTS AND EDGE QAM MARKET HIGHLIGHTS
Combined CMTS and edge QAM revenue grew 5% in the final quarter of 2011, ending the year on a high note, up 17% from the year-ago quarter
For the full year, CMTS and edge QAM manufacturer revenue is up 6% to $1.7 billion
Global CMTS port shipments hit record levels in 4Q11 and are up an astounding 48% for the full year
CMTS revenue is not keeping pace with port shipments because revenue per downstream continues to drop (down 31% in 2011), as more high-density downstream-only cards are introduced and as the market continues to shift towards license-based upgrades in regions outside North America
Cisco is the only of the four CMTS equipment leaders that gained CMTS revenue market share in 2011, growing from 51% to 59% of the global market, just one point shy of its all-time high