2012年3月8日、カリフォルニア州キャンベル―市場調査会社のInfonetics Research社は、先日発表された第4四半期(4Q11)のネットワークセキュリティ機器及びソフトウェアベンダーの市場シェアと予測に関するレポートのデータを本日公開した。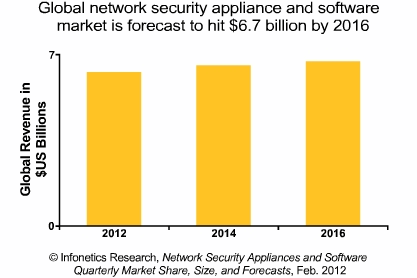 アナリストノート
「ネットワークセキュリティ機器とソフトウェアに対する支出は、2011年に3%増加しました。そして、経済が回復しようとしており(一時的な後退は多少あるものの)、新たなセキュリティ上の脅威が日々出現しているため、2012年の支出は8%増になると予測しています。スマートフォンのコンシューマライゼーションや、インターネットに常時接続されたスマートフォン、iPad、ネットブック、その他のモバイル機器が普及したことで、本社、支社、地方の営業所、データセンターの重要設備などがマルウェアからどの程度守られているかについて企業は再評価を促されています。」
Infonetics Research社セキュリティ担当主席アナリストであるJeff Wilsonは、このように説明している。
ネットワークセキュリティ市場のハイライト
世界のネットワークセキュリティ機器及びソフトウェア市場は、3Q11の成長に続き、4Q11に8%増の15億8000万ドルとなり、ネットワークセキュリティ市場の下半期は力強い成長となった。

Infonetics社の予測は、第4四半期の実績と比べて1%の範囲内に収まった。

市場リーダーのCiscoは、4Q11にネットワークセキュリティ機器とソフトウェアの収入が増加し、全世界における合計収入の3分の1近くを占め、トップの座を軽々と維持した。
Check Point'のネットワークセキュリティ機器とソフトウェアの収入は、4Q11に19%跳ね上がり、これによりCheck Point'は、2011年に全体で3位となったJuniperよりも上位に立った。
Infonetics社は、ネットワークセキュリティ市場の長期的な収入予測を僅かに上方修正し、2016年までに世界の市場は67億ドルへ成長すると見ている。
REPORT SYNOPSIS
Infonetics' quarterly Network Security Appliances and Software report provides worldwide and regional market share, market size, forecasts, and analysis of integrated security appliances by price, secure routers by price, SSL VPN gateways, VPN and firewall software, and in-line and traditional network-based intrusion detection and prevention (IDS/IPS) products. Vendors tracked: Alcatel-Lucent, Array, Check Point, Cisco, Citrix, CA, D-Link, Enterasys, F5, Fortinet, Juniper, McAfee, Netgear, Palo Alto Networks, SonicWALL, Sourcefire, Symantec, TippingPoint, WatchGuard, ZyXEL, and others.
(原文)

Network security market set for stronger growth in 2012

Campbell, CALIFORNIA, March 8, 2012-Market research firm Infonetics Research today released market data from its recently published fourth quarter (4Q11) Network Security Appliances and Software vendor market share and forecast report.
For the survey, Infonetics analysts interviewed purchase-decision makers at 115 US and Canadian companies deploying security solutions for mobile devices about their buying strategies, expenditures, deployment drivers and barriers, cloud and SaaS solutions, and familiarity with and ratings of mobile security vendors. Vendors named in the report include AirWatch, Apple, Check Point, Cisco, F-Secure, IBM, Juniper, Kaspersky, Lookout, McAfee, MobileIron, Norton, PointSec, RIM, SmrtGuard, Symantec, Trend Micro, Webroot, Zenprise, ZoneAlarm, and others.
ANALYST NOTE
"Spending on network security appliances and software grew 3% in 2011 and we expect an 8% increase in 2012, as economies attempt to recover (despite some hiccups) and more security threats emerge every day. The consumerization of smartphones and the proliferation of smartphones, iPads, netbooks, and other mobile devices connected 24/7 to the Internet are driving companies to reassess how critical infrastructure in HQ, branch offices, remote offices, and data centers is protected from malware," explains Jeff Wilson, principal analyst for security at Infonetics Research.
NETWORK SECURITY MARKET HIGHLIGHTS
The global network security appliance and software market grew 8% in 4Q11 to $1.58 billion, on the heels of a nice bump up in 3Q11, making for a strong second half of the year for network security

o Infonetics' network security revenue forecast hit within 1% of actual fourth quarter results

Market leader Cisco increased its network security appliance and software revenue 11% in 4Q11, easily maintaining its #1 position with close to 1/3 of global revenue
Check Point's network security appliance and software revenue jumped 19% in 4Q11, placing them ahead of Juniper, who finished 2011 in 3rd overall
Infonetics has increased slightly its long-term network security revenue forecast, expecting the global market to grow to $6.7 billion by 2016