2012年3月19日カリフォルニア州キャンペル-市場調査会社インフォネティクスリサーチ社は、3月のサービス・デリバリー・プラットフォーム・ソフトウェアとサービス(Service Delivery Platform Software and Services)報告書の抜粋を発表した。この報告書の中で、契約者へのサービスを作り、届けるために事業者たちが使用している無線/有線のサービス・デリバリー・プラットフォーム(SDP)ソフトウェアとサービスの動向を追っている。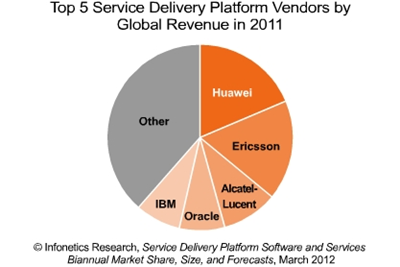 アナリストノート
「現在も継続中の設備投資への制約により事業者の関心は、従来のソフトウェア・ライセンス・モデルを越えたサービス?デリバリー?プラットフォーム?ソリューションへと向いているのです。」とインフォネティクスリサーチ社で次世代OSSおよびポリシーのディレクティング・アナリストを務めるShira Levineは語る。「私たちはクラウドベースの配信、消費者および企業顧客向けのターンキーアプリケーションの売れ行き、そして収益共有モデルといった代替需要の増加に直面しています。そして、事業者がSDPの導入に関連したコスト構造をもっと予測可能にするよう気を付けるのに従って、私たちはこの傾向が続くと期待しています。
SDP市場のハイライト
世界のサービス・デリバリー・プラットフォーム(SDP)ソフトウェアとサービスの市場は、2010年から2011年の間に16%の成長を記録し、32億ドルとなった。
SDPソフトウェアとサービス市場は2016年までに58億ドルに拡大するとインフォネティクス社は予測している。
Huaweiは、ホステッド・モデルやサービス型ソフトウェアといった別のソフトウェア・デリバリーのモデルに注目していることで、SDP市場全体で牽引的な地位へと前進した。そしてそのすぐ後に Ericssonが続いている。
SDPソフトウェア分野においてはOracleがリードをしており、Huaweiがそれに続いている。
SDP市場は年率2ケタの成長を記録しているが、それは主に事業者が以下の点に興味をもっているためである。:

App Storeの開発 - 消費者のためだけではなく、今後はますますM2Mやヘルスケア、小売り、製造業、教育、運輸のトップ企業など、各企業へ向けて
カスタマイズしたモバイル広告の提供
モバイルブロードバンド契約者による爆発的に増加するコンテンツのダウンロードを管理
コンテンツパートナーがより豊かな生態系を作れるようなAPI 露出戦略の開発
REPORT SYNOPSIS
Infonetics' biannual SDP report provides regional and worldwide market size, vendor market share, forecasts through 2016, and analysis for fixed-line and mobile SDP software, services, and components. The report tracks revenue for consulting, integration and hosted SDP services, and the 5 main SDP software components: network and subscriber abstraction, SDP framework, service creation environment, service orchestration, and Web services environment. Vendors tracked: Accenture, Aepona, Alcatel-Lucent, Amdocs, Atos, Datatronics, Ericsson, HP, Huawei, IBM, Nokia Siemens, Oracle, Tata, TechMahindra, TietoEnator, Volantis, ZTE, and others. The report also includes customer wins and service provider/vendor announcements made by Aircel, Globe Telecommunications, Korea Telecom, KPN, Neustar, Rogers Communications, SK Telecom, TELUS, The Qtel Group and others.
(原文)

App stores and enterprise drive service delivery platform (SDP) spending

Campbell, CALIFORNIA, March 19, 2012-Market research firm Infonetics Research today released excerpts from its March Service Delivery Platform Software and Services report, which tracks the wireless and fixed-line service delivery platform (SDP) software and services that operators use to create and deliver services to their subscribers.
ANALYST NOTE
"Ongoing capital constraints are driving operators' interest in service delivery platform solutions that go beyond the traditional software licensing model," says Shira Levine, Infonetics Research's directing analyst for next gen OSS and policy. "We're seeing growing demand for alternatives such as cloud-based delivery, turnkey application storefronts for consumer and enterprise customers, and revenue-sharing models, and we expect that trend to continue as operators look to create a more predictable cost structure around their SDP deployments."
SDP MARKET HIGHLIGHTS
The global service delivery platform (SDP) software and services market grew 16% between 2010 and 2011, to $3.2 billion
Infonetics forecasts the SDP software and services market to hit $5.8 billion by 2016
Huawei's focus on alternative software delivery models, such as hosted models and software-as-a-service, propelled it to the leading position in the overall SDP market, followed very closely by Ericsson
In the SDP software segment, Oracle continues to lead, with Huawei close behind
The SDP market is experiencing double-digit percent annual growth in large part due to operator interest in:

Developing app stores - not just for consumers but increasingly for enterprises, such as those in the M2M, healthcare, retail, manufacturing, education, and transportation verticals
Offering customized mobile advertising
Managing exploding levels of content downloads by mobile broadband subscribers
Developing API exposure strategies that enable them to create a richer ecosystem of content partners