キャンベル、カリフォルニア州、2012年3月23日-市場調査会社Infonetics Research は、最近発表された第4四半期(4Q11)レポート Data Center Network Equipment 市場シェアと予測レポートからその概要を発表した。ここでは、汎用、特注、ブレードのデータセンターイーサネットスィッチ、アプリケーション配信コントローラー、WAN最適化機器を取り扱っている。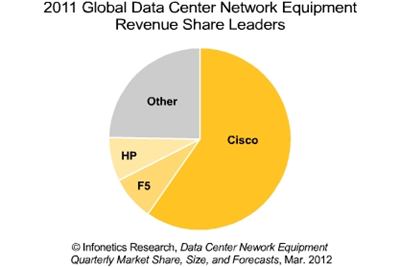 アナリストノート
「2011年には、データセンターのアップグレードの動きが全体的なデータセンター機器市場の成長を主導した。ただし2010年の急増(59%増)と比較すると2011年の成長(9%増)は緩やかなものであった。データセンターやクラウドサービス提供に対する投資が増加することにより、全体的なデータセンター機器市場の売上は今年から来年にかけて2桁成長を予想している。その後は、買い手が投資サイクルを終えるほか他のネットワーク機器に注力するとみられることから、この市場の成長は緩やかになるだろう。」と、Infonetics Research でデータセンターとクラウド担当している上席アナリストSam Barnett はコメントしている。
データセンターネットワーク機器市場のハイライト
世界的なデータセンターネットワーク機器市場の売上(データセンターイーサネットスィッチ、アプリケーション配信コントローラー(ADC)、WAN最適化機器)は、4Q11に前期比で9%増加して23.6億ドルとなった。
前年四半期との比較では、データセンターネットワーク機器市場は15%強の成長となった。
2011年通年では、データセンター装置の売上は前年より9%増加して84億ドルとなった。
データセンターイーサネットスィッチの販売で強みをもつCisco は全体的なデータセンター機器市場を引き続きリードしているが、2011年には3つの主要市場セグメント(スィッチ、ADC、WAN最適化)全てでシェアはわずかに低下した。
一方、F5 はADC市場で20%の売上増によりシェア1位となったほか、HP は2011年に38%の売上増によりCiscoが支配しているデータセンターイーサネットスィッチ市場でシェア2位を確実なものにした。
DATA CENTER REPORT SYNOPSIS
Infonetics' quarterly Data Center Network Equipment report provides worldwide and regional market size, vendor market share, forecasts and analysis for data center Ethernet switches (general purpose, purpose-built, and blade switches), ADCs, and WAN optimization appliances. Companies tracked: ADTRAN, Alaxala, Alcatel-Lucent, Arista, Avaya, Blade, Blue Coat, Brocade, Cisco, Citrix, D-Link, Enterasys, Expand, Extreme, F5, Force10, H3C, HP, Huawei, Ipanema, Juniper, NETGEAR, Radware, Riverbed, Silver Peak, others.
(原文)

Overall data center equipment market up 9% in 2011; F5 and HP in dead heat behind Cisco

CAMPBELL, California, March 23, 2012-Market research firm Infonetics Research released excerpts from its recently published fourth quarter (4Q11) Data Center Network Equipment market share and forecast report, which tracks general purpose, purpose-built, and blade data center Ethernet switches, application delivery controllers, and WAN optimization appliances.
ANALYST NOTE
"Data center upgrades led all data center equipment market segments forward in 2011, though 2011 growth (up 9%) was modest compared to the 2010 surge (up 59%). Because of increasing investments in data center and cloud service offerings, we are forecasting double-digit percent revenue increases for the overall data center equipment market this year and next. After that, the market should taper as buyers finish off their investment cycle and focus on other parts of their networks," expects Sam Barnett, directing analyst for data center and cloud at Infonetics Research.
DATA CENTER NETWORK EQUIPMENT MARKET HIGHLIGHTS
Global sales of data center network equipment -- data center Ethernet switches, application delivery controllers (ADCs) and WAN optimization appliances -- grew 9% sequentially in 4Q11, to $2.36 billion
From the year-ago fourth quarter, the data center network equipment market is up a strong 15%
For the full year 2011, data center gear totaled $8.4 billion, up 9% from the previous year
Cisco continues to lead the overall data center equipment market based on the strength of its data center Ethernet switch sales, though it lost some share in 2011 in all 3 major segments of the market (switches, ADCs, and WAN optimization)
Meanwhile, F5 extended its #1 position in the ADC market with a 20% increase in revenue and HP solidified its 2nd place position in the Cisco-dominated data center Ethernet switch market by bumping up its revenue by 38% in 2011