2012年4月12日、カリフォルニア州キャンベル-市場調査会社のInfonetics Research社は、モバイルバックホール設備及びサービス の市場シェアと予測に関する最新レポートの抜粋を発表した。このレポートでは、モバイルバックホールベンダーの市場占有率、成長地域の特定の他、モバイルバックホール設備、接続、セルサイト、サービス価格などの分析を行なっている。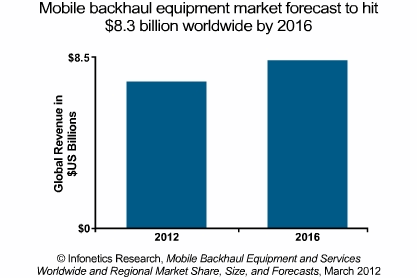 「2011年にモバイルバックホール市場が好調に伸びた理由は主に、中国でイーサネットモバイルバックホールルータの売上が急増したためです。」
Infonetics Research社の共同創業者で主席アナリストのMichael Howardは、このように説明する。
「2012年は、中国の売上急増が収まり市場全体に影響を及ぼすと見ています。そして、既に大規模なこの市場は2013年、緩やかな安定成長が続いて行くでしょう。」

Infonetic社マイクロ波機器担当ディレクティングアナリストのRichard Webbは、更にこう付け加える。 「モバイルバックホールの物理的接続は、世界の約55%がマイクロ波です。そして、モバイルバックホール設備による2011年の収入の半分以上は、TDM/イーサネットのデュアルマイクロ波機器とパケット型マイクロ波機器から来ています。」
モバイルバックホール設備市場のハイライト
世界のモバイルバックホール設備市場は、前年の10%増に続き、2011年は8%成長の74億ドルとなった。
Infonetics社は、2012年から2016年の5年間で、モバイルバックホール設備に対する支出が合計390億ドルに上ると見ている。
Ericssonは2011年、世界全体の収入の22%を占め、モバイルバックホールマイクロ波設備市場におけるトップの地位を維持した。
Alcatel-Lucent、Cisco、Huawei、Tellabs、ZTEは、現在急成長中であるイーサネットモバイルバックホールルータとゲートウェイセグメントを牽引している。
IP/イーサネット設備は、モバイルバックホール設備に対する支出の90%超を占めている。この支出を牽引しているのは、モバイルデータのトラフィックコストを低減したり、3Gモバイルブロードバンドのデータ転送を可能にしたり、LTE(及びWiMAX)のベース技術としてIPに移行しようと計画しているオペレータである。
約150社のモバイルオペレータが、IP/イーサネットバックホール設備の積極的な配備を行なっており、2009年の25社、2010年の100社から増加している。
MOBILE BACKHAUL REPORT SYNOPSIS
Infonetics' biannual Mobile Backhaul report provides worldwide and regional market size, vendor market share, forecasts through 2016, and in-depth analysis for mobile backhaul equipment (copper, fiber, air); connections; installed cell sites (2G, 3G, LTE, WiMAX, mixed), and service charges. Technologies tracked: PDH and ATM over PDH, SONET/SDH and WDM, Ethernet copper and fiber, DSL, PON, coax cable, microwave, TDM, Ethernet, WiMAX, and satellite, with a breakdown of IP mobile backhaul equipment. The report also tracks vendor and operator mobile backhaul activity and mobile operator backhaul strategies.

Companies tracked in Infonetics' mobile backhaul report include Accedian, Actelis, Adtran, ADVA, Alcatel-Lucent, Alvarion, Aviat, BridgeWave, Cambridge, Canoga Perkins, Celtro, Ceragon, Ciena, Cisco, DragonWave, ECI, Ericsson-Redback, Fujitsu, Huawei, IPITEK, Juniper, MRV, NEC, Nokia Siemens, Omnitron, OneAccess, Overture/Hatteras, RAD Data, TelcoSystems/ANDA, Tellabs, Transmode, ZTE, and others..
(原文)

Mobile backhaul equipment market gets a 2011 lift from surge in China

Campbell, CALIFORNIA, April 12, 2012-Market research firm Infonetics Research released excerpts from its latest Mobile Backhaul Equipment and Services market share and forecast report, which ranks mobile backhaul equipment vendors, identifies market growth areas, and provides analysis of mobile backhaul equipment, connections, cell sites, and service charges.
"The nice bump up in the mobile backhaul market in 2011 was due in large part to a surge in Ethernet mobile backhaul router purchases in China," explains Michael Howard, principal analyst and co-founder of Infonetics Research. "We expect the China surge to subside in 2012, impacting the overall market; then slow, steady growth in this already-large market should resume in 2013."

Richard Webb, directing analyst for microwave at Infonetics, adds: "Roughly 55% of the world's mobile backhaul physical connections are on microwave, and more than half of all mobile backhaul equipment revenue in 2011 came from dual TDM/Ethernet microwave and packet-only microwave equipment combined."
MOBILE BACKHAUL EQUIPMENT MARKET HIGHLIGHTS
The global mobile backhaul equipment market grew 8% to $7.4 billion in 2011, following a 10% increase the previous year
Infonetics forecasts a cumulative $39 billion will be spent on mobile backhaul equipment over the 5 years from 2012 to 2016
Ericsson maintained its lead in the mobile backhaul microwave radio market with 22% of global revenue in 2011; meanwhile, Huawei took the lead in quarterly revenue for the first time in 4Q11
Alcatel-Lucent, Cisco, Huawei, Tellabs, and ZTE lead the fast-growing Ethernet mobile backhaul routers and gateways segment
IP/Ethernet equipment makes up more than 90% of all mobile backhaul equipment spending, driven by operators looking to lower mobile data traffic costs, accommodate the 3G mobile broadband data transition, and move to IP as the basic technology of LTE (and WiMAX)
About 150 mobile operators are actively deploying IP/Ethernet backhaul, up from 100 in 2010 and 25 in 2009