Campbell, CALIFORNIA, 2012年4月17日-市場調査会社Infonetics Research は本日、最新の Enterprise Session Border Controllers (eSBCs) 市場規模および予測に関するレポートの概要を発表した。

「eSBC市場は2011年に60%の成長を達成したが、SIP trunking の採用に伴い今後数年間は顕著な成長が続くだろう。」と、Infonetics ResearchでVoIPとIMSを担当している上級アナリストDiane Myersは予想している。 「セキュリティ、相互運用性、ネットワークボーダトラバースに対するニーズの増加に対応するため、eSBC市場は企業向け市場の中核部分である。」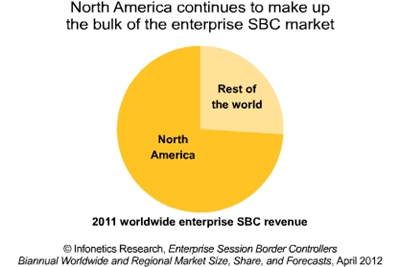 eSBC 市場のハイライト
eSBCの売上増をもたらした主要な要因はSIP トランクの採用であるが、これは2011年に前年比88%増加した。
Infonetics Research では、世界的なeSBC市場は2016年に5.27億ドルに成長すると予想している。
とりわけSBCは次世代のボーダエレメントであり、現在使われている(TDM)VoIPゲートウェイをいずれ代替するだろう。
北米地域はeSBC市場の大半を占めているが、他の地域でのSIPトランクの採用が進むにつれて同地域の世界シェアは減少するだろう。
Acme Packet はeSBC業界の最大手で2011年に世界全体の売上の34%のシェアを確保した。Ciscoがこれに続いている。
ENTERPRISE SBCレポート概要
Infoneticsが2年に1回発行している Enterprise SBC レポートは、世界全体および各地域の市場規模、市場分析、2016年にかけての予測を行っている。eSBC売上規模、システム毎のセッション、北米、アジア太平洋、EMEA(欧州、中近東、アフリカ)、中南米の事業規模を調査対象としている。このレポートには、市場の主要ハイライト、成長要因および直面している課題、事業者の市場シェアおよび市場分析が含まれる。調査対象企業は次のとおり。 Acme Packet, Adtran, AudioCodes, Avaya, Cisco, Dialogic, Edgewater, GENBAND, Ingate, NET, ONEAccess, Siemens Enterprise および Sonus。
(原文)

Enterprise session border controller market up 60% as SIP trunking adoption grows

Campbell, CALIFORNIA, April 17, 2012-Market research firm Infonetics Research today released excerpts from its latest Enterprise Session Border Controllers (eSBCs) market size and forecast report.
"The market for enterprise session border controllers jumped 60% in 2011 and will grow significantly over the coming years as the adoption of SIP trunking continues to expand," expects Diane Myers, directing analyst for VoIP and IMS at Infonetics Research. "The enterprise SBC market is a sweet spot in the enterprise market because they fill a growing need for security, interoperability, and network border traversal."
ENTERPRISE SBC MARKET HIGHLIGHTS
SIP trunks - adoption of which is the primary driver for enterprise SBCs sales -- grew 88% in 2011 over the previous year
Infonetics Research forecasts the global enterprise SBC market to grow to $527 million in 2016
SBCs, among other things, are the next generation of border elements, and will eventually replace (TDM to) VoIP gateways used today
North America makes up the majority of the eSBC market, though its share of global eSBC revenue will decline to a smaller majority as other regions increase SIP trunk adoption
Acme Packet is the enterprise SBC market leader, with 34% worldwide revenue share in 2011, followed by Cisco
ENTERPRISE SBCREPORT SYNOPSIS
Infonetics' biannual Enterprise SBC report provides worldwide and regional market size, analysis, and forecasts through 2016 for enterprise SBC revenue and sessions by system and business size in North America, Asia Pacific, EMEA (Europe, Middle East, Africa), and Central and Latin America. The report includes top takeaways for the market, market drivers and challenges, and vendor market share and analysis. Companies tracked: Acme Packet, Adtran, AudioCodes, Avaya, Cisco, Dialogic, Edgewater, GENBAND, Ingate, NET, ONEAccess, Siemens Enterprise, and Sonus.