Boston, MASSACHUSETTS, 2012年5月16日-調査会社Infonetics Researchは本日、Optical Network Hardware 市場シェアレポートの中で2012年第1四半期(1Q12) の世界的な光ネットワーク機器への投資が前年同期と比較して23%減少したと報告した。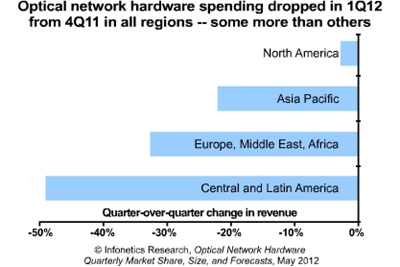 アナリストノート
「2012年第1四半期、世界的に光ネットワークハードウェアの売上動向には堅調さがみられなかったが、前年との比較で最も警戒的な状況だったのはEMEAとりわけ欧州であり、WDM optical equipment への投資は伝統的な SDH equipmentへの投資よりも落ち込みが激しかった」、「これは、四半期でわずかな退潮がみられた一部地域の話だけではない。対照的に北米では反対の動きがあり、通信事業者は年々投資を削減しているが、WDM機器や ROADMsといった将来を見据えた技術への投資への配分を行っている」と、Infonetics Researchにおいて光ネットワークを担当している主席アナリストAndrew Schmittは述べている。

Schmitt の追加コメント:「EMEA および北米は、ともに第4四半期から続く下方トレンドの最中にあり、アジア太平洋地域は横ばいである。それでも、ベンダーや通信事業者からの話を総合すると北米での投資は中程度の成長が始まるとみているほか、最近中国の事業者を訪問した結果、今年の中国における光への投資は堅調に増加すると予想するに至った。しかしながら、欧州はマクロ経済動向の影響もあり厳しく、明るい希望が見えないほか、サービス事業者の中には危機に備えているところもある。」
光ハードウェア市場のハイライト
世界的な WDMおよびSONET/SDH 光ネットワーク機器の市場は1Q12に23%減少して28億ドルとなった(近年では最大の四半期落ち込み)。9%増加した昨年のレベルが高かったことによりマイナスの影響が拡大した。
EMEAでは、全ての光事業者の売り上げが減少した。例外はInfinera。

EMEA は第1四半期に季節要因で前期比マイナスとなる傾向があるが、1Q12 の光投資は過去5年間で最悪であった。

Fujitsu と Ciena 北米市場で競合他社を上回る業績を示した。
アジア太平洋地域は、日本での堅調な支出増により勢いが増し、とりわけNEC と Fujitsu は1Q12に前年同期比28%増という驚くべき増加を示した。
顕著な業績を示した NEC と Fujitsu以外にも、多くの大手事業者は同四半期に増加を示し、Infinera, ADVAおよび Transmode などの小規模事業者が市場全体を上回る業績となった。
1Q12におけるROADM 光機器への投資は横ばいであった。これは4Q11に過去最高の四半期実績を達成したことも影響している。
REPORT SYNOPSIS
Infonetics' quarterly Optical Network Hardware report tracks Adtran, ADVA, Alcatel-Lucent, BTI, Ciena, Cisco, ECI, Ericsson, Fujitsu, Huawei, Infinera, NEC, Nokia Siemens Networks, Nortel, Sycamore, Tellabs, Transmode, Tyco, ZTE, and others. The report provides worldwide and regional vendor market share, market size, and analysis (forecasts are published by May 25). Equipment tracked: metro and long haul SONET/SDH and WDM optical network equipment (transport, ROADM, submarine line terminating equipment), and ports (Ethernet, SONET/SDH/POS, and WDM).
(原文)

Global spending on optical network gear drops 23% in 1Q12; worst quarter in Europe in 5 years

Boston, MASSACHUSETTS, May 16, 2012-Market research firm Infonetics Research today reported in its Optical Network Hardware vendor market share report that spending on optical gear dropped 23% globally in the first quarter of 2012 (1Q12) from the previous quarter.
ANALYST NOTE
"While optical hardware revenue trends in all world regions were not positive in the first quarter of 2012, the most alarming development is that year-over-year in EMEA - particularly Europe - spending on WDM optical equipment decreased faster than spending on legacy SDH equipment," notes Andrew Schmitt, principal analyst for optical at Infonetics Research. "This is not the behavior of a region experiencing only a minor quarterly pullback. By contrast, the trend in North America was the opposite, with carriers cutting spending year-over-year but allocating towards forward-looking technology investments like WDM equipment and ROADMs."

Schmitt adds: "EMEA and North America are both now trending downward on a rolling fourth-quarter basis, and Asia Pacific is flat. Still, conversations with vendors and carriers lead us to believe that spending in North America will resume moderate growth and we are forecasting solid gains in optical spending in China this year in large part due to our recent visits with Chinese carriers. But Europe is a tough call, with macroeconomic trends there not providing much hope and evidence that some service providers there are battening down the hatches."
OPTICAL HARWARE MARKET HIGHLIGHTS
While the global WDM and SONET/SDH optical network equipment market declined 23% in 1Q12 to $2.8 billion (the largest quarterly drop in years), the impact was sharpened by a strong previous quarter, when the market grew 9%
Revenue for all optical vendors declined in EMEA, with the exception of Infinera

Though EMEA typically has a seasonal sequential decline in the first quarter, 1Q12 was the worst quarter for optical capex in over 5 years

Fujitsu and Ciena outperformed competitors in North America
Asia Pacific was buoyed by strong spending in Japan, with NEC and Fujitsu posting eye-popping 28% gains in 1Q12 from the year-ago first quarter
Aside from the standout performances by NEC and Fujitsu, while many of the big vendors enjoyed gains the previous quarter, 1Q12 was characterized by smaller companies such as Infinera, ADVA, and Transmode outperforming the market
ROADM optical equipment spending was flat in 1Q12, an achievement considering this category posted a record quarter in 4Q11