Campbell, CALIFORNIA, 2012年5月21日-調査会社Infonetics Researchは本日、2012年第1四半期 (1Q12)の Service Provider VoIP and IMS Equipment and Subscribers ベンダー市場シェア・予測レポートの概要を発表した。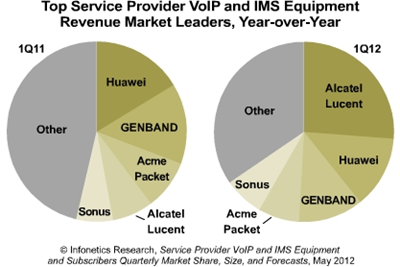 アナリストノート
「2012年の第1四半期は、Alcatel-Lucentにみられるように、IMSコア機器およびアプリケーションサーバライセンスに対する過去最大レベルの注文があった。これは、北米の事業者がvoice over LTE (VoLTE) 展開を加速させている明確な兆候である。商用VoLTE サービスはまだ開始されていないものの、事業者が今後5年以上かけて推進していくとみられ、次に来るべきものを予感させる。とはいえ、機器に対する大量注文は散発的であるほか、IMS市場の動きはまだ緩慢だろう」と、Infonetics ResearchでVoIP およびIMS を担当している主席アナリストDiane Myersは述べている。

Myers の追加コメント。「1Q12のサービス事業者VoIP およびIMS市場はいつになく好調であった。その背景には、VoLTEに対するIMSの大量注文があったほか、継続的な固定ネットワーク転換、固定と携帯の融合、世界的レベルでのIMS上でのボイスオーバーブロードバンド(VoBB) プロジェクトがあった」
サービス事業者VOIPおよび IMS 市場のハイライト
かつてないほどIMS機器に対する投資が堅調であったため、全体的なサービス事業者VoIP 機器市場は4Q11と比較して1%増の7.15億ドルとなり、第1四半期は通常減少するところを下支えした。
世界的にみて、全体的な市場は前年同期と比較して1Q12に18%増加した。伝統的なトランクメディアゲートウェイが引き続き低迷し、スィッチ販売も減速したにもかかわらず、IMS コア機器、session border controller (SBC) そして音声アプリケーションサーバの販売が堅調であった。
1Q12にAlcatel-Lucent は、サービス事業者VoIP およびIMS 売上および市場シェアを倍増させ、世界的なシェアの面で最大の事業者となった。これまでの最大手である Huawei やGENBANDを上回った。
キャリアVoIP およびIMSへの投資が前期比18%増、前年比76%増となった北米が四半期業績を押し上げた。
Infonetics では、IMS ネットワーク上の携帯・固定加入者は2012年に42%増加して世界で2.5億になると予測している。
SERVICE PROVIDER VOIP AND IMS REPORT SYNOPSIS
Infonetics' quarterly Service Provider VoIP and IMS Equipment and Subscribers report provides worldwide and regional vendor market share, market size, forecasts, and analysis for multiple categories of trunk media gateways, session border controllers, media servers, Class 4 and Class 5 softswitches, voice application servers, IMS core equipment (HSS, BGCF, MGCF, CSCF servers), IMS application servers, and VoIP and IMS subscribers. The report provides a comprehensive look at the trends shaping the market as it shifts from next-gen network VoIP to IMS, including an IMS Deployment Tracker by service provider, country, vendor and number of IMS subscribers. Vendors tracked: Acme Packet, Alcatel-Lucent, AudioCodes, BroadSoft, Dialogic, Ericsson, GENBAND, Huawei, Italtel, Mavenir, MetaSwitch, NEC, Nokia Siemens Networks, RadiSys, Sonus, Technicolor, Tekelec, Xener, ZTE, and others.
(原文)

First VoLTE equipment spending buoys carrier VoIP market in 1Q12; Alcatel-Lucent doubles share

Campbell, CALIFORNIA, May 21, 2012-Market research firm Infonetics Research today released excerpts from its first quarter 2012 (4Q12) Service Provider VoIP and IMS Equipment and Subscribers vendor market share and forecast report.
ANALYST NOTE
"In the first quarter of 2012 we saw the largest order of IMS core equipment and application server licenses on record, secured by Alcatel-Lucent -- a clear sign that operators in North America are gearing up for voice over LTE (VoLTE) deployments. While commercial VoLTE services have yet to launch, this is a taste of what is to come as operators push forward over the next 5+ years. That said, large equipment orders will be sporadic and the IMS market will continue to be lumpy," explains Diane Myers, principal analyst for VoIP and IMS at Infonetics Research.

Myers adds: "1Q12 was an unusually good quarter for the service provider VoIP and IMS equipment market not only because of the big IMS order for VoLTE, but also because of continued fixed-line network transformation, fixed-mobile convergence, and voice over broadband (VoBB) projects over IMS worldwide."
SERVICE PROVIDER VOIP AND IMS MARKET HIGHLIGHTS
Thanks to exceptionally strong IMS equipment spending, the overall service provider VoIP equipment market bucked its traditional down first quarter by inching up 1% to $715 million over 4Q11
Globally, the overall market is up 18% in 1Q12 from the year-ago first quarter -- despite continued declines in legacy trunk media gateway and softswitch sales -- driven by strong IMS core equipment, session border controller (SBC), and voice application server sales
In 1Q12, Alcatel-Lucent more than doubled its service provider VoIP and IMS revenue and market share, propelling them to the #1 position for worldwide market share, ahead of perennial leaders Huawei and GENBAND
North America led the quarter, with carrier VoIP and IMS spending up 18% quarter-over-quarter and up a strong 76% year-over-year
Infonetics expects the number of mobile and fixed-line subscribers on IMS networks to grow 42% in 2012 to top 250 million worldwide