Campbell, CALIFORNIA, 2012年5月24日- DSL, PON およびFTTH機器に対する世界レベルでの投資金額は2011年第4四半期(4Q11)から2012年第1四半期 (1Q12)にかけて22%減少して18億ドルになったことが、調査会社Infonetics Researchが最近発表した四半期レポート「PON, FTTH, and DSL Aggregation Equipment and Subscribers 市場シェアと予測」から明らかとなった。ここでは、固定ブロードバンドアクセス市場とこの市場の供給事業者について分析している。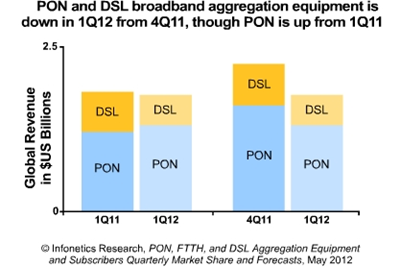 アナリストノート
「世界レベルのブロードバンドアグリゲーション市場で通常みられる第1四半期の落ち着きに加えて、中国でEthernet PON に対する支出が43%も減少し、アジアにおいて3四半期連続のマイナスとなった。一方で日本やその他のアジア諸国では順調に増加している。中国における減少の要因は、今年におけるFTTHへの移行のほか、前期の水準が記録的に高かったことによる。全体的な市場に関してのもう1つの問題は、DSL の売上が EMEAで減少していることであり、この地域では不安定な経済環境のためにアクセスネットワークの更新が滞っている」と、Infonetics Researchにおいてブロードバンドアクセスと映像部門を担当している上席アナリストJeff Heynen はコメントしている。
PON, FTTHおよびDSL アグレゲーション市場のハイライト
1Q12にブロードバンドアグレゲーションの売上は前期比40%減少したが、Huawei は世界的な売上トップの座を維持した(シェアは大幅に低下)ほか、ZTEとAlcatel-Lucentがこれに続いている。
ごく少数のブロードバンドアグレゲーション機器事業者は1Q12に売上を増加させることができた。この代表例は日本の主要事業者である Fujitsu, O.F. NetworksおよびNECである。
日本におけるEPON への投資は4Q11から1Q12にかけて11%増加した。なかでも NTT とKDDI はFTTB+VDSL 展開のFTTH へのアップグレードを行っており、2004年から2005年にかけて減価償却を終えたEPON 機器の代替を進めていく。
VerizonのFiOS やAT&TのU-Verse は展開が遅れており、季節的な原則要因も相まって、北米でのPON, DSL およびFTTH 機器市場は1Q12に21%縮小した。
中南米市場は引き続き競争が激しく、事業者は、この地域で記録的な水準を記録した4Q11に購入した新たなキャパシティを吸収するだけの投資を1Q12に行ったことは明らかである。
REPORT SYNOPSIS
Infonetics' quarterly PON, FTTH, and DSL Aggregation report provides worldwide and regional market size, market share, analysis, and forecasts through 2015. Revenue and ports are tracked for the following equipment: DSL aggregation (MSAPs, next gen DLCs, ATM and IP DSLAMs), BPON, 1.25G/2.5G EPON, 2.5G GPON, 10G EPON, 10G GPON, and Ethernet FTTH (CPE and service provider equipment). The report also tracks DSL subscribers by type (ADSL/ADSL2+, VDSL/VDSL2, G.SHDSL). Companies tracked: ADTRAN, Alcatel-Lucent, Allied Telesis, Calix, Corecess, Dasan, ECI, Ericsson, Fiberhome, Fujitsu, Huawei, Iskratel, Millinet, Mitsubishi, Motorola, NEC, Nokia Siemens, OFN, Sumitomo, Tellabs, UTStarcom, Zhone, ZTE, ZyXEL,
(原文)

Tighter spending in China and Europe squeezes broadband aggregation market in 1Q12

Campbell, CALIFORNIA, May 24, 2012-Global spending on DSL, PON, and fiber-to-the-home (FTTH) equipment declined 22% between the fourth quarter of 2011 (4Q11) and the first quarter of 2012 (1Q12), to $1.8 billion, reports market research firm Infonetics Research in its quarterly PON, FTTH, and DSL Aggregation Equipment and Subscribers market share and forecast report, which analyzes the fixed broadband access market and the vendors within it.
ANALYST NOTE
"In addition to seeing a first-quarter lull as we often do in the worldwide broadband aggregation market, there was a big 43% drop in Ethernet PON spending in China that drove spending in Asia down a full third this quarter, despite healthy increases in Japan and the rest of Asia Pacific. The drop in China is due mainly to a shift to FTTH this year and coming off the heels of a record previous quarter. Another more serious drag on the overall market was a third consecutive quarter of DSL revenue declines in EMEA, where access network upgrade projects have stalled because of the unstable economic environment," explains Jeff Heynen, directing analyst for broadband access and video at Infonetics Research.
PON, FTTH, AND DSL AGGREGATION MARKET HIGHLIGHTS
Despite a 40% sequential decline in broadband aggregation equipment revenue in 1Q12 from the previous quarter, Huawei maintains its worldwide revenue lead (though with significantly less share), followed by ZTE and Alcatel-Lucent
Only a handful of broadband aggregation equipment vendors managed to increase their revenue in 1Q12, including many of the top players in Japan: Fujitsu, O.F. Networks, and NEC
EPON spending in Japan increased 11% in 1Q12 from 4Q11, as NTT and KDDI are in the midst of upgrading their FTTB+VDSL deployments to FTTH and are beginning to replace fully depreciated EPON gear from 2004 and 2005
With Verizon's FiOS and AT&T's U-Verse rollouts slowing, combined with seasonal softness, the North American combined PON, DSL, and FTTH equipment markets saw 21% declines in 1Q12
While the Latin American market remains fiercely competitive, it is clear that operators spent 1Q12 absorbing the new capacity they purchased in 4Q11, when record spending was recorded in the region