Campbell、CALIFORNIA、2012年6月6日-データセンター及び仮想化環境向けセキュリティ機器の市場は、2016年までに44億ドルへ成長すると予測される。市場調査会社のInfonetics Research社は、同社が発行するデータセンターセキュリティ機器市場のシェア、規模、将来予測に関する最新レポート(Data Center Security Appliances market share, size, and forecast report)でそのように報告した。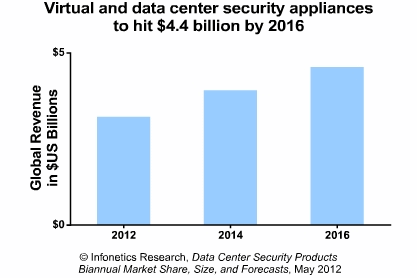 アナリストノート
「既に大規模で更なる成長途上にあるデータセンターセキュリティ機器部門では、市場シェアを巡ってベンダー同士の争いが始まりそうな気配です。」
Infonetics Research社のセキュリティ担当主席アナリストであるJeff Wilsonは、このように予測する。
「Ciscoは、2011年時点で世界全体の約3分の1の収入を握って市場をリードしており、その後をJuniper、McAfee、HP、Fortinetが追う形となっています。しかし、まだトップ5入りはしていないが、今年後半にデータセンターセキュリティ機器市場で強力な地位を獲得すると見られるベンダーや、既にトップ5入りしていてその地位を更に堅固にすると見られるベンダーなど、McAfee、Trend Micro、Check Point、Arbor、Palo Alto、SonicWALL、F5などを含め、多数の機器ベンダーが存在しています。」
データセンター及び仮想化環境向けセキュリティ機器市場のハイライト
仮想化環境向けセキュリティ機器市場は、データセンター向けセキュリティ機器市場と比べて小規模ではあるが、様々な脅威が増えると同時にクラウド環境の拡大が進んでいるため、より速いペースで成長している。
仮想化環境向けセキュリティ機器の世界的な売上は、VPNs/firewalls、SSL VPNs、IDS/IPS、コンテンツセキュリティゲートウェイなどを含め、2011年に前年比57%増加した。
仮想化環境向けよりも大規模な市場であるデータセンターセキュリティ機器市場は、統合型セキュリティ機器、IDS/IPS、コンテンツセキュリティゲートウェイ、DdoS機器などを含め、2012年に8.7%成長になるとInfonetics社では予測している。
両市場は、今後5年で目覚ましい成長を遂げると見られる。成長要因となるのは、量・種類共に増加しているセキュリティ上の脅威、クラウドや仮想化技術によって新たに生じるセキュリティ問題、サービスプロバイダによるデータセンター設備の更新、コストや効果の面で課題のある既存のデータセンター向けセキュリティソリューションなどである。
REPORT SYNOPSIS
Infonetics' biannual Data Center Security Appliances report provides worldwide and regional market size, forecasts, and analysis for virtual security appliances and data center security appliances (including 8 sub-segments), as well as data center vendor market share by region and market sub-segment. Vendors tracked include Arbor, AEP, Barracuda, Blue Coat, Catbird, Check Point, Cisco, Citrix, F5, Fortinet, HP, IBM, ISS, Juniper, McAfee, Radware, SonicWALL, Sourcefire, Stonesoft, Symantec, Trend Micro, VMWare, Vyatta, WatchGuard, Websense, and others.
(原文)

Virtual and data center security appliances to hit $4.4 billion by 2016

Campbell, CALIFORNIA, June 6, 2012-The data center and virtual security appliance market is on track to grow to a $4.4 billion opportunity by 2016, reports technology market research firm Infonetics Research in its latest Data Center Security Appliances market share, size, and forecast report.
ANALYST NOTE
"In the already big and growing data center security appliance segment, we see a potential battle looming for vendor market share," predicts Jeff Wilson, principal analyst for security at Infonetics Research. "Cisco leads now, with nearly a third of global revenue in 2011, followed by Juniper, McAfee, HP, and Fortinet. But there are a number of appliance vendors that don't yet crack the top 5 that we expect will have a strong position in data center security overall later this year, and others already in the top 5 that we expect will strengthen their positions, including McAfee, Trend Micro, Check Point, Arbor, Palo Alto, SonicWALL, and F5."
DATA CENTER AND VIRTUAL SECURITY APPLIANCE MARKET HIGHLIGHTS
The virtual security appliance market is smaller but growing faster than the data center security appliance segment, as threats intensify and cloud buildouts continue
Global sales of virtual security appliances -- including VPNs/firewalls, SSL VPNs, IDS/IPS and content security gateways -- grew 57% from 2010 to 2011
The larger data center security appliance market, including integrated security appliances, IDS/IPS, content security gateways and DDoS appliances, is forecast by Infonetics to grow 8.7% in 2012
Both segments are primed for impressive growth over the next 5 years, driven by the increasing volume and variety of security threats, new security challenges being presented by cloud and virtualization technologies, service provider data center upgrades, and the cost and ineffectiveness of some traditional security solutions in data center environments