Campbell, CALIFORNIA, 2012年6月18日、市場調査会社 Infonetics Research が、統合課金のソフトウェアとサービス (Convergent Charging Software and Services)の市場シェア、市場規模、市場予測に関する報告書を発表した。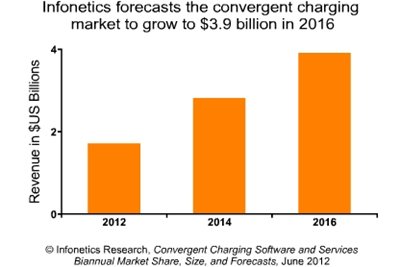 アナリストノート
「 急成長し競争が激化する統合課金市場(Convergent Charging Market)において、Comverse は、かろうじて首位に返り咲いたものの、 Huawei とEricsson が僅差で迫っており、 Amdocs もこの一年間で市場シェアを増やしています。」  これはInfonetics Research主席アナリスト(Next Gen OSS and Policy担当)であるShira Levineのコメントである。

Levine は、さらに続ける。「当社の予想では、通信事業者は、今後5年間に140億ドルを 統合課金のソフトウェアとサービス に投入し、この分野のサプライヤーは競争で有利な立場を得ようと態勢を整えています。多くの場合は、手持ちのソリューションのレパートリーを経営管理に統合し、情報処理の能力と費用の組み合わせを改善する柔軟なサービス提供を可能にするものです。」
統合課金のソフトウェアとサービス市場のハイライト
Infonetics の予測では、ソフトウェアとサービスを含む統合課金の世界市場は、2016年までに39億ドルまで規模を拡大する
アジア太平洋地域および EMEA (ヨーロッパ、中東、アフリカ)が、統合課金による取引をリードし、2011年には総収益の80%を占めた
通信業者が技術投資の収益化を求めており、LTEを含むネットワークのアップグレードが、統合課金への投資を推し進めている
急成長地域の通信業者が、導入してすぐに使えるソリューションを購入しており、利用者とトランザクション量の増加によってスケーラビリティの問題が発生する可能性がある。その場合は、将来、統合課金の取り換えが相次いで行なわれることになるだろう
CONVERGENT CHARGINGREPORT SYNOPSIS
Infonetics' biannual Convergent Charging Software and Services report provides worldwide market share, worldwide and regional market size, in-depth analysis, and forecasts for convergent charging software and services. The report includes a comprehensive convergent charging product roadmap and strategic outlook. Vendors tracked include Alcatel-Lucent, Amdocs, Comverse, Convergys, Ericsson, Hewlett-Packard, Huawei, Nokia Siemens, Openet, Oracle, Orga Systems, Telcordia, and others.
(原文)

Carriers to spend $14 billion on convergent charging over next 5 years; Comverse regains lead

CAMPBELL, CALIFORNIA, June 18, 2012-Market research firm Infonetics Research released excerpts from its latest Convergent Charging Software and Services market share, market size, and forecast report.
ANALYST NOTE
"Comverse narrowly regained the revenue lead in the fast-growing and hyper-competitive convergent charging market, with Huawei and Ericsson close behind, and Amdocs ramping up its market share over the past year," reports Shira Levine, directing analyst for next gen OSS and policy at Infonetics Research.

Levine adds, "We expect operators to spend a cumulative $14 billion over the next 5 years on convergent charging software and services, and the vendors in this space are jockeying to position themselves to capture that opportunity. Many are integrating their solution portfolios with policy management capabilities to enable flexible service bundles that better tie the amount of bandwidth consumed to the price charged."
CONVERGENT CHARGING MARKET HIGHLIGHTS
The global convergent charging market, including software and services, is forecast by Infonetics to grow to $3.9 billion by 2016
Asia Pacific and EMEA (Europe, Middle East, Africa) are the leading regions for convergent charging activity, together accounting for over 80% of total revenue in 2011
Network upgrades such as LTE are driving investment in convergent charging, as operators seek to monetize their technology investments
Some operators in fast-growing regions are purchasing "out-of-the-box" solutions that will likely run into scalability issues as subscriber growth and transaction volumes ramp up, leading to a wave of convergent charging replacement activity in the future