CAMPBELL, California, 2012年6月28日-調査会社Infonetics Research は、最新のIMS Service Strategies, Product Features, and Vendor Leadership: Global Service Provider Surveyを発表した。ここでは、ネットワークにIP Multimedia (voice, video, data) Subsystem コア設備を持つ事業者に対して、IMS市場におけるニーズを評価してトレンドを分析するためのインタビュー調査が行われている。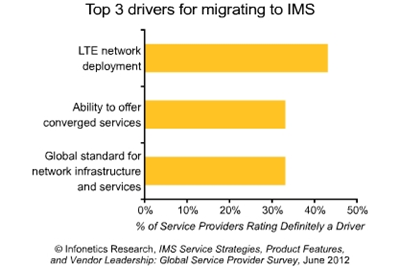 アナリストノート
「これまでに実施された年次IMSサービス事業者調査で初めてLTE がIMS展開を促進する要因のトップになった」としたうえで、「LTEは最大の促進要因かもしれないが、現実をみると、IMSで提供されているサービスの大部分は有線 VoIPである。調査対象事業者はいずれもボイスオーバーLTE (VoLTE)を採用していない」と、Infonetics ResearchにおいてVoIPとIMSを担当している主席アナリストDiane Myers は述べている。

Myers の追加コメント「最終的には、オールIPモバイルネットワークの長期的な必然性により、事業者に別のサービスでIMSに向かわせている。ただし将来はVoLTEが先を行くであろう。」
IMS サーベイのハイライト
有線、無線、ケーブル事業者によるIMS ネットワークの採用が続いている。Infonetics調査回答者の71%はすでにIMSを展開しており、残りはIMS展開の過程にある(この調査への参加資格)。
有線 VoIP サービスはIMS 展開の主要形態であり、76%の回答事業者はブロードバンドでの居住者用音声サービス、SIP trunkingあるいはIMSでの企業ホストVoIPを運営しており、この割合は2014年までには 100%になる。
モバイルサービスの重要性が増している。2014年までに71%の回答事業者はRCS/eを提供する予定があり、半分以上の回答者はVoLTEを、少なくとも3分の1は3GでのVoIPとモバイルメッセージを提供する予定である。
Ericsson は引き続き、回答事業者がインストールした機器の面でIMSベンダーの最大手である。
Huawei は今年の調査で傑出していた。回答事業者の中でも毎年の拠点設置の増加が著しいほか、料金設定、所有にかかるトータルコスト、製品ロードマップ、財務安定性、信頼性の面でベンダーとしてのリーダーシップを最も発揮した。
IMS サーベイ概要
Infoneticsの2012年6月発行の 37ページから成る IMS survey は、ネットワークにIMSコア機器を有する、世界21 の既存事業者、モバイル事業者、競合事業者の購買意思決定者へのインタビューをもとに作成されている。Infoneticsは各事業者に対して、IMS移行の促進・阻害要因、CSCFおよびHSS 実施、インストールを行ったベンダー, IMS要素, 単一対複数IMSコア, IMSをベースとするリテールサービス (企業ホストのIP通話, SIPトランキング, Class 5 交換音声, 3GでのVoIP, IPTVなど)の計画を質問した。この調査には、IMSベンダーについての事業者の自由回答のほか、事業者による8社の IMSインフラメーカー(Acme Packet, Alcatel-Lucent, Ericsson, GENBAND, Huawei, Metaswitch, Nokia Siemens Networks, ZTE) の9つの基準(技術, 製品ロードマップ, システム統合能力, 所有にかかるトータルコスト, 料金設定, 財務健全性, サービスとサポート, ソリューションの成熟度,信頼性)に基づく格付けによるベンダーのスコアカードが含まれる。
(原文)

LTE is top driver for IMS deployments, IMS operator survey shows

CAMPBELL, California, June 28, 2012-Market research firm Infonetics Research published its new IMS Service Strategies, Product Features, and Vendor Leadership: Global Service Provider Survey, for which carriers with IP Multimedia (voice, video, data) Subsystem core equipment in their networks were interviewed to assess their needs and to analyze trends in the IMS market.
ANALYST NOTE
"For the first time ever, LTE is the top driver for IMS deployments in our annual IMS service provider survey," notes Diane Myers, principal analyst for VoIP and IMS at Infonetics Research. "But while LTE may be the number-one driver, the reality is the majority of services running over IMS today are fixed-line VoIP. None of our survey respondents has yet deployed voice over LTE (VoLTE)."

Myers adds: "Ultimately, the longer-term inevitability of an all-IP mobile network is leading operators to IMS for other services first, even if VoLTE services are farther down the road."
IMS SURVEY HIGHLIGHTS
IMS networks continue to be deployed by fixed-line operators, mobile operators, and cable operators; 71% of Infonetics' survey respondents have already deployed IMS and the rest are in the process of deploying IMS (a requirement for participating in the survey)
Fixed-line VoIP service is the mainstay of IMS deployments, with 76% of respondents running residential voice over broadband, SIP trunking, or hosted business VoIP over IMS today, growing to 100% by 2014
Mobile services are growing in importance: by 2014, 71% of respondent operators plan to offer RCS/e, more than half plan to offer VoLTE, and more or less a third will offer VoIP over 3G and mobile messaging
Ericsson continues to be the leading IMS vendor in terms of equipment installed by respondent operators
Huawei is a real standout in this year's survey, growing its installed base every year among survey respondents and topping the vendor leadership list for pricing, total cost of ownership, product roadmap, financial stability, and reliability
IMS SURVEY SYNOPSIS
Infonetics' June 2012 37-page IMS survey is based on interviews with purchase-decision makers at 21 incumbent, mobile, competitive, and cable operators from around the world with IMS core equipment in their networks. Infonetics asked operators about drivers and barriers for migrating to IMS, CSCF and HSS implementations and installed vendors, IMS elements, single vs. multiple IMS cores, and plans for IMS-based retail services (business-hosted IP voice, SIP trunking, Class 5 replacement voice, VoIP over 3G, IPTV, etc.). The report includes operator responses to open-ended questions about IMS vendors and features a vendor scorecard with operator ratings of 8 IMS infrastructure manufacturers (Acme Packet, Alcatel-Lucent, Ericsson, GENBAND, Huawei, Metaswitch, Nokia Siemens Networks, ZTE) on 9 criteria (technology, product roadmap, system integration capability, total cost of ownership, pricing, financial stability, service and support, solution maturity, and reliability).