キャンベル、カリフォルニア州、2012年7月18日-市場調査会社Infonetics Research は同日、第1四半期 (1Q12) CMTS and Edge QAM Hardware and Subscribers 市場シェアと将来予測レポートの概要を発表した。ここではケーブルブロードバンド機器と加入者動向を取り扱っている。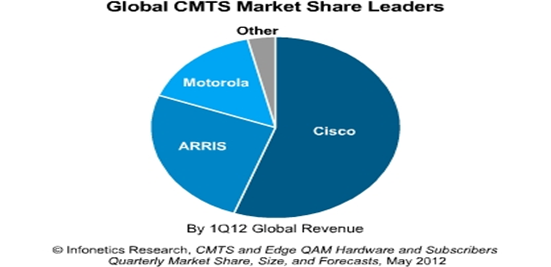 アナリストノート
Infonetics Researchでブロードバンドアクセスと映像部門を担当している上席アナリストJeff Heynenは次のようにコメントしている。「中南米は、CMTSメーカーにとっては、四半期ごとの市場シェアが大幅に変動する競争の激しい動的な地域になっています。前四半期にはCiscoが急伸し、市場の半分以上でリードしましたが、 今四半期のMotorolaは、CALA地域(中南米)における主導的地位をかなりの差で回復しました。 一方、一年前に中南米で首位であったARRISは、2011年の残りの期間には3位争いをするところまで業績を落とし、 2012年の第1四半期 には2位に浮上しています。」

また、Heynenは次のよう続ける。「大きく3つの潮流が、中南米のCMTS市場に活況をもたらしています。ケーブル事業者は、従来の通信業者と加入者をめぐる競争で身動きがとれないこと、CMTSメーカーがDOCSIS 3.0のラインカードの価格を押し下げ、Netflixなど過剰な事業展開を行なうビデオプロバイダーの中南米市場進出にともなう持続的な帯域幅の使用の大幅な拡大です。」
CMTS および エッジ QAM 市場のハイライト
CMTS とエッジQAM を合わせた売上は、北米で、2012年第1四半期に通年ベースで13%増加した。
他の各地域の売上は減少した。これは、世界規模で事業展開する事業者の多くが、第1四半期を利用してその前年度末までに獲得した新しい能力を吸いあげるためである。
世界的なCMTSポートの出荷数量は1Q12に過去最高の412,000に達し、通年ベースで28%の増加となった。これは、MSOがDOCSIS 3.0とユニキャスト ビデオサービスを提供するために下流および上流のCMTSの導入を増やしたためである。
1Q12には、Ciscoが世界市場に占めるCMTS売上シェアシェアは55%を記録し、一方、Motorolaは当該期に売上を伸ばした唯一のCMTSメーカーとなった。
Harmonicは、世界各地の事業者が取り組んでるVOD、リニアブロードキャスト、SDVの配備のおかげで、エッジQAM メーカーの中で首位を保っている。
REPORT SYNOPSIS
Infonetics' quarterly CMTS and Edge QAM report provides worldwide and regional vendor market share, market size and forecasts for standard and wideband cable broadband subscribers; upstream and downstream CMTS revenue and ports; and edge QAM channels and revenue by application, including linear broadcast TV, video on demand (VOD) and unicast video, switched digital video (SDV), and DOCSIS. The report tracks ARRIS, BigBand Networks, Casa Systems, Cisco, CommScope, Ericsson, Harmonic, Motorola, Sumavision, Teleste and Vecima.
(原文)

Cable broadband market heating up in Latin America

Campbell, CALIFORNIA, July 18, 2012-Market research firm Infonetics Research released excerpts from its first quarter 2012 (1Q12) CMTS and Edge QAM Hardware and Subscribers market share and forecast report, which tracks cable broadband equipment and subscribers.
ANALYST NOTE
"Latin America has become the most competitive and dynamic market for CMTS vendors, with market share fluctuating wildly from quarter to quarter," notes Jeff Heynen, directing analyst for broadband access and video at Infonetics Research. "Motorola regained the lead in the CALA region this quarter by a comfortable margin, whereas last quarter, Cisco surged and led with over half the market. Meanwhile, ARRIS was number-one in Latin America a year ago, dropped to a close third for the rest of 2011, but then popped up to second in the first quarter of 2012."

Heynen adds: "Three major trends will keep the Latin American CMTS market lively going forward: The cable companies are locked in major battles with incumbent telcos for subscribers, CMTS vendors brought down the price of their DOCSIS 3.0 line cards, and a surge in sustained bandwidth usage is coming as Netflix and other over-the-top video providers enter the Latin American market."
CMTS AND EDGE QAM MARKET HIGHLIGHTS
CMTS and edge QAM spending jumped 13% in North America in 1Q12 from the previous quarter
Spending in every other region declined, which is typical for the CMTS and edge QAM market as international operators often use the first quarter to absorb new capacity gained at the close of the year
Global CMTS port shipments hit record levels once again in 1Q12, reaching 412K, up 28% from the year-ago first quarter, as MSOs continue to purchase more downstream and upstream CMTS capacity to deliver DOCSIS 3.0 and unicast video services
Cisco maintained its worldwide CMTS revenue share lead with 55% in 1Q12, while Motorola was the only CMTS vendor to post an increase in revenue for the quarter
Harmonic, thanks to its ongoing VOD, linear broadcast, and SDV deployments with operators worldwide, held onto the top spot among edge QAM vendors