カリフォルニア州キャンベル 2012年7月30日-市場調査会社Infonetics Research社はHybrid IP Set-Top Box Features and Vendor Leadership: からの抜粋を発表し、動画サービス配信用のハイブリッドのIPベース セットトップボックス(以下STB)のために通信事業者に求められる条件について述べている。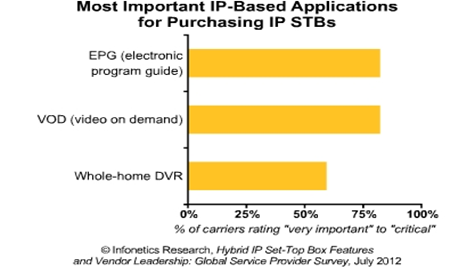 アナリストノート
「弊社の2011年版のIP-STB調査から変わって、今や Cisco がIP-STB全体のトップサプライヤーだと事業者に認められています。昨年はMotorolaがトップでした。」とインフォネティクスリサーチ社のブロードバンドアクセスおよび動画主任アナリストのJeff Heynenは語る。「これは弊社のSTBマーケットシェアレポートと一致しています。Ciscoは4つの四半期連続で、世界のIP-STB収益をリードしています。ここ数年にわたってIP-STBのライナップや顧客ベースを広げようとCiscoが努力してきたことや、AT&T、Deutsche TelekomおよびTelusと大きな契約を結んだことは明らかに実を結んでいます。」
STB調査のハイライト
インフォネティクスの調査に参加しているサービス業者の94%が、動画配信サービスにIP-STBを使用している。
通信事業会社は、IP-STBの3大主要アプリケーションは、ビデオ・オン・デマンド(VOD)と、電子番組ガイド(EPG)、およびWhole-home DVRだとしている。
STBのソーシャルネットワーク能力 (Facebook、 Twitterなど)は、調査回答者の中では高評価を得ていない。
STBをホームネットワークに繋ぎ、他の機器とのメディア共有に使用する主要技術はイーサネットである。それに802.11n およびユニバーサルプラグ・アンド・プレイ (UPnP)が続いている。
HDプログラミングおよびタイム・シフト再生の増加は、STBのメモリ容量に大きな負担となっている:事業者の71%が2013年までに、ハードディスクの容量は500G以上必要になるとみている、と回答している。
Ciscoと Motorola は、通信事業者中、トップのIP-STBサプライヤーとして並んでおり、それにAminoが続いている。
ABOUT THE SURVEY
For its Hybrid IP Set-Top Box survey, Infonetics interviewed purchase decision-makers at incumbent carriers from North America, EMEA, and Asia Pacific about preferred IP STB features, IP STB tuners, home networking and media sharing technologies, IP STB hard drive capacity, and manufacturers (vendors installed and under evaluation, the "top three IP STB suppliers," and familiarity level with various manufacturers). IP STB vendors named by serviced providers in response to survey questions include ADB, Amino, ARRIS, Cisco, Huawei, Humax, Motorola, Netgem, Pace, Samsung, Skyworth, Technicolor, and others.
(原文)

Operators name Cisco top dog in IP set-top boxes in new Infonetics survey

Campbell, CALIFORNIA, July 30, 2012-Market research firm Infonetics Research released excerpts from its Hybrid IP Set-Top Box Features and Vendor Leadership: Global Service Provider Survey, which captures service providers' requirements for hybrid IP-based set-top boxes (STBs) to deliver video services.
ANALYST NOTE
"In a change from the 2011 edition of our IP set-top box survey, Cisco is now perceived as the overall top IP set-top box supplier by operators, while Motorola was top dog last year," notes Jeff Heynen, directing analyst for broadband access and video at Infonetics Research. "This is consistent with our set-top box market share reporting, where Cisco has led in global IP STB revenue share for 4 straight quarters. Clearly Cisco's efforts over the past year to expand its IP set-top box lineup and customer base, and the major contracts it has scored with AT&T, Deutsche Telekom, and Telus are paying off."
SET-TOP BOX SURVEY HIGHLIGHTS
94% of service providers participating in Infonetics' survey use IP STBs to deliver video services
Carriers identified the top 3 critical IP STB applications as video on demand (VOD), electronic program guide (EPG), and whole-home DVR
STB social networking capabilities (Facebook, Twitter, etc.) were not rated highly by survey respondents
Ethernet is the leading technology for connecting STBs to home networks and sharing media with other devices, followed by 802.11n and universal plug and play (UPnP)
Increases in HD programming and time-shifted viewing are placing greater storage burdens on the STB: 71% of operator respondents believe they will need more than 500G of hard drive capacity by 2013
Cisco and Motorola are tied as the most installed IP STB suppliers among carriers, followed by Amino