2012年8月16日カリフォルニア州キャンベル発――市場調査会社のInfonetics Researchが同社の最新調査報告書『GPON Equipment in Brazil, Russia, India, and China (BRIC) Market Share and Forecast 』の抜粋版を発行した。同書はBRIC諸国(Brazil, Russian, India, China)の2.5G-GPON(受動光ネットワーク)および10G GPON 機器市場における市場勢力図と成長分野の動きを追った報告書である。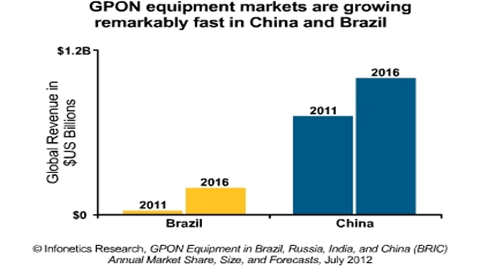 アナリストノート
Infonetics Research社でブロードバンドアクセス / ビデオを担当する主席アナリストJeff Heynen氏によれば、「中国内のサービスプロバイダは昨年、7億1,500万ドルもの大金をGPON機器に投入したが、この動きは氷山の一角に過ぎない。」「今後15年間に都市部に移住する人口が約30億と言われる中国では、この市場にファイバー・トゥ・ザ・ホーム (FTTH)の大きなポテンシャルがある。このため、中国は間違いなくFTTHの主要発展地域となる。」

Heynen氏はさらに「ブラジルもGPON関連の動きが極めて活発な地域。経済的安定やケーブル通信事業者との競争激化、ワールドカップやオリンピックなどのイベント予定といった要素を抱えるブラジルでは、長期的繁栄が見込めるものと当社では見ている。」と述べている。
BRIC諸国におけるGPON市場のハイライト
2011年、世界のGPON機器収入の半分をたたき出したのはBRIC諸国
ロシアにおけるGPON機器への支出は、2011年の伸び分は前年比79%増
中国、ロシア、ブラジルの2.5G GPON市場シェア (収入ベース) で1位を占めるのは、中国のHuawei (華為通信) 社。一方インドでの1位は同国のAlphion社
BRIC諸国では、10G GPONが2013年までに収益創出に転じる見込み
BRIC諸国におけるGPON動向報告書の概要
Infonetics社の『BRIC GPON equipment market share and forecast』は、ブラジル、ロシア、インド、中国というGPON機器による加入者向けブロードバンドアクセス実現が目立つ重要市場に着目し、FTTH / FTTBアプリケーションで使用される2.5 GPONおよび10G GPON光回線終端装置 (OLT) と光加入者網終端装置 (ONT)、FTTH加入者の動向を追跡調査した報告書である。追跡調査対象企業は、ADTRAN、Alcatel-Lucent、Alphion、Dasan Networks、ECI Telecom、Ericsson、Fiberhome、Huawei、Motorola、NEC、Tellabs、Zhone、ZTEなど。
(原文)

BRIC with a capital 'C': China dominates GPON spending

Campbell, CALIFORNIA, August 16, 2012-Market research firm Infonetics Research released excerpts from its new GPON Equipment in Brazil, Russia, India, and China (BRIC) Market Share and Forecast report, which tracks the competitive landscape and growth areas of the 2.5G Gigabit passive optical network (GPON) and 10G GPON equipment markets in BRIC countries.
ANALYST NOTE
"Service providers in China spent a staggering $715 million on GPON equipment last year, and this is just the tip of the iceberg," notes Jeff Heynen, directing analyst for broadband access and video at Infonetics Research. "This market holds massive potential for fiber-to-the-home, with around 300 million Chinese citizens expected to migrate to urban areas over the next 15 years, definitely making China the dominant region for FTTH deployments."

Heynen adds: "Brazil is also a real bright spot for GPON activity. We expect long-term strength there driven by a solid economy, increased competition from cable operators, and the upcoming World Cup and Olympics events."
BRIC GPON MARKET HIGHLIGHTS
In 2011, BRIC countries represented 1/2 of total global GPON equipment revenue
GPON equipment spending in Russia jumped 79% in 2011 over 2010
Huawei is the revenue market share leader for 2.5G GPON in China, Russia, and Brazil; Alphion leads in India
10G GPON is expected to begin generating revenue in BRIC countries by 2013
BRIC GPON REPORT SYNOPSIS
Infonetics' BRIC GPON equipment market share and forecast report focuses on Brazil, Russia, India, and China-key markets using GPON equipment to provide broadband access to subscribers-and tracks 2.5 GPON and 10G GPON optical line terminals (OLTs) and optical network terminals (ONTs) used in FTTH and FTTB applications, as well as FTTH subscribers. Companies tracked include ADTRAN, Alcatel-Lucent, Alphion, Dasan Networks, ECI Telecom, Ericsson, Fiberhome, Huawei, Motorola, NEC, Tellabs, Zhone, ZTE, and others.