カリフォルニア州キャンベル 2012年8月21日-市場調査会社のInfonetics Research社は今日、 同社の2012年第二四半期 (2Q12)版のサービスプロバイダルーターおよびスイッチ(Service Provider Routers and Switches Market Share and Forecast) レポートから、事業会社の市場シェアランキングおよび分析速報を発表した。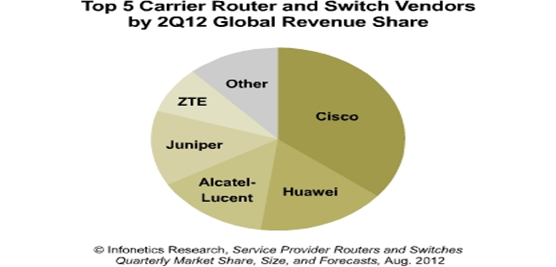 アナリストノート
「中国での収益が50%近くも増加し、世界のサービスプロバイダおよびスイッチ市場の第二四半期を支えました。」とInfonetics Research社の共同創設者であり通信会社ネットワークの主席アナリストMichael Howardは語る。 「この四半期が世界的に楽観的な状況になるのか、そうではなく下降状況をたどるのかを分けたのは中国なのです。」

Howardは次のようにも語っている。「 Cisco は申し分のない利益を得て(そして昨年の同時期から一定のシェアを保って)長い間世界のIPエッジルーター/コアルーター市場を牽引して来ている一方で、Alcatel-Lucent、 Juniper および Huaweiが過去1年半の間、四半期毎にCiscoに続く3社のポジション争いを続けています。2012年の上半期にはこの争いは非常にし烈になり、Huawei が第二四半期で2位の座を獲得しています。」
サービスプロバイダルーターおよびスイッチ市場のハイライト
イーサネットスイッチおよびIPエッジルーター/コアルーターを含めた世界のサービスプロバイダルーターおよびスイッチ市場は、前四半期から4%成長をし、2012年第二四半期に35億ドルへ拡大した。
キャリアルーターおよびスイッチ市場は、昨年の第二四半期から9%ダウンした。これはサービスプロバイダが、特に北米と欧州で概して注意深くなっているためである。
キャリアルーターおよびスイッチの前年比での収益増加を記録しているのは、世界各地の中でも中南米だけである(2011年第四半期と比較し、2012年第二四半期は57%のアップを記録)。
ZTE は2012年第二四半期にキャリアイーサネットスイッチ(CES)で特に堅実な利益を記録しており、特にCESが主要モバイルバックホールの整備に使用された中国での利益が大きい。
REPORT SYNOPSIS
Infonetics' quarterly Service Provider Routers and Switches report provides worldwide and regional market share, market size, forecasts, and analysis for IP edge routers, IP core routers, and CES. The report tracks the IP Edge market by application (multiservice edge, broadband remote access server, Ethernet access transport, and Ethernet service edge) and covers Alaxala, Alcatel-Lucent, Brocade, Ciena, Cisco, Ericsson, Extreme, Force10, Fujitsu, Hitachi Cable, Huawei, Juniper, NEC, Nokia Siemens, Orckit-Corrigent, Tellabs, ZTE, and others.
(原文)

China props up IP router/switch market in Q2; Huawei takes #2 spot in routers

Campbell, CALIFORNIA, August 21, 2012-Market research firm Infonetics Research today released vendor market share standings and preliminary analysis from its 2nd quarter 2012 (2Q12) Service Provider Routers and Switches report. (Full report with forecasts and detailed analysis will be published August 24.)
ANALYST NOTE
"A nearly 50% increase in revenue in China propped up the global service provider router and switch market in the 2nd quarter," notes Michael Howard, Infonetics Research's co-founder and principal analyst for carrier networks. "China was the differentiating factor between a positive worldwide quarter and one that otherwise would have been down."

Howard adds: "While Cisco has long led the global IP edge and core router market by very comfortable margins (and whose share is steady from this time last year), Alcatel-Lucent, Juniper and Huawei have been fighting it out every quarter for the past year-and-a-half for the next 3 leadership positions. The race tightened considerably in the 1st half of 2012, with Huawei taking the #2 spot in the 2nd quarter."
SERVICE PROVIDER ROUTER AND SWITCH MARKET HIGHLIGHTS
The global service provider router and switch market, including carrier Ethernet switches and IP edge and core routers, grew 4% in 2Q12 from the previous quarter, to $3.5 billion
From the year-ago 2nd quarter, the overall carrier router and switch market is down 9%, as service providers generally remain cautious, particularly in North America and Europe
Latin America is the only major world region posting an increase in carrier router and switch revenue on a year-over-year basis (up 57% in 2Q12 over 2Q11)
ZTE posted especially strong gains in carrier Ethernet switches (CES) in 2Q12, particularly in China where CESs are being used in major mobile backhaul deployments