マサチューセッツ州ボストン 2012年8月23日-市場調査会社の Infonetics Research は本日、 同社の2012年第二四半期 (2Q12)版の 企業向けユニファイドコミュニケーション、VoIPおよびTDM機器(Enterprise Unified Communication, VoIP, and TDM Equipment) レポートから、ベンダーの市場シェアランキングおよび仮の分析を発表した。このレポートの中で、既存のPBX および KTS 電話システム、 IP PBX システム、 ボイス・オーバー IP ゲートウェイ、ユニファイドコミュニケーション (UC) アプリケーッション、および IP 電話について詳細に伝えている。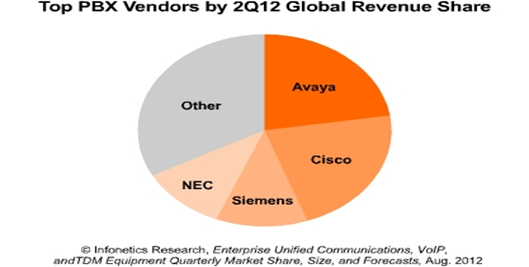 アナリストノート
「電話関連機器への支出(投資)となると企業は極端に保守的で、2012年上半期の収益減少にそれが表れています。」 と、Infonetics Research の VoIP および IMS 首席アナリストである Diane Myers は警鐘を鳴らしている。「2011年に比べて2012年は伸びるだろうと私たちは予想していますが、その一方で主にEMEA および北米での弱さが続いているため、予測を少し下方修正しています。 この地域では多くの企業が、未だに既存の電話関連ソリューションで仕事を行っている分野への支出を延期し続けているのです。」
企業向け電話市場のハイライト
2012年第二四半期、企業向け PBX 電話システム市場 (TDM、ハイブリッド、およびピュアなIP PBX)の合計額は、前四半期から7%ダウン、また前年の第二四半期からは6%ダウンの19億ドルとなった。
Avaya は、2012年第二四半期の PBX/KTS システムの世界収益において、Cisco のほんの少しだけ先を進んでいる。
下降気味の四半期に成長を記録している注目すべき事業会社には Microsoft、 Samsung、 ShoreTel そして Mitel が名を連ねており、どちらも連続2ケタ成長を遂げている。
2011年の中南米のPBX市場は常に際立っていたが、2012年も小さな灯台となっている。この地域の経済が成長し、新たなビジネスを生み出しているからだ。
ユニファイドコミュニケーションは、企業向け電話機器分野の中で2012年第二四半期に成長を記録した唯一のカテゴリーだ(世界の収益が2.2%上昇)。
前年同期比の場合、VoIP ゲートウェイのみが上昇(14.7%プラス)。
REPORT SYNOPSIS
Infonetics' quarterly Enterprise Unified Communication, VoIP, and TDM Equipment report provides worldwide and regional market size, vendor market share, analysis, and forecasts for the enterprise telephony market, including TDM PBX and KTS systems, hybrid and pure IP PBXs, IP PBX by system size, VoIP gateways, unified communications (communicator, unified messaging), and IP deskphones and softphones. Companies tracked include Aastra, AudioCodes, Alcatel-Lucent, Avaya, Cisco, Dialogic, IBM, LG Ericsson, Microsoft, Mitel, NEC, NET/Quintum, Polycom, Samsung, ShoreTel, Siemens Enterprise, Toshiba, Vertical, and others.
(原文)

Cautious businesses tamp growth in enterprises phone market in 2Q12

Boston, MASSACHUSETTS, August 23, 2012-Market research firm Infonetics Research today released vendor market share standings and preliminary analysis from its 2nd quarter 2012 (2Q12) Enterprise Unified Communication, VoIP, and TDM Equipment report, which tracks traditional PBX and KTS phone systems, IP PBX systems, voice over IP gateways, unified communications (UC) applications, and IP phones.
ANALYST NOTE
"Enterprises are being extremely conservative in their spending on telephony equipment, as witnessed by declining revenue during the first two quarters of 2012," cautions Diane Myers, principal analyst for VoIP and IMS at Infonetics Research. "While we still expect 2012 to eke out some growth compared to 2011, we have lowered our forecast slightly due to continued weakness primarily in EMEA and North America, where many businesses continue to push off spending in an area where existing telephony solutions still get the job done."
ENTERPRISE TELEPHONY MARKET HIGHLIGHTS
In 2Q12, the enterprise PBX phone system market (TDM, hybrid, and pure IP PBXs) totaled $1.9 billion, down 7% from the previous quarter and down 6% from the year-ago 2nd quarter
Avaya edged ahead of Cisco by a hair in 2Q12 in total global PBX/KTS system revenue
Noteworthy vendors posting growth in the down quarter include Microsoft, Samsung, ShoreTel, and Mitel, all with double-digit sequential growth
The Latin American PBX market consistently stood out in 2011 and is a small beacon of light in 2012 as economies in the region experience growth and new business creation
Unified communications is the sole enterprise telephony segment to post sequential growth in 2Q12 (global revenue up 2.2%)
On a year-over-year basis, only VoIP gateways are up (+14.7%)