2012年8月31 Campbell, CALIFORNIA - 市場調査会社Infonetics Researchは本日、2012年第2四半期 (2Q12) の2つのセキュリティレポートから、ベンダーの市場占有率の順位、市場動向、分析を公開した。ネットワークセキュリティ装置とソフトウェア レポート、およびコンテンツセキュリティゲートウェイ装置、ソフトウェア、SaaSレポートである。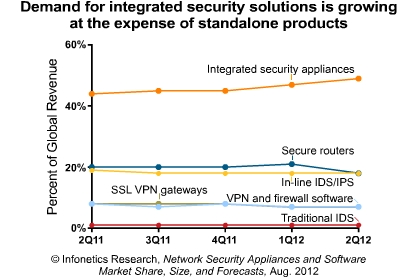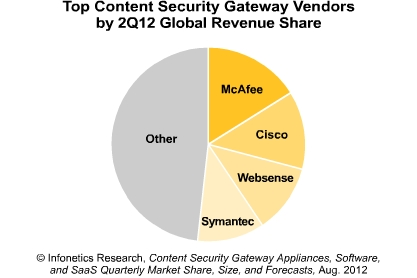 アナリストノート
Infonetics Researchのセキュリティの主任アナリストであるJeff Wilson氏は次のように述べている。「顧客は単独型のソリューションではなく、メールやゲートウェイのアンチウィルス機能付きファイヤーウォール、IPS、 DLP、モバイル機器のセキュリティ、アプリケーションコントロールを含む、統合型のセキュリティソリューションを購入、展開し始めている。これにより、ネットワークセキュリティ市場全体が盛り上がっているが、単独型のコンテンツセキュリティゲートウェイの売上が圧迫されている。サービスとしてのセキュリティ (SaaS) とホステッドセキュリティサービスが製品市場よりも成長している。最近までは、単独型のコンテンツセキュリティ製品の売上は、統合型装置の売上を上回っていた。」

Wilson氏は続ける。「SaaSは非常に明るい材料だ。SaaSのコンテンツセキュリティゲートウェイの収益は前年比で50%以上増加しており、2011年から2016年まで23%の年平均成長率 (CAGR) を記録するとInfoneticsは予測している。コンテンツセキュリティ市場に真剣に取り組みながら、現在、SaaSを提供していないベンダーは、最速で成長しているセグメントを見逃している。」
ネットワークセキュリティ市場のハイライト
世界全体のネットワークセキュリティ装置とソフトウェアの収益は、2012年第1四半期から2012年第2四半期までの期間で4.4%伸び、15億ドルになった。
ネットワークセキュリティへの支出は世界のすべての主要地域で伸びており、各地域において前年比で6%から15%までの伸びを示している。
ネットワークセキュリティの収益において、前年の第2四半期比では上位2社のCisco とCheck Pointがそれぞれ13%の伸び、第3位のJuniperが1%伸びを記録した。
NETWORK SECURITY REPORT SYNOPSIS
Infonetics' quarterly Network Security Appliances and Software report provides worldwide and regional market size, vendor market share, forecasts, and analysis for integrated security appliances, secure routers, SSL VPN gateways, VPN and firewall software, and network-based intrusion detection and prevention (IDS/IPS) products. Vendors tracked include AEP, Alcatel-Lucent, Array Networks, Avaya, CA, Celestix, Check Point, Cisco, Citrix, D-Link, Enterasys, eSoft, F5, Fortinet, GTA, HP, Intrusion, ISS, Juniper, McAfee, NetASQ, Palo Alto Networks, SonicWALL, Sourcefire, Stonesoft, Symantec, Top Layer, WatchGuard, ZyXEL, and others.
コンテンツセキュリティ市場のハイライト
2012年第2四半期においては、セキュリティ装置とソフトウェアを含む世界のコンテンツセキュリティゲートウェイ市場は連続で1.7%縮小し、7億2100万ドル市場となった。
コンテンツセキュリティゲートウェイ市場全体の収益の競争は激しく、2012年第2四半期においては、McAfeeが1位を維持し、上位ベンダーの中で最も高い連続的な収益の伸びを記録したCiscoが2位に入った。
2012年第2四半期においては、コンテンツセキュリティゲートウェイの収益全体の5分の3を装置の収益が占めた。ウェブ/マルウェアがこのセグメントを先導した。
CONTENT SECURITY REPORT SYNOPSIS
" Infonetics' quarterly Content Security report provides worldwide and regional market size, vendor market share, forecasts, and analysis of content security software, SaaS, and gateway appliances (messaging, web/malware, integrated). Vendors tracked include Barracuda, Blue Coat, Cisco, Citrix, McAfee, Proofpoint, SonicWALL, Symantec, Trend Micro, Websense, Wedge Networks and others.
(原文)

Integrated, hosted, SaaS security driving overall market, weighing on content security products

Campbell, CALIFORNIA, August 31, 2012-Market research firm Infonetics Research today released vendor market share standings, trends and analysis from two 2nd quarter (2Q12) security reports: Network Security Appliances and Software and Content Security Gateway Appliances, Software, and SaaS.
ANALYST NOTE
"Customers are starting to buy and deploy integrated security solutions, including firewalls with mail and gateway antivirus, IPS, DLP, mobile device security, and application control-instead of standalone solutions-which is driving up the overall network security market but weighing down on sales of standalone content security gateways," says Jeff Wilson, principal analyst for security at Infonetics Research. "Security-as-a-service (SaaS) and hosted security services are outgrowing product markets, and until recently, standalone content security product sales were outgrowing integrated appliance sales."

Wilson adds: "SaaS is a real bright spot. Revenue for SaaS content security gateways is up more than 50% year-over-year and is forecast by Infonetics to grow at a 23% compound annual growth rate (CAGR) from 2011 to 2016. Any serious player in the content security market who doesn't currently have a SaaS offering is missing out on the fastest growing segment."
NETWORK SECURITY MARKET HIGHLIGHTS
Worldwide network security appliance and software revenue grew 4.4% between 1Q12 and 2Q12, to $1.5 billion
Network security spending is up in all major world regions, with year-over-year growth ranging from 6% to 15%
From the year-ago 2nd quarter, market leaders Cisco and Check Point each posted 13% increases in quarterly network security revenue, and #3 player Juniper is up 1%
CONTENT SECURITY MARKET HIGHLIGHTS
In 2Q12, the global content security gateway market, including appliances and software, sequentially decreased 1.7% to $721 million
In the highly competitive race for overall content security gateway revenue market share, McAfee held onto the top spot in 2Q12, and Cisco moved into 2nd with the highest sequential revenue growth among the leading vendors
Appliances accounted for 3/5 of total content security gateway revenue in 2Q12; web/malware led this segment