2012年9月4日 Boston, MASSACHUSETTS ─ 市場調査会社Infonetics Researchはベンダーの市場占有率、市場予測に関する2012年第2四半期 (2Q12) の無線LAN機器と WiFi端末 レポートからの抜粋を公開した。このレポートでは、802.11 a/b/g、802.11n、802.11acのアクセスポイント (AP)、無線LAN (WLAN) コントローラー、および企業向けWi Fi端末について追跡調査している。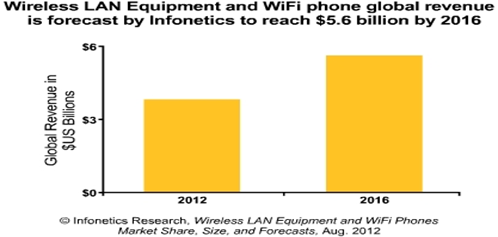 アナリストノート
Infonetics Researchの企業向けネットワークとビデオの主任であるMatthias Machowinski氏は次のように述べている。「無線LANはここ数年、非常に好調なだけではなく有線LANを上回っており、無線LAN市場は今や四半期ベースで10億ドルの水準に迫っている。世界はワイヤレス化しており、どこにいようとも速い回線速度で常に接続できることを利用者は期待している。企業は増加を続ける帯域需要に対応する必要があり、速度の速い802.11nに基づく次世代LAN機器をはじめ、まもなく802.11acテクノロジーがアップグレードする理由となる。」
無線LAN市場のハイライト
世界のLAN機器とWiFi端末の売上は北米、そして、教育および小売分野の大きな需要により、2012年第2四半期には16%連続して伸び、9億9300万ドルになった。
EMEA (ヨーロッパ、中東、アフリカ) における無線LANの収益は、前年同期比で3分の1以上増加した。
サービスプロバイダーによるWi Fiの展開が進み、屋外アクセスポイントの収益は前年の第2四半期比で45%伸びた。
無線LAN機器市場で連続してトップに立つCiscoは2012年第2四半期、前年同期比で市場占有率を約4%伸ばした。Arubaが再び2位になり、HPがMotorolaを飛び越えて3位となった。
2012年第2四半期の企業向けWi Fi端末市場の市場占有率をめぐる競争では、VoceraがPolycomとCiscoに対するリードを広げた。
REPORT SYNOPSIS
Infonetics' quarterly Wireless LAN Equipment and WiFi Phones report provides worldwide and regional market size, vendor market share, forecasts, and analysis for interactive, independent, and outdoor access points (802.11 a/b/g, 802.11n, and 802.11ac), wireless LAN controllers, and enterprise single-mode WiFi phones. Companies tracked include Alcatel-Lucent, Aruba, Brocade, Cisco, D-Link, Enterasys, Extreme, Juniper, LG Ericsson, Meru, Motorola, NETGEAR, Polycom, HP, Ruckus, SMC, Vocera, Xirrus, and others.
(原文)

Wireless LAN market nears $1-billion mark

Boston, MASSACHUSETTS, September 4, 2012-Market research firm Infonetics Research released excerpts from its 2nd quarter 2012 (2Q12) Wireless LAN Equipment and WiFi Phones vendor market share and forecast report, which tracks 802.11 a/b/g, 802.11n, and 802.11ac access points (APs), wireless LAN (WLAN) controllers, and WiFi phones for the enterprise.
ANALYST NOTE
"Wireless LAN has had a very good run over the last couple of years, even outperforming wired LAN, and the WLAN market is now approaching the $1-billion-per-quarter mark," notes Matthias Machowinski, directing analyst for enterprise networks and video at Infonetics Research. "The world is going wireless, and users expect fast, always-on connectivity no matter where they are. Enterprises need to keep pace with ever-increasing bandwidth demands, and next-gen WLAN gear based on fast 802.11n and soon 802.11ac technologies gives them a reason to upgrade."
WIRELESS LAN MARKET HIGHLIGHTS
Global wireless LAN equipment and WiFi phone sales grew 16% sequentially in 2Q12, to $993 million, driven by strong demand in North America and the education and retail verticals
WLAN equipment revenue in EMEA (Europe, the Middle East, and Africa) is up by more than 1/3 year-over-year
Revenue for outdoor access points rose 45% from the year-ago 2nd quarter due to increasing deployments of WiFi by service providers
Cisco, the perennial leader in the wireless LAN equipment market, gained about 4 market share points year-over-year in 2Q12; Aruba again took the #2 spot; HP leapfrogged Motorola to take 3rd
Vocera widened its lead over Polycom and Cisco in the race for enterprise WiFi phone market share in 2Q12