カリフォルニア州、キャンベル、2012年9月10日-市場調査会社Infonetics Researchは、ワイヤレス及び固定回線サービス・デリバリープラットホーム(SDP)ソフトウェア、そして事業者が加入者の為に彼等のサービスを新たに創出し実現する為に使用するサービスに関して追跡調査したService Delivery Platform Software and Servicesから、その抜粋及びサービス市場規模、市場占有率と市場予報リポートを公表した。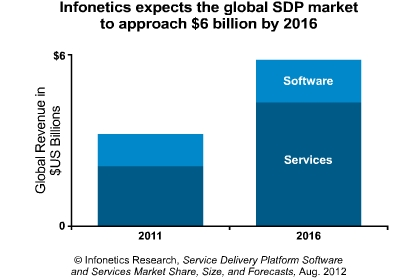 アナリストノート
「市場開拓において、オペレータ達は引き続きAPPストアやAPI 拡大戦略によってコンシューマ・アプリケーション・エコシステムに加わる事に非常に精力を傾けていますが、我々は現在、それと同様に、特に開拓済みのマーケットにおいて、大企業や中堅企業を対象とした部門に注力する為のSDPへの投資による梃子入れに対する感心の高まりを見て取っています」Infonetics Researchの次世代OSS担当主任アナリストShira Levineは語る。

Levineは更に付け加えた: 「企業appストアのような 企業間取引と、運行管理や遠隔医療を含む業界特有アプリケーションは、ROI にとってはコンシューマー・アプリよりも有望な展望を持っていますが、恐らくより重要なのは、コンシューマー・アプリに関する強者であるApple及びGoogleに対し、これらの事業が少なくとも短期的利点を持つ分野である事です」
SDP市場のハイライト
Infonetics は、2012年から2016年までの5年に亘って、SDPソフトウェアとサービスに累積240億ドルが、主としてモバイルネットワークの展開の為に使われると予測する。
2011年、SDP市場におけるトップ争いは、Oracleがソフトウェア部門でHuawei に市場占有率で1ポイントでリード、そしてサービス部分でHuaweiがEricssonに1ポイントリードという接戦状態で続いている。
Wholesale Application Community (WAC)の崩壊にもかかわらず、若干の事業者が、特に局地的規模において、アプリケーションの共同開発を続けている。
オペレーターの興味は、クラウドベースでのサービス提供、カスタマイズ不要なターンキー・アプリケーション、レベニュー・シェアリング選択を含む、非伝統的なSDPによって認可されたモデルに対して高まりつつある。
SDP REPORT SYNOPSIS
Infonetics' biannual SDP Software and Services report provides regional and worldwide market size, vendor market share, forecasts, and analysis for fixed-line and wireless SDP components and services by network and service types. Companies tracked include Accenture, Aepona, Alcatel-Lucent, Ericsson, HP, Huawei, IBM, Nokia Siemens, Oracle, and others
(原文)

Operators tapping new opportunity with SDPs: Enterprises and SMBs

Campbell, CALIFORNIA, September 10, 2012-Market research firm Infonetics Research released excerpts from its Service Delivery Platform Software and Services market size, market share, and forecast report, which tracks the wireless and fixed-line service delivery platform (SDP) software and services that operators use to create and deliver services to their subscribers.
ANALYST NOTE
"Operators in developing markets are still very focused on enabling consumer application ecosystems via app stores and API exposure strategies, and now we're also seeing a growing interest, particularly in developed markets, in leveraging SDP investments to address the enterprise and SMB segments," says Shira Levine, Infonetics Research's directing analyst for next gen OSS and policy.

Levine adds: "B2B offerings like enterprise app stores and vertical-specific applications, including fleet management and telemedicine, hold greater promise for ROI than consumer apps and, possibly more important, these are areas where the operators have an advantage over consumer app powerhouses Apple and Google, at least in the short term."
SDP MARKET HIGHLIGHTS
Infonetics predicts a cumulative $24 billion will be spent on SDP software and services over the 5 years from 2012 to 2016, driven primarily by deployments in mobile networks
In 2011, the race to the top of the SDP market remained tight, with Oracle leading the software segment, 1 market share point ahead of Huawei, and Huawei leading the services segment, 1 point ahead of Ericsson
Despite the dissolution of the Wholesale Application Community (WAC), some operators are maintaining a collaborative approach to app development, particularly on a regional scale
Operator interest is growing in non-traditional SDP licensed models, including cloud-based delivery, turnkey application storefronts, and revenue sharing alternatives