CAMPBELL, California, 2012年9月20日-市場調査会社Infonetics Researchは、2012年第2四半期(2Q12) のSAN Equipment 市場規模、市場シェア、予測レポートより、その概要を発表した。ここではストレージエリアネットワーク (SAN)スィッチとアダプターを分析対象としている。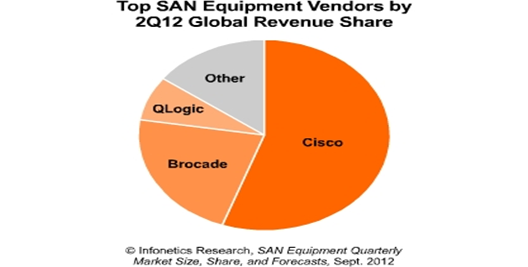 アナリストノート
「Ethernet上でのファイバーチャネル (FCoE)ケイパブルスィッチと16Gファイバーチャネル製品の出荷急増でストレージネットワーク機器の市場は第2四半期に新たな高みに到達し、15億ドルを超えた」としたうえで、「このトレンドには終わりが見えない。ソーシャルネットワークとビデオシェアリングの広がりに加えてクラウドコンピューティングやデータセンターの進化もあり、2012年から2016年にかけての5年間でSANスィッチとアダプターに対する支出は累積で417億ドルになると予測している」と、Infonetics Researchでデータセンターとクラウドを担当している上席アナリストSam Barnettは述べている。
SAN機器市場のハイライト
スィッチとアダプターを含むグローバルなSAN機器市場は2Q12に前期比で15%増加した。
SANアダプターの売上は2Q12に2%減少したが、この要因は、前期には明るさがみられたFCoE コンバージネットワークアダプター (CNA) セグメントの低調による。
CiscoはSAN機器市場全体でみて5四半期連続で業界トップである。2Q12に同社のSAN売上は31%増加した。
Brocadeは基本的に16Gファイバーチャネルセグメントを支配している。驚くべきことにグローバルな売上シェアの99%を占有している。
全般的にFCoEケイパブルスィッチの売上は堅調であるが、ストレージトランスポート向けのFCoE採用は遅れている。
REPORT SYNOPSIS
Infonetics' quarterly SAN Equipment report provides worldwide and regional market size, vendor market share, forecasts, trends and analysis for Fibre Channel host bus adapters (HBAs), iSCSI HBAs, FCoE CNAs, and chassis and fixed Fibre Channel and all FCoE-capable switches that are purpose-built for the data center (10G FCoE, FC 2G, FC 4G, FC 8G, FC 16G, iSCSI). Companies tracked include Brocade, Chelsio, Cisco, Dell, Emulex, IBM (BNT), Juniper, Mellanox, QLogic, others.
(原文)

SAN market hits new heights on skyrocketing FCoE and 16G Fibre Channel switch sales

CAMPBELL, California, September 20, 2012-Market research firm Infonetics Research released excerpts from its 2nd quarter 2012 (2Q12) SAN Equipment market size, market share, and forecast report, which tracks storage area network (SAN) switches and adapters.
ANALYST NOTE
"Skyrocketing shipments of Fibre Channel over Ethernet (FCoE)-capable switches and 16G Fibre Channel products pushed the storage networking equipment market to new heights in the 2nd quarter, passing $1.5 billion," notes Sam Barnett, directing analyst for data center and cloud at Infonetics Research. "And there's no end in sight. Thanks to the popularity of social networking and video sharing, as well as advances in cloud computing and the data center, we expect a cumulative $41.7 billion to be spent on SAN switches and adapters in the 5 years from 2012 to 2016."
SAN EQUIPMENT MARKET HIGHLIGHTS
The global SAN equipment market, including switches and adapters, grew 15% sequentially in 2Q12
SAN adapter revenue fell 2% in 2Q12, due to weakness in the FCoE converged network adapter (CNA) segment, a bright spot just a quarter ago
Cisco leads the overall SAN equipment market for the 5th consecutive quarter after posting a 31% increase in SAN revenue in 2Q12
Brocade essentially owns the 16G Fibre Channel segment, with an astounding 99% of global revenue market share
While sales of FCoE-capable switches are strong overall, adoption lags for FCoE for storage transport