マサチューセッツ州・ボストン 2012年9月27日-市場調査会社のInfonetics Researchはサービスプロバイダーのオプティカル機器サプライヤーに対する評価やベンダーを選ぶ際の基準などを調査するオプティカル機器ベンダーのリーダーシップ:グローバルサービスプロバイダー調査, の2012年度版からの抜粋を発表した。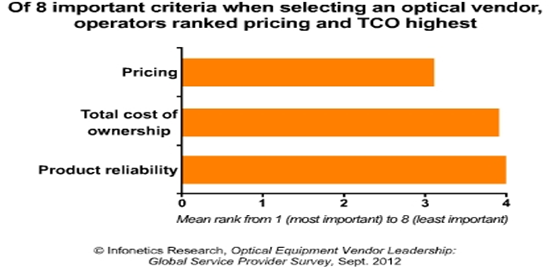 アナリストノート
「機器のベンダーは資金面で安定しているかどうかが重要だと言う一方で、世界各国のネットワークオペレータのオプティカルバイヤーと話をすると、価格や総所用コスト(TCO)が全体で見たときに最も重要な要素になるようだ。」とInfonetics Researchでオプティカル部門を担当する主席アナリストのAndrew Schmittは述べている。
オプティカルベンダーのリーダーシップ調査のハイライト
Alcatel-Lucentはサービスプロバイダーから全体的に最も高評価を受けた。特に技術、マネジメント、製品の信頼性、サービス、サポート面が評価されている。
Cienaはサービスプロバイダーに40G/100G+コヒーレントテクノロジーやOTNスイッチングの分野でAlcatel-Lucentと並んでしばしトップベンダーと評価されている。またオプティカル制御プレーン技術においてはAlcatel-Lucentと並ぶ。(Cienaは過去の調査において総合でトップスコアをマークしている。)
Huaweiは将来的にオプティカル機器を購入したいと評価したプロバイダーの数が2011年には第3位だったのが、今年1位に飛躍した。
小規模事業者ではあるが、 Infineraはオプティカルリーダーシップカテゴリーの多くで比較的高いスコアを獲得、"評価中"と"インストール済み"では最も良い割合を獲得している。
SURVEY SYNOPSIS
For its 21-page Optical Vendor Leadership Survey, Infonetics interviewed 10G/40G/100G optical transmission and switching equipment purchase-decision makers at 20 incumbent, competitive and mobile operators from Europe, the Middle East and Africa (EMEA), North America, Asia Pacific, and the Caribbean and Latin America. Together, the operators represent 28% of global telecom revenue and capex. The survey covers service providers' familiarity with optical equipment vendors, vendors installed and under evaluation, selection criteria, and their rankings of vendors' technology, pricing, service and support, product reliability, financial stability, management tools, R&D investment, and TCO.
(原文)

Alcatel-Lucent named top optical vendor by carriers in new Infonetics survey

Boston, MASSACHUSETTS, September 27, 2012-Market research firm Infonetics Research released excerpts from its 2012 Optical Equipment Vendor Leadership: Global Service Provider Survey, which explores service providers' perceptions of optical equipment suppliers and criteria for choosing vendors.
ANALYST NOTE
"As much as equipment vendors talk about the importance of vendor financial stability, when we talk to optical buyers at network operators around the world, price and total cost of ownership (TCO) come up as the factors they care most about overall," asserts Andrew Schmitt, principal analyst for optical at Infonetics Research.
OPTICAL VENDOR LEADERSHIP SURVEY HIGHLIGHTS
Alcatel-Lucent receives the best overall marks from service providers, particularly for its technology, management, product reliability, and service and support
Ciena is cited by service providers as a top vendor nearly as often as Alcatel-Lucent in the areas of 40G/100G+ coherent technology and OTN switching, and ties for optical control plane technology (Ciena ranked highest overall in previous surveys)
Huawei climbed from 3rd place in 2011 to 1st this year among vendors being evaluated for future optical purchases
Despite its smaller size, Infinera continues a trend of ranking relatively high in most optical leadership categories and has the best ratio of 'evaluating' versus 'installed'