カリフォルニア州、キャンベル、2012年10月4日 -市場調査会社 Infonetics Researchが、サービスプロバイダとそのVoIP、そしてユニファイドコミュニケーション(UC) サービスの収益と加入者を追跡調査した VoIP and UC Services and Subscribers Market Share and Forecast, からの抜粋を公表した。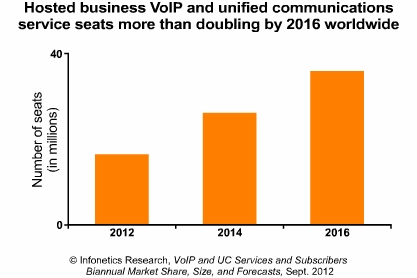 アナリストノート
「SIP トランキングとホスト型UC セグメントは、力強い成長と活発な供給者という展望によって2012年の前半の注目を集めました」Infonetics Researchの VoIP、UC、IMS担当主任アナリストDiane Myersは指摘する。 「我々は従来の接続業者とサービスプロバイダのみならず、ますます多くのPBX/UCのベンダー、企業エージェント、システムインテグレータ、リセラーが、ホスト型UCの中に拡大する様を観察しています」
VOIP 及びUCサービス市場のハイライト
Infonetics は、SIP トランキングとホスト型VoIP/UCサービスによって、2012年から2016年までの5年にわたって家庭向け/SOHO VoIPサービスがこのビジネスを主導し、累積3,770億ドルが費やされるであろうと予測している。
家庭向けVoIP マーケットの長期にわたる主導者であるNTTは、2012 年第 2 四半期における加入者が1千4百万人を超過した。
販売された全ての新しい IP PBX回線のうち約15%-20%がマネージド・サービスの一部か、あるいは外注契約であり、マネージドIP PBXはビジネス VoIP サービスの最大部分を占めるようになっている。
SIP トランキング収益は北アメリカでの強力な活動にリードされ、2012年前半には2011年後半と比較して23%に増加した。
VOIP 及びUCサービスのリポート概要
Infonetics のHosted PBX/UC Provider Trackerを呼び物にしている年2回の VoIP and UC Services and Subscribers リポートは、世界的・地域的市場占有率、市場規模、予測、分析、そしてレジデンシャル/SOHO、 ホスト型VoIP及びUC、 IP 接続性、マネージド IP PBX サービスを含めたVoIP サービスのトレンドを提供している。調査対象とした企業は、 AT&T, Cablevision, Charter, Comcast, Cox, Embratel, France T?l?com, KDDI, LG Uplus, LibertyGlobal, NTT, ONO, Optus, Rogers, SFR, SK Broadband, SoftBank, Telecom Italia, Time Warner Cable, Verizon, Vonage, 他を含む。
(原文)

$377 billion to be spent on VoIP and UC services over next 5 years

CAMPBELL, California, October 4, 2012-Market research firm Infonetics Research released excerpts from its VoIP and UC Services and Subscribers Market Share and Forecast, which tracks service providers and their VoIP and unified communications (UC) services revenue and subscribers.
ANALYST NOTE
"The SIP trunking and hosted UC segments were marked by strong growth and dynamic supplier landscapes in the first half of 2012," notes Diane Myers, principal analyst for VoIP, UC, and IMS at Infonetics Research. "Beyond traditional operators and service providers, we're seeing a growing number of PBX/UC vendors, enterprise agents, system integrators, and resellers expanding into hosted UC offerings."
VOIP AND UC SERVICES MARKET HIGHLIGHTS
Infonetics predicts a cumulative $377 billion will be spent on business and residential/SOHO VoIP services over the 5 years from 2012 to 2016, driven primarily by SIP trunking and hosted VoIP/UC services
NTT, the perennial leader of residential VoIP market, topped 14 million subscribers in 2Q12
Roughly 15%-20% of all new IP PBX lines sold are part of a managed service or outsourced contract, making managed IP PBX the largest segment of business VoIP services
SIP trunking revenue grew 23% in the first half of 2012 compared to the second half of 2011, led by strong activity in North America
VOIP AND UC SERVICE REPORT SYNOPSIS
Infonetics' biannual VoIP and UC Services and Subscribers report features a Hosted PBX/UC Provider Tracker and provides worldwide and regional market share, market size, forecasts, analysis, and trends for VoIP services, including residential/SOHO, hosted VoIP and UC, IP connectivity, and managed IP PBX services. Companies tracked include AT&T, Cablevision, Charter, Comcast, Cox, Embratel, France T?l?com, KDDI, LG Uplus, LibertyGlobal, NTT, ONO, Optus, Rogers, SFR, SK Broadband, SoftBank, Telecom Italia, Time Warner Cable, Verizon, Vonage, and others.