マサチューセッツ州、ボストン、2012年10月17日 - 市場調査会社 Infonetics Researchはtelco IPTV、ケーブルビデオ、サテライトビデオ・プロバイダに販売された装置を追跡した最近のビデオ・リポートである、Video-on-Demand (VOD) and Encoder Equipment and Video Subscribersからの抜粋を発表した。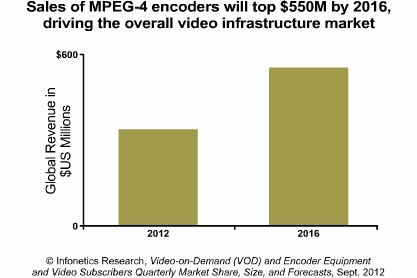 アナリストノート
「北米のケーブル及び衛星通信事業者による7%のエンコーダー支出増加のおかげで、世界的なビデオ・インフラ市場は第2四半期にまた成長を始めました」Infonetics Researchにおけるブロードバンド・アクセス及びペイTV担当主任アナリスト Jeff Heynenは指摘する。 「この市場は、高精細度テレビジョン放送とユニキャスト・ビデオ・オン・デマンド・コンテンツをサポートする為に自社のエンコーディング・インフラをアップグレードしているケーブル及び衛星通信事業者によって主導されています」
VOD 及びエンコーダー市場のハイライト
IPTV、ケーブル、サテライト・ビデオを含む世界的なビデオ・インフラ市場は、1年前の第2四半期から5%上昇し、 2012年度第2四半期には合計1億9,950万ドルになった。
Telco IPTV、ケーブル、衛星放送の加入者の成長は、ラテンアメリカとアジア太平洋地域で衰えることなく継続している。:

2014年の FIFAワールドカップと2016年の夏季オリンピックに備えて処理能力を強化する為に、ブラジルに対する投資が続けられている。
中国においては、農村部においてもデジタル・サービスが有効になるように、国家的な試みが進行中である。

Huawei と ZTE はVOD とストリーミング・コンテンツ・サーバー市場を支配しており、2012年度第2四半期において、この両者が世界的な収益の半分以上を占めている。
契約者数トップ3のケーブルビデオ・サービス事業者は、Comcast、Time Warner Cable、Jiangsu Cable TVである。
多くのケーブル通信事業者が、セットトップ・ボックスのアップグレードに自社の年度全体における設備投資支出の少なくとも2/5を費やしている。
VOD AND ENCODER REPORT SYNOPSIS
Infonetics' quarterly VOD and Encoder Equipment and Video Subscribers report provides worldwide and regional market share, size, forecasts, analysis, and trends for telco IPTV, cable video and satellite video infrastructure and subscribers. Companies tracked include Anevia, ARRIS, Cisco, Concurrent, Edgeware, Ericsson, Harmonic, Huawei, Motorola, OptiBase, Thomson Video Networks, UTStarcom, ZTE, and others.
(原文)

Video infrastructure market rebounds in Q2

Boston, Massachusetts, October 17, 2012-Market research firm Infonetics Research released excerpts from its recent video report, Video-on-Demand (VOD) and Encoder Equipment and Video Subscribers, which tracks equipment sold to telco IPTV, cable video, and satellite video providers.
ANALYST NOTE
"Thanks to a 7% increase in encoder spending by North American cable and satellite operators, the global video infrastructure market saw a return to growth in the second quarter," notes Jeff Heynen, directing analyst for broadband access and pay TV at Infonetics Research. "The market continues to be driven by cable and satellite operators upgrading their encoding infrastructure to support more high-definition channels and unicast video-on-demand content."
VOD AND ENCODER MARKET HIGHLIGHTS
The global video infrastructure market, including IPTV, cable, and satellite video infrastructure, totaled $199.5 million in 2Q12, up 5% from the year-ago 2nd quarter
Telco IPTV, cable, and satellite subscriber growth continues unabated in Latin America and Asia Pacific:

There is sustained investment in Brazil to build up capabilities ahead of the 2014 FIFA World Cup and 2016 Summer Olympics
A national effort is underway in China to increase the availability of digital services in rural provinces

Huawei and ZTE dominate the VOD and streaming content server market, together accounting for more than half of worldwide revenue in 2Q12
The top 3 cable video service operators by subscribers are Comcast, Time Warner Cable, and Jiangsu Cable TV
Many cable operators devote at least 2/5 of their total annual capex to set-top box upgrades