マサチューセッツ州ボストン、2012年11月15日-市場調査会社のInfonetics Researchは今日、2012年第3四半期(3Q12)のOptical Network Hardwareベンダーの市場シェアレポートから分析速報を公表した。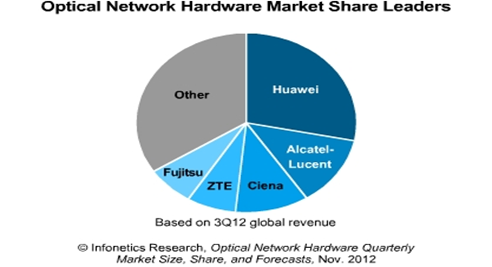 アナリストノート
「新たなWDM通信機器への投資は拡大中ですが、加速するSONET/SDH通信機器市場の低下を相殺するほどの成長速度はありません」

Infonetics Researchで光通信機器を担当する主席アナリストのAndrew Schmittが説明する。

「SONET/SDH通信機器への支出は、第3四半期に史上最悪を記録。ワイヤレスバックホールの構造的シフトにより、当該機器の陳腐化が加速しています。通信キャリアは、乏しい資金を時代遅れの機器に配分するつもりはありません」

Schmittは続ける。

「明るい知らせとしては、100Gコヒーレントを基盤としたコアネットワークで来年、投資サイクルが開始します。100G機器における試作開発の急増、世界中で既に始まっている試用がこのサイクルを支えます」
3Q12の光通信市場のハイライト
WDMとSONET/SDHを含む、世界の光ネットワーク通信機器市場では、3Q12は前期に続き2%減となった(5四半期連続の微増に続く3四半期連続の低下)。

3Q12におけるWDM光通信機器の収益は、Huaweiの好調に支えられ、2Q12から6.9%増となった。
SONET/SDH光通信機器への支出は、急激な低下が続いて、前期に続き19%減、前年比33%減だった。

NEC、Fujitsu、Infineraは、3Q12に力強い成長を見せ、ROADM機器に対する豊富な支出を要因として、2ケタ増の収益成長を見せた。
Alcatel-Lucentは、3Q12に光通信機器の収益が史上最低を記録した。収益低下の大半は、WDMの売上低迷が原因。
北米とEMEA (欧州、中東、アフリカ) のパフォーマンスは相対的に弱かった。しかし、AT&TとVerizonが支出を拡大しているため、北アメリカでは4Q12に緩やかな成長が回復すると見られている。
OPTICAL HARDWARE REPORT SYNOPSIS
Infonetics' quarterly optical network hardware report provides worldwide and regional market size, market share, analysis, forecasts, and trends for metro and long haul SONET/SDH and WDM equipment, Ethernet optical ports, SONET/SDH/POS ports, and WDM ports. Companies tracked include Adtran, ADVA, Alcatel-Lucent, Ciena, Cisco, Cyan, ECI Telecom, Ericsson, Fujitsu, Huawei, Infinera, NEC, Nokia Siemens Networks, Tellabs, Transmode, Tyco Telecom, ZTE, and others.
(原文)

Tepid WDM growth, slumping SONET/SDH bog down optical market in 3Q12

Boston, MASSACHUSETTS, November 15, 2012-Market research firm Infonetics Research today released preliminary analysis from its 3rd quarter 2012 (3Q12) Optical Network Hardware vendor market share report. (Full report with forecasts and detailed analysis will be published November 27.)
ANALYST NOTE
"Investment in new WDM gear is growing, but it isn't growing fast enough to offset the accelerated declines in SONET/SDH," notes Andrew Schmitt, principal analyst for optical at Infonetics Research. "SONET/SDH spending hit another all-time low in the third quarter, as architectural shifts in wireless backhaul quicken its transition into obsolescence. Carriers aren't allocating scarce capital to out-of-date equipment."

Schmitt continues: "On a brighter note, there's an investment cycle set to begin next year in the core network that's based on 100G coherent and supported by the massive ramp in 100G prototyping and trialing activities that are already underway worldwide."
3Q12 OPTICAL MARKET HIGHLIGHTS
In 3Q12, the global optical network hardware market, including WDM and SONET/SDH, fell 2% sequentially-the 3rd straight quarter of declines following 5 consecutive quarters of minor increases

WDM optical revenue grew 6.9% in 3Q12 from 2Q12, bolstered by a strong performance from Huawei
SONET/SDH optical spending continued its sharp fall, down 19% sequentially and 33% year-over-year

NEC, Fujitsu, and Infinera had a strong 3Q12, with revenue up by double digits thanks to robust ROADM equipment spending
Alcatel-Lucent posted its lowest-ever optical revenue results in 3Q12, with the majority of the decline coming from its WDM business
Performance in North America and EMEA (Europe, the Middle East, Africa) was relatively weak, although North America is expected to resume moderate growth in 4Q12 as AT&T and Verizon ramp spending