BOSTON, Massachusetts, 2012年11月26日-調査会社Infonetics Researchは、2012年第3四半期 (3Q12)の Enterprise Unified Communications, VoIP, and TDM Equipmentレポートより、ベンダーシェア順位と予測を発表した(市場分析の詳細は12月3日に公表される)。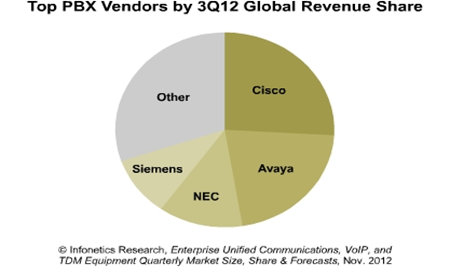 アナリストノート
「この1年は企業向け電話サービスにとって厳しいものであった」としたうえで、 「企業は、既存の電話ソリューションが対応できている分野の支出を切り詰めていることから、四半期ベースでみて対前年減少が続いている」と、Infonetics ResearchにおいてVoIP、UC、IMSを担当している主席アナリストDiane Myersはコメントしている。

Myers の追加コメント:「とはいえ、ユニファイドコミュニケーションは、これまでも中心的存在であった。このうち、従業員の生産性や柔軟性の向上に資するツールに対する需要が増加している。中でも、MicrosoftのLync がこの恩恵を受けており、第3四半期に前期比で40%も増加した。」
企業向け電話サービス市場のハイライト
3Q12の、グローバルな企業向けPBX市場(TDM、ハイブリッド、純粋なIP PBX)は前期比で2.8%増加したが、前年同期比では5.6%減少した。これは、EMEA市場が引き続き軟調であったことによる。
数量よりも売上の減少が大きい。PBX回線当たりの平均収入は初めて200ドルを下回った。
CiscoはPBX/KTS売上で業界最大手(5四半期連続)。
REPORT SYNOPSIS
Infonetics' quarterly enterprise UC, VoIP, and TDM report provides worldwide and regional market size, vendor market share, analysis, forecasts, and trends for the enterprise telephony market, including TDM PBX and KTS systems, hybrid and pure IP PBXs, IP PBX by system size, VoIP gateways, unified communications (communicator, unified messaging), and IP deskphones and softphones. Companies tracked include Aastra, AudioCodes, Alcatel-Lucent, Avaya, Cisco, HP (3Com), LG Ericsson, Microsoft, Mitel, NEC, Polycom, Samsung, ShoreTel, Siemens Enterprise, Toshiba, and others.
(原文)

Enterprise telephony continues downward slide; UC applications lone bright spot in 3Q12

BOSTON, Massachusetts, November 26, 2012-Market research firm Infonetics Research released vendor market share standings and forecasts from its 3rd quarter 2012 (3Q12) Enterprise Unified Communications, VoIP, and TDM Equipment report. (Detailed market analysis will be published December 3.)
ANALYST NOTE
"This has been a tough year for the enterprise telephony market," says Diane Myers, principal analyst for VoIP, UC, and IMS at Infonetics Research. "Quarterly year-over-year declines continue as businesses push out spending where existing telephony solutions still get the job done."

Myers continues: "That said, unified communication applications have been a real sweet spot. The demand for tools that aid employee productivity and flexibility is fueling growth in this segment, and Microsoft's Lync has been the primary beneficiary, enjoying over 40% sequential growth in the third quarter."
CARRIER OUTSOURCING HIGHLIGHTS
In 3Q12 the global enterprise PBX market (TDM, hybrid, and pure IP PBXs) is up 2.8% from the previous quarter but down 5.6% from the year-ago 3rd quarter, due to continued softness in EMEA
Revenue is declining at a faster rate than shipments: for the first time, the average revenue per PBX line slipped below $200
Cisco is the PBX/KTS revenue market share leader for a 5th consecutive quarter