カリフォルニア州キャンベル、2012年11月28日-市場調査会社のInfonetics Researchは、新たなCloud Service Strategies: North American Enterprise Surveyの概要を公表した。この調査では、クラウドサービスの導入と利用における企業の計画を詳細に調べている。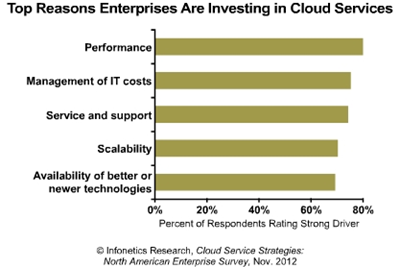 アナリストノート
「クラウドサービスが、完全な普及段階に達したのは明らかです」

Infonetics Researchのデータセンター及びクラウド担当ディレクティングアナリストが説明する。

「クラウド・アウトソーシングへの投資は、企業内のIT・データセンターへの投資に比べれば小さいものです。しかし、その投資額は年々成長しています。予算管理の他、サービスの提供方法を変更するために、クラウド技術へ移行している企業の数は、この2年で著しく増加しました」

Barnettは続ける。

「クラウドサービスはもはや、ITインフラや各機能のアウトソーシングではありません。それらを適正規模に再構築するサービスと言えます」
クラウドサービス調査のハイライト
調査企業の91%は、クラウドサービスを現在利用しており、2014年末にはその割合が100%に達すると見られる。
クラウドサービスを導入する主な理由は、アプリケーションのパフォーマンスとITコストの抑制である。
ソフトウェア・アズ・ア・サービス(SaaS)は、回答企業が最も多く採用しているクラウド技術である。
調査回答企業は、クラウドサービスのトッププロバイダとしてMicrosoft、IBM、Ciscoの名を挙げたが、クラウドの主要技術を導入する分野では、多数の無名ベンダーが市場に溢れている。
SURVEY SYNOPSIS
For its new 25-page cloud service strategies survey, Infonetics interviewed purchase-decision makers at 107 North American enterprises about their current usage of cloud services as well as their plans for deploying cloud-based services through 2014. Survey participants were asked about cloud service delivery types (SaaS, IaaS, and PaaS), uses, deployment drivers, barriers, and vendors.
(原文)

New study details enterprise plans for cloud services

Campbell, CALIFORNIA, November 28, 2012-Market research firm Infonetics Research released excerpts from its new Cloud Service Strategies: North American Enterprise Survey, which explores enterprises' plans for the adoption and usage of cloud services.
ANALYST NOTE
"There is no doubt, the cloud has come of age," notes Sam Barnett, directing analyst for data center and cloud at Infonetics Research. "While investments in cloud outsourcing are small in comparison to internal IT/data center spending, they are growing each year, with the number of enterprise organizations turning to cloud technology to manage budgets and transform service delivery increasing significantly in the last two years."

Barnett adds: "The cloud is no longer about outsourcing IT infrastructure and functions-it's about right-sizing them."
CLOUD SURVEY HIGHLIGHTS
91% of enterprises interviewed use cloud services today, growing to 100% by the end of 2014
The leading drivers for deploying cloud services are application performance and management of IT costs
Software as a service (SaaS) is the most widely adopted cloud technology among respondent operators
Survey respondents cite Microsoft, IBM, and Cisco as the top cloud service providers, although unexpected vendors dominate the cloud landscape in key technology deployment areas