2012年12月10日、イギリス、ロンドン-市場調査会社のInfonetics Researchは、第3四半期(3Q12)の Femtocell Equipmentの市場シェア、市場予測に関するレポートから抜粋を発表した。このレポートでは、フェムトセル機器について市場セグメント、技術タイプ、フォームファクタに分類して追跡調査している。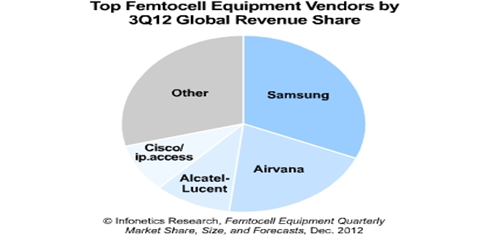 アナリストノート
「年初に見られた僅かな落ち込みの後、フェムトセル市場は収益成長に好調さを取り戻し、2四半期連続の収益増加となりました」

Infonetics Researchで無線、モバイルオフロード、モバイルブロードバンド機器を担当するディレクティングアナリストのRichard Webbが説明する。

「全セグメント(コンシューマ、企業、パブリックアクセス)で、ユニット数と収入が増加しました。そして、フェムトセル市場は、2016年まで年間成長を継続するだけの豊富な成長要因と通信事業者のサポートがあるという、楽観的な見方を我々は崩していません」

そして、Webbはこう続ける。「近頃、多くの新製品タイプが発売されており、Contelaのデータ専用フェムトセル、ip.accessの機内用フェムトセル、Fujitsuのコンシューマ向けデュアルモード3G/LTEフェムトセル、SpiderCloudの企業向け3G/4G/WiFiフェムトセルなどが出ています。そして、こうしたイノベーションが、新型モデルや新たな市場機会の創造を更に促進しようとしています」
フェムトセル機器市場のハイライト
2G、3G、4Gの各機器を含む世界のフェムトセル市場は、3Q12も前期に続いて成長し、13.5%増の1億3270万ドルとなった。
3Gフェムトセルの売上は、3Q12に50%増加した。
Samsungは、3Q12に収入を前年同期比45%伸ばし、4Q11以来初めて、フェムトセル市場のシェアリーダーとなった。Samsungはまた、ユニット出荷数でもトップとなった。
一方、2期連続で収入が2ケタ減となっていたAirvanaは、第3四半期に2位の座へと滑り落ちた。
統合型フェムトセルは、3Q12のユニット出荷数が2%と僅かな増加にとどまったが、2016年には全ユニット数の約3分の1を占めるだろうとInfoneticsは予測している。
REPORT SYNOPSIS
Infonetics' quarterly femtocell equipment report provides worldwide and regional market size, vendor market share, forecasts, analysis, and trends for 2G femtocells (CDMA and GSM/GPRS), 3G femtocells (W-CDMA/HSPA, CDMA2000/EV-DO, and TD SCDMA), and 4G femtocells (WiMAX and LTE). Femtocells are tracked by form factor (standalone and integrated) and market segment (consumer, enterprise, and public access). Companies tracked include Airvana, Alcatel-Lucent, Argela, Cisco/ip.access (3G femtocells), Contela, Huawei, ip.access, NEC/ Ubiquisys, Ubee Interactive, and others.
(原文)

3G drives femtocell market up 13% in 3Q12; Samsung #1 in revenue and shipments

LONDON, England, December 10, 2012-Market research firm Infonetics Research released excerpts from its 3rd quarter (3Q12) Femtocell Equipment market share and forecast report, which tracks femtocells by market segment, technology, and form factor.
ANALYST NOTE
"After a minor dip earlier in the year, healthy revenue growth has returned to the femtocell market, where we saw a second consecutive quarter of increases," notes Richard Webb, directing analyst for microwave, mobile offload, and mobile broadband devices at Infonetics Research. "All segments-consumer, enterprise, and public access-saw both units and revenue go up, and we remain optimistic that femtocells have sufficient market drivers and support among operators to sustain continuous annual growth through 2016."

Webb adds: "Many new product types have launched recently, including the data-only femto from Contela, in-flight femtos from ip.access, the dual-mode 3G/LTE consumer femto from Fujitsu, and the 3G/4G/WiFi enterprise femto from SpiderCloud, and this innovation is driving new models and market opportunities."
FEMTOCELL EQUIPMENT MARKET HIGHLIGHTS
The global femtocell market, including 2G, 3G, and 4G femtocells, grew 13.5% sequentially in 3Q12, to $132.7 million
Sales of 3G femtocells were up 50% in 3Q12
Samsung grew revenue 45% in 3Q12 from 2Q12, seizing the femtocell market share lead for the 1st time since 4Q11; Samsung also led in units shipped
Meanwhile, following a double-digit sequential decline in revenue, Airvana slid into the #2 spot in the 3rd quarter
Integrated femtocells made up just 2% of units shipped in 3Q12, but Infonetics expects they will account for around 1/3 of total units by 2016