Campbell, CALIFORNIA, 2012年12月12日-市場調査会社Infonetics Researchは、2012年第3四半期 (3Q12)の Content Security Gateway Appliances, Software, and SaaS 市場シェアと予測レポートから、その概要を発表した。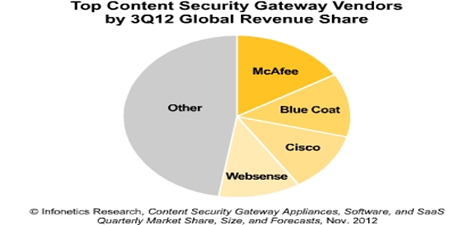 アナリストノート
「コンテンツセキュリティ市場で幅広いセキュリティ製品ポートフォリオを有している企業は、動きが機敏であるならば、スタンドアローンのソリューションを維持した上で、ウェブ、メールセキュリティ機能とファイアーウォール、IPSプラットフォームの統合を進めることで売上をシフトさせることができる。コンテンツセキュリティ企業は製品ポートフォリオを拡大することを余儀なくされているほか、売上を伸ばすために強力なパートナーを獲得、維持していくことが求められている」と、Infonetics Researchにおいてセキュリティを担当している主席アナリストJeff Wilsonは述べている。
3Q12のコンテンツセキュリティ市場のハイライト
コンテンツセキュリティゲートウェイ機器と同ソフトウェアの売上は2Q12から3Q12にかけて0.4%減少して7億1900万ドルとなり、3四半期連続で前期比減となった。
Blue Coat はコンテンツセキュリティゲートウェイ市場のベンダーの中で唯一、3Q12に顕著な売上増を達成し (前期比15%増)、全体の市場シェアで3位から2位に浮上した。
現在、ソフトウェアは全コンテンツセキュリティゲートウェイの売上の37%を占めている。
CONTENT SECURITY REPORT SYNOPSIS
Infonetics' quarterly content security report provides worldwide and regional market size, vendor market share, forecasts, analysis, and trends for content security gateway software (messaging, web/malware), gateway appliances (messaging, web/malware, integrated), and SaaS (messaging, web/malware). Vendors tracked include Barracuda, Blue Coat, Cloudmark, Cisco, Citrix, McAfee, SonicWALL, Symantec, Trend Micro, Websense, and others.
(原文)

Blue Coat sole vendor posting significant gains in down content security market in 3Q12

Campbell, CALIFORNIA, December 12, 2012-Analyst firm Infonetics Research released excerpts from its 3rd quarter (3Q12) Content Security Gateway Appliances, Software, and SaaS market share and forecast report.
ANALYST NOTE
"In the content security segment, companies with broad security product portfolios can, if they are nimble, shift revenue by continuing to integrate web and mail security functions into firewall and IPS platforms while maintaining standalone solutions. Focused content security companies will be forced to broaden their product portfolios, get acquired, or develop strong partnerships to grow revenue," notes Jeff Wilson, principal analyst for security at Infonetics Research.
3Q12 CONTENT SECURITY MARKET HIGHLIGHTS
Content security gateway appliance and software revenue fell 0.4% between 2Q12 and 3Q12, to $719 million, the 3rd consecutive quarter of declines
Blue Coat was the only vendor in the content security gateway market to see a significant increase in revenue in 3Q12 (up 15% from the previous quarter), bouncing from #3 to #2 in overall market share
Software now makes up 37% of all content security gateway revenue